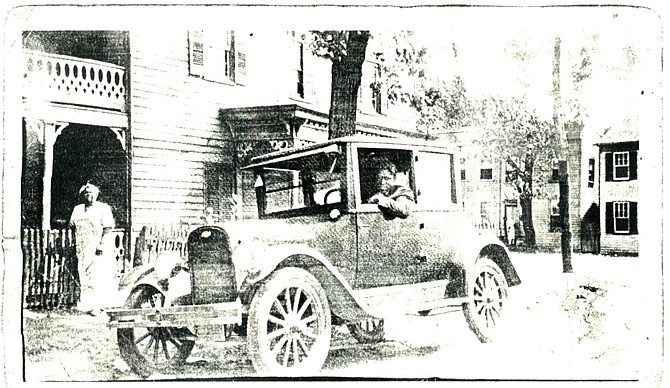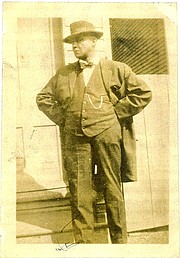 Charles William (CW) Gray was a well-known mortician in the Alexandria African American community. He was listed as an undertaker and sometimes as a mortician in the Alexandria City Directories as well as on the United States Censuses in the early 1900s. He began his undertaker business around 1909. In 1910, he was listed in the City Directory as a funeral director, his house address was at 1321 Cameron St. and his funeral business was 205 North West St. A year later, Mr. Gray's business moved to 412 North Patrick St. As his business grew rapidly, CW Gray moved to 1019 Oronoco St. There were two other African American's funeral directors and embalmers listed in the City Directory with Mr. Gray in 1912. Mr. Thomas H. Brown lived at 200 North Payne St. and Mr. Richard Gray lived at 412 North Patrick St., both of them were in the funeral and embalmer business.
From 1913 to 1927 CW Gray's funeral business relocated to 1019 Oronoco St. In 1928, the Gray family purchased a home and converted part of it into a funeral business and the other part into a private home. That building had three entrances with two different addresses, its business address was 1021 Oronoco St. and the home address was 501 North Henry St. Some of Mr. Gray's earlier clients were a 10-year-old, William Henry McKinley Carter of 425 Oronoco Str., who died on Dec. 27, 1912; a 65-year-old, John C. Fox of 213 South Peyton St., who died on Aug. 5, 1914; and a 44-year-old, Daniel Corbin of 524 North Alfred St., who died on Feb. 26, 1914. Daniel was a barber in Alexandria; he was the great-uncle of the famous Alexandria Lawyer, Samuel W. Tucker, who worked on Civil Rights cases in the State of Virginia.
In 1930, CW Gray, his wife, Lillian Curry-Gray, his daughter, Esther Gray-Stanton and her husband and their children still lived at 1021 Oronoco St. CW Gray's house/business was valued at $2,000 and his occupation was listed as undertaker. Mr. Gray's business survived during most of the Great Depression until the late 1930s, when his funeral business took a severe financial hit. After 1938, Mr. Gray lost his business and his home. On the 1940 census, CW Gray and his family rented their home and his occupation was listed as a mortician.
Mr. Charles William Gray was born in Leesburg, Va. in 1875. On Sept. 22, 1898, Charles married Lillian M.S. Curray (Curry) in Alexandria, Va. Prior to Gray's mortuary business, he was a porter on the railroad. CW was a trustee and a member of Shiloh Baptist Church; he was an Elks and Mason member. On Oct. 13, 1942, CW Gray died. His wife, Lillian, joined him five years later. Their survivors were their only child, Esther Gray-Stanton, her husband, Reverend N. Howard Stanton, Sr., and their children. Today, the surviving children of Esther Gray-Stanton are Lillian Stanton-Patterson, LeEtta Stanton-Nowlin, Milton Stanton and James W. Stanton. Mrs. Patterson is a retired curator of the Alexandria Black History Museum. She has fond memories of her grandfather, Charles W. Gray. Lillian and her siblings grew up in their grandparents' home. Mrs. Patterson and her siblings have deep roots in Alexandria, going back to the Civil War on their grandmother, Lillian Curry's side.
Charles W. Gray provided the African Americans in Alexandria a service that they needed, and he passed strong work ethics to his grandchildren. He left a great legacy that will follow his descendants for many generations to come.
Char McCargo Bah is a freelance writer, independent historian, genealogist and a Living Legend of Alexandria. Visit her blog at http://www.theotheralexandria.com for more about "The Other Alexandria."