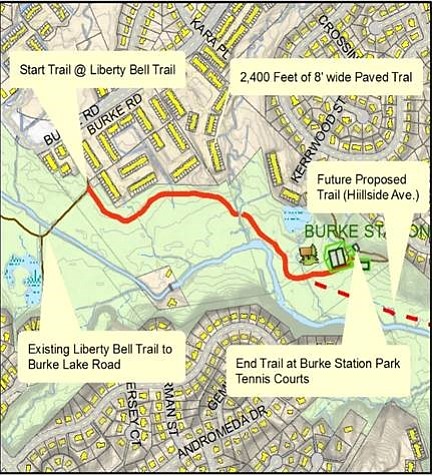 The Fairfax County Park Authority will soon begin work on the Pohick Stream Valley Trail in Burke Station Park. This project may impact parking and access to trails.
Construction will consist of approximately 2,400 linear feet of 8-foot wide paved trail, landscaping, and a new prefabricated fiberglass pedestrian bridge. Accubid Construction Services, Inc., will be mobilizing on site within the next month. Work at the site will continue through this fall and completion is anticipated prior to spring 2019.
Construction access to the site will be from the park entrances on Kerrwood Street and Burke Road. Parking restrictions near that entrances are anticipated in order to facilitate the passage of construction materials and equipment. In addition, construction equipment will be present on the trail in Pohick Stream Valley Park during construction.
As a safety precaution, portions of the existing trail may be occasionally closed to users during the project.
For more information, visit the Trails page or contact Project Manager Tom McFarland at Thomas.McFarland@fairfaxcounty.gov or 703-324-8688.