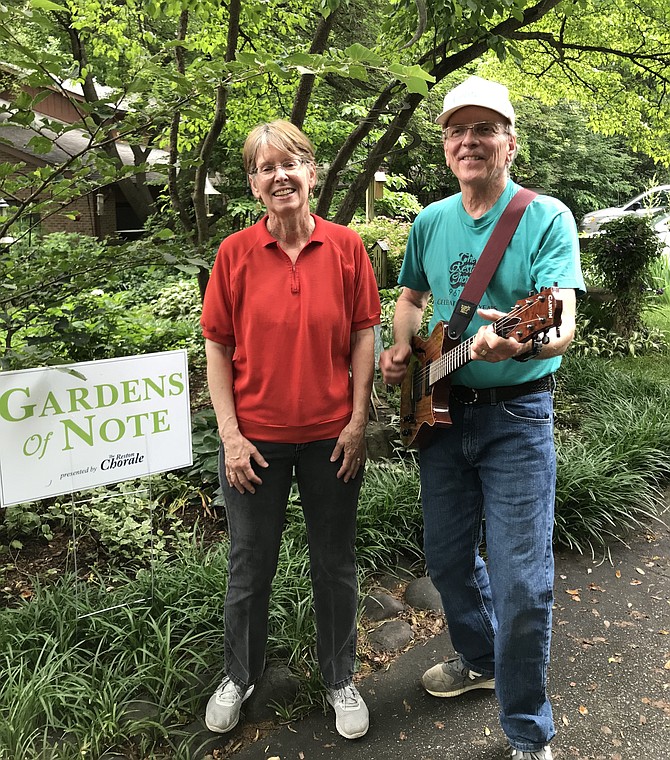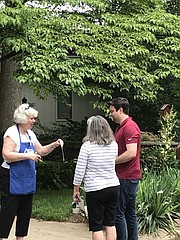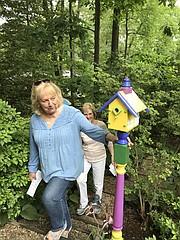 Anyone looking for an uplifting respite from the rainstorms and dreary weather should have headed out to The Reston Chorale presentation of Gardens of Note, a self-guided tour of notable Reston gardens complemented by musical accompaniment. The tour was held on Saturday, June 2, 2018.
As a ticketed event, proceeds benefited the Chorale, a nonprofit organization that performs signature events throughout the year in Reston and at a variety of Northern Virginia locations. Participants flocked to the five gardens and toured them in any order they chose. With a garden featured in distinct neighborhoods and offering differing garden types, there was undoubtedly something for everyone.
The Rhoades Garden displayed the creative talents of an artist of all mediums, Sandy Rhoades. With shade-loving perennials and shrubs, and a stream tumbling into a fishpond, each horticultural vignette was a masterpiece.
The Guilfoyle garden may have been typical of many properties in Reston, the children are grown, and the backyard is no longer for playing but a gathering place for entertainment. Sally Guildford said, "This is a grass-free garden. I work my tail off in the spring, and then I spend zero hours per week the rest of the year because, with the mulch and plantings, it is basically self-maintaining."
Karen Robison of Reston attended the tour. She shared, "My son John is taking me on tour for my birthday. I quit gardening when he was born. I have an 'ungarden' house and need some tips."
The Bitzer garden is located in the South Lakes neighborhood with the backdrop of the Reston National Golf Course flowing endlessly in a river of green. Sculptures were strategically placed for enjoyment throughout the garden with a gate opening to seasonally flowering shrubs and trees. Al Torzilli and his wife Ellen performed Al said, "To provide music to accompany the botanical wonders."
The Gohn garden offered something a bit different as owner Kathleen had the goal a few years ago to add native plants to her already established beds. With many perennials, some exotics mixed in and the outer edge of the property offering a stately Southern Magnolia, the garden showcased a multitude of plants, and floral for all the pollinators.
The fifth and final garden on tour belonged to Carol and Kelly Mansfield. It tackled two of the more common challenges found in Reston gardens, sloped terrain and shade. Open spaces yet designated areas using hardscape helped define activity areas, yet the visual sight line extended interest.
Tour participants wrapped up the day with the Hidden Lane Garden Party, complete with light refreshments, an exhibit of original paintings by Pat Macintyre, renowned Reston painter, an ensemble performance by the Reston Chorale and the perfect ending to a perfect day, a guided tour of the property by Hidden Lane staff.
Mark your calendars now; next year's tour will be June 1, 2019.