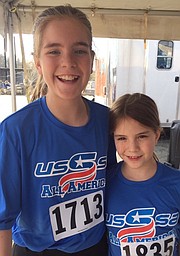 Erika and Anna Castellano of Great Falls were recently named to United States Specialty Sports Association (USSSA) All American Teams in fastpitch softball. Erika was selected to play corner infield for the Northeast Regional 12U team and Anna will play corner infield for the Northwest Regional 9U team.
Erika and Anna played many seasons with Great Falls Softball before joining their current travel teams. Erika has played for the Ashburn Shooting Stars for three years, and is currently on the Shooting Stars 12U team, which recently earned a berth to the 2018 NSA World Series in Clearwater, Fla. Erika's Shooting Stars teammate and friend, Kayla Fekel of Ashburn, was also named to the Northeast Regional All American team and will be playing Middle Infield. Their 12U Northeast Regional team includes players from Del., Md., N.C., N.J, N.Y., Pa., and Va. Anna plays for the 9U Vienna Stars. Her 9U Northwest Regional All American team includes players from Ala., Clif., Mch., N.C., N.J., Pa., Va, and Wash.
The regional teams in each age group will compete against each other in the USSSA All American Games for the All American Games title. The regional teams are made up of elite fastpitch softball players from the following eight regions: the Far West, Northwest, Midwest, Central, Great Lakes, Southeast, Atlantic, and Northeast. Tryouts were held from January through April in eighteen cities throughout the country. The Games will be played in Viera, Fla., at the new USSSA Space Coast Stadium and Complex from July 30-Aug. 4.