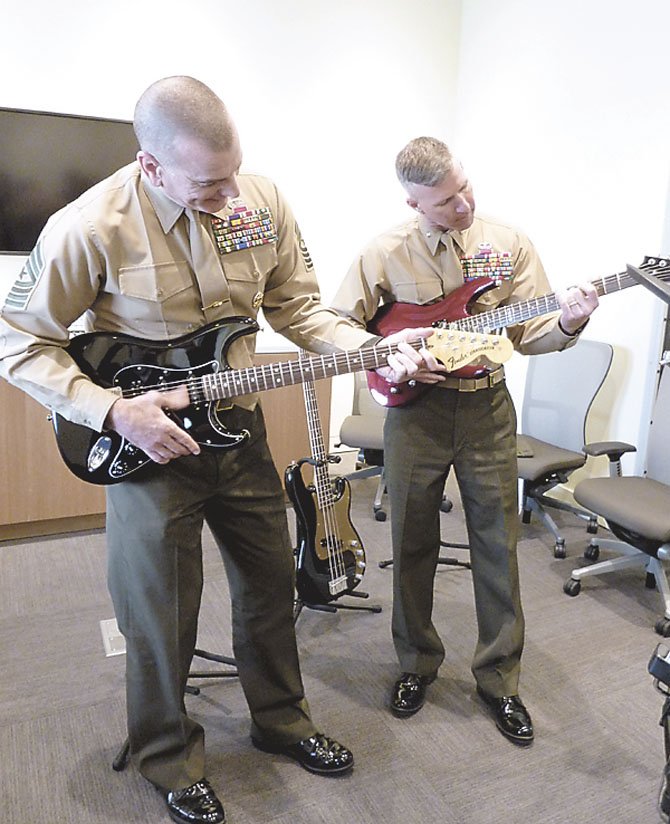 Mount Vernon — Growing up in Richmond, Staff Sergeant Charles Eggleston never imagined what awaited him when two improvised explosive devices detonated next to his vehicle in Mosul, Iraq in 2006. The Cornell University computer science graduate was severely injured, his spine nearly severed and his face badly scarred as part of his mission during Operation Iraqi Freedom.
Eggleston was taken to Walter Reed Army Medical Center, where he spent over 3 and a half years recovering from his injuries. It was there he became acquainted with the United Services Organization, or more commonly known as the USO.
"It was the USO that pulled me out of the hospital through one of its programs," Eggleston said between practice swings in a golf simulator at the new USO Warrior and Family Center at Fort Belvoir. "As part of my rehab, I was introduced to golf but more importantly to the remarkable work of the USO."
Eggleston was on hand as the new USO facility — the largest of its kind in the world - was officially opened Feb. 5.
"I am so glad a building like this exists. When I look at it I see a place for everyone and know that my husband and I are both taken care of and provided for."

Kathleen Causey
The 20,000 square-foot facility will offer services for recovering soldiers and serve as a family hub to support wounded warriors' families. Built at a cost of $12 million, the center is part of the $100 million USO fundraising campaign Operation Enduring Care.
"A building like this is essential to the recovery for a lot of people," said Kathleen Causey, whose husband Aaron lost both legs above the knee while serving in Afghanistan. "It serves both the wounded warriors and their family members."
Causey had served as a volunteer for the USO at Fort Drum, N.Y. before her husband's deployment.
"It was a wholly positive experience when I was a volunteer," Causey said. "You get to know the soldiers and understand why people volunteer. It's quite a switch to be on the other side of this equation but everyone treats me like a member of their family. It's been an incredible experience to be here."
The Fort Belvoir facility was developed by Huffman Development and Scott Long Construction and designed by Studios Architecture. The design was based on research gathered from hundreds of interviews with wounded warriors, their families, military medical professionals and experts in the care of wounded, ill and injured troops.
According to USO president and CEO Sloan Gibson, soldiers and their families put recreation and a sense of normalcy at the top of their list. To that end, the new center features a sports cafe, theater room, a music and recording studio and video game room.
A full-service kitchen allows families to enjoy home cooked meals and a large community room can hold up to 150 people for events such as the recent Super Bowl party for wounded warriors and their families.
A separate section of the building is dedicated to healing and relaxation, with a respite room with yoga mats, art therapy room and outdoor healing gardens.
The final section of the facility is dedicated to continuing education and employment. Computer classrooms will allow for online learning and business seminars targeted to the transition of wounded warriors into the business world.
"The USO knows that some injuries are not always physical," said Eggleston, a multiple Purple Heart recipient. "In the military, a hidden cousin to PTSD is suicide. I went through that kind of depression myself — it's inevitable when your fellow soldiers are killed around you. But with USO rehab programs like golf, my depression and nightmares started melting away. The competitive challenge is a good teaching aid but also provides much needed stress relief."
The Fort Belvoir Warrior and Family Center will be staffed by 350 volunteers from the USO of Metropolitan Washington.
"The USO has been such an integral part of my recovery as a spouse," said Causey, whose husband hopes to retire later this year. "I am so glad a building like this exists. When I look at it I see a place for everyone and know that my husband and I are both taken care of and provided for."