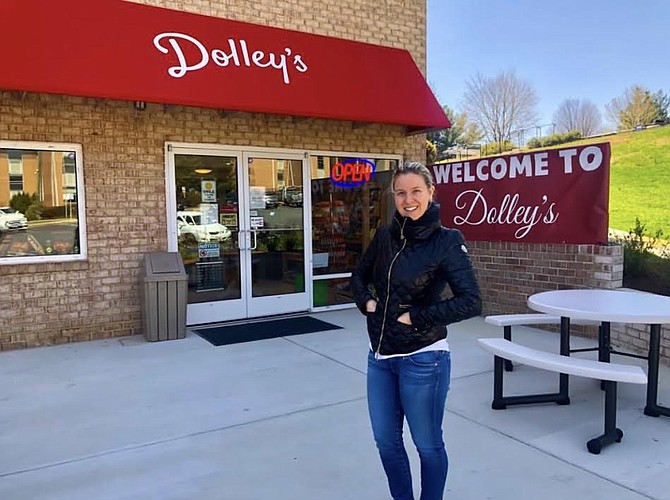 Dolley's, a new neighborhood market with the bright red awning at the top of Old Meadow Road in Tysons, is a dream come true for Kate Ritzenberg. She wanted to open a place of her own ever since she began working in restaurants and bakeries in high school. Her previous employment combined with the work she did in college to earn a B.S. in Baking and Pastry and Food Service Management has prepared her well for this venture.
What makes this location extra special for her is that Dolley's is the newest amenity at Dolley Madison Apartments that her late grandfather, Saul Ritzenberg, built more than fifty years ago. He had the vision to develop that 30-acre site when Tysons Corner was not much more than a crossroads with a gas station. This past year, Ritzenberg worked with an architect and contractor to implement her own vision to convert one of the ground floor apartments into Dolley's, a cozy market with patio seating.
Dolley's offers more than one thousand items, including beer, wine, and greeting cards. Coffee, donuts and breakfast sandwiches are popular morning choices. Lunchtime and dinner favorites include hot dogs, pizza, and taquitos. As the weather heats up, Dolley's has begun selling "Alligator Ice" frozen drinks. Those with a sweet tooth enjoy selecting from more than 100 different candies and an assortment of Blue Bunny ice cream. Dolley's tag line is "From coffee to ice cream and everything in between!"
Dolley's is open 7 days a week. Its summer hours are Monday 7 a.m. to 8 p.m., Tuesday-Friday 7 a.m. to 9 p.m., Saturday 9 a.m. to 9 p.m., and Sunday 9 a.m. to 8 p.m. Phone: 571-489-8584. Address: 1930 Kennedy Drive, #T-1, McLean.