The following response was received past deadline of the at-large candidate coverage. See http://connectionarchives.com/PDF/2018/051618/Potomac.pdf.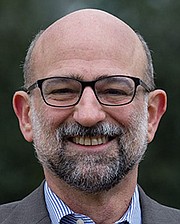 Seth Grimes
Democrat, 58, Takoma Park
Public service is a passion for me, a calling. As a former elected official and a long-time community advocate – as a nonprofit board leader and frequent volunteer – I know the difference local government can make. Quoting the Seventh State, "Former Takoma Park City Council Member Seth Grimes's edge is his experience ... During his two terms in office, Grimes passed legislation allowing 16-year-olds to vote in municipal elections as well as banning environmentally harmful pesticides and polystyrene containers. The latter two bills were models for similar county legislation."
Montgomery County has a trust gap. Residents and businesses are looking for leaders who will tame development and rework planning processes, who will build the school capacity we lack and create the transportation solutions we need, who will expand housing options and affordability and maintain the social safety net, all without breaking the bank, without more steep tax increases. Let's add to the challenge list climate change, economic growth, and equity.
I will address our challenges – I will build trust – via an inclusive approach that values and elevates community voices from every part of our diverse and vibrant county.
I will be the effective, responsive, passionate, progressive representative that County residents deserve.