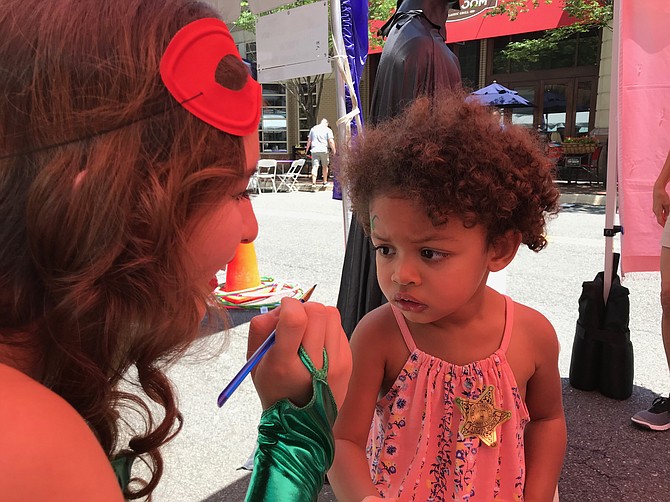 The Greater Reston Chamber of Commerce once again produced Taste of Reston, the largest outdoor food festival in the area. Now in its 35th year of production, Virginia Living Magazine named it Northern Virginia Best Food Festival for the past six years. According to organizers, the event held June 15-16 on Reston Town Center's internal streets and its carnival component at Lake Fairfax drew a reported crowd of approximately 40,000 people.
The two-day event offered not only restaurants and community vendors, but featured some of the area's top chefs with demonstrations of their favorite cuisine and wine pairings from local wineries, entertainment on three stages, a Family Fun Zone and a Carnival at Lake Fairfax with free shuttle bus service from Reston Town Center.
On the Street Map Key, organizers grouped the list of 24 food vendors from the local thriving restaurant scene, under the banner, "Taste Well," a play on Reston's motto as a great place to Live, Work and Play.
Taste of Reston displayed a global diversity of cuisines, many from locally owned restaurants as well as chain restaurants. Choolaah Indian BBQ at Booth 54 featured authentic Tikka Masala cooked in front of the eaters' eyes, while at McCormick & Schmidt's Seafood Restaurant, Booth 30, chefs tempted the public offering Ahi tuna poke with fried wontons. Thousands of patrons, many with families and small children strolled booth to booth exploring new food choices and noting on their phones the names of restaurants that could be their next favorite eating establishment.
Keeping the festival spirit vibrant, Taste of Reston featured three stages of free entertainment and piped music down side streets for everyone to enjoy. Organizers assembled a Line Up of the hottest bands in the region, beginning with Big Al's Truck at 6:30 p.m. Friday night performing on the Main Stage and closing out with Hilary Veltri at 10:30 p.m. Saturday night at the Beer Lounge located at the intersection of Market and Explorer Streets.
ON SATURDAY afternoon, crowds cheered the four talented musicians of the More, More, More band as they performed on the Main Stage at the Reston Town Center Pavilion. Band members engaged the audience while playing memorable 80s rock songs and hits from other decades.
Scott Kurt, a local solo acoustic guitarist who now resides in Sterling, brought the grittiness of his American Rust Belt origins to his Saturday performance at the Market/Explorer Street Stage. Kurt delivered his music, in what he termed on his website, "a whiskey-tinged barroom voice wrapped up inside a whole lot of full-tilt country-rock guitar."
The Family Fun Zone appeared to be a big hit to both children and parents. Local businesses such as Bach to Rock Music Schools, Common Ground Child Care and the YMCA of Reston were represented, many offering free hands-on activities for the younger set to enjoy while their parents spoke to staff.

Victoriya Palamarchuk, Principal of the Russian School of Mathematics, secured Booth 100 at Taste of Reston. In an interview, she spoke highly of the citizens of Reston and the Reston Chamber of Commerce. "I've been coming here for two years; it's a very interesting community where parents care a lot about their children's education. I joined the Reston Chamber of Commerce and found them amazing. They've produced Taste of Reston each year, and we help out. It (Reston) is on the rise."
After all the food and fun at Reston Town Center, organizers of Taste of Reston had arranged on Saturday for a free shuttle to take patrons to their Carnival at Lake Fairfax.
The Greater Reston Chamber of Commerce produced Taste of Reston.

THE CHAMBER is the catalyst for business growth and entrepreneurship for their members and organizations in Western Fairfax and along the Dulles Corridor. To learn more about the Chamber's programs, visit www.restonchamber.org.