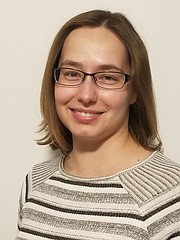 Crystal F. Jean has been selected as executive director of Falls Church-McLean Children's Center, the nonprofit, high-quality preschool that has guided children from low- and moderate-income families toward kindergarten readiness for 50 years. Jean becomes the seventh director of the Center in its history.
Having served as assistant director of Falls Church-McLean Children's Center for the last year and a half, Jean is already familiar with the early childhood education program.
"I was drawn to the Children's Center because its mission of serving all children aligns with my own philosophy of education," Jean said. "I believe all children deserve a strong educational start to prepare them for kindergarten and beyond. I love that the Children's Center is diverse and inclusive, and also equitable. Every child has access to the same highly qualified teachers, curriculum, and support services."
Dedicated to teaching young children, Jean has been a preschool educator for more than 10 years. She holds a Master's Degree in Education with a focus on child development from Southern New Hampshire University. Prior to joining the Children's Center, she was the director of Rock Spring Preschool, a half-day cooperative, in Arlington, Va. for two years and its resource teacher for one year. Before moving to northern Virginia, Jean, who holds a bachelor's degree in psychology, taught special education preschool in New Hampshire public schools.
"The search for our new director attracted several very good candidates," said Children's Center Board President Susan Poretz. "Crystal was the clear choice because she knew our mission, staff, children and families already and we knew that her values and work style fit the Children's Center."
As Jean assumes the executive director position, Lucy Allca-Pelletier, former education coordinator and long-time Children's Center teacher, becomes assistant director.