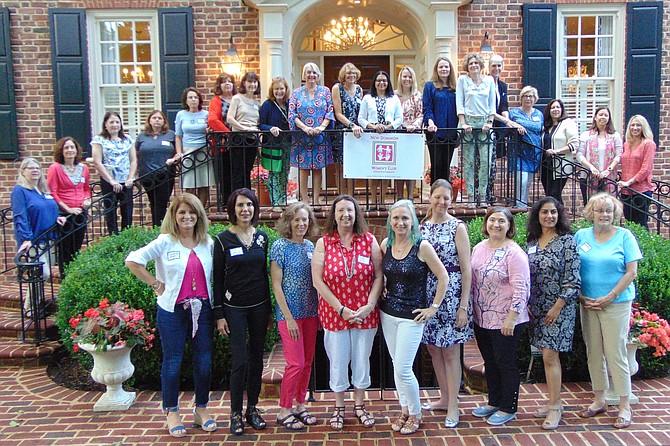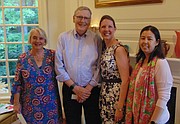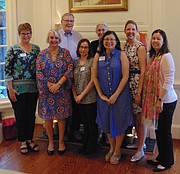 The New Dominion Woman's Club (NDWC) presented checks for $4,000 each to four of its 2018-2019 club year beneficiaries on Monday, June 10, 2019, at member Kathleen Manning's residence, where guests dined on catered cuisine from Moby Dick. Those organizations receiving funds included the Falls Church McLean Children's Center, McLean Project for the Arts, Safe Community Coalition and Share, Inc. of McLean.
According to NDWC President Jennifer Salopek: "We feel like we make an enormous impact on our community, especially given the size of our membership; we have 66 members and we have raised nearly $25,000 this year – even without our Spring fundraiser, so we're enormously proud of that. It's something we're very proud of as we enter our 52nd year."
She said this year's club fundraisers included a wine tasting at Chain Bridge Cellars; Giving Tuesday, an after-Thanksgiving event at the Preppy Pink Pony; Arts Night Out at McLean Project for the Arts; and also, they were selected as the beneficiary for the rally for a community charity tennis event at McLean Racquet and Health Club.
"Another reason we were able to give so generously this year is because of the enormous support of our corporate donors. Our lead donor is TD Bank, so we are very grateful to them for their generosity and support," she said. "Even in the absence of our usual Spring Fashion Show fundraiser, we were still able to give the same amount that we did last year, especially thanks to the support of those corporate sponsors."
ACCORDING TO RECIPIENT Elizabeth Hale, President, Safe Community Coalition: "The Safe Community Coalition is thrilled to receive funds once again from the New Dominion Woman's Club to support our programs and events fostering mental health and wellness and our youth across McLean. Their ongoing support means so much to our financial security and allows us to have events free of charge."
She said the 25-year-old organization based in McLean supports student health and wellness; mental health; putting on events for sixth-graders all the way up to college kids and parents that are focused on how to manage stress and anxiety.
Added recipient Deb Bissen, Director of Communications and Development at McLean Project for the Arts: "We are so appreciative as always of the New Dominion Woman's Club and their strong support to so many community organizations in the McLean area. They've been long-term supporters of McLean Project for the Arts, both financially and the hard work they do in volunteering with some of our events, especially with our MPArtFest every fall in McLean Central Park. They've been wonderful in helping create the Children's Walk and we can't thank them enough for all of the support over the years."
Nancy Sausser, MPA Curator and Exhibitions Director, said the mission is to exhibit the work of contemporary artists from the mid-Atlantic region and also to educate the public about contemporary art. They have many classes; run MPArtFest and have at least 16 exhibits a year, changing every 6-8 weeks, and work with living artists from the area.
Added recipient Crystal Jean, Executive Director, Falls Church McLean Children's Center: "We're honored to be a recipient of the New Dominion Woman's Club this year. Not only do they contribute financially but we're very fortunate that they have a hands-on approach as well. So, they come to our center twice a year as part of the Reading is Fundamental Program and actually spend time with our children so they can see where their dollars end up going, and the support they provide, what it has done to better the lives of the children that we serve."
She added: "We are a child-care center that serves low-income working families. So, without our services, many of the families below 250 percent of the poverty line would not have the ability to afford quality child care."
RECIPIENT Donald Frickel, President of Share, Inc., added: "We are particularly excited about receiving funds from the New Dominion Woman's Club at this time of the year because the Fallstead has recently opened on Lewinsville Road. It has added potentially 80 clients to our client rolls; we've already had a lot of interaction with many of them. They're starting to come to the food and clothing room. They're also making requests for financial help. That's a huge boost in our clientele so we're happy to have these extra funds this time of year to help us deal with that expansion in demand."