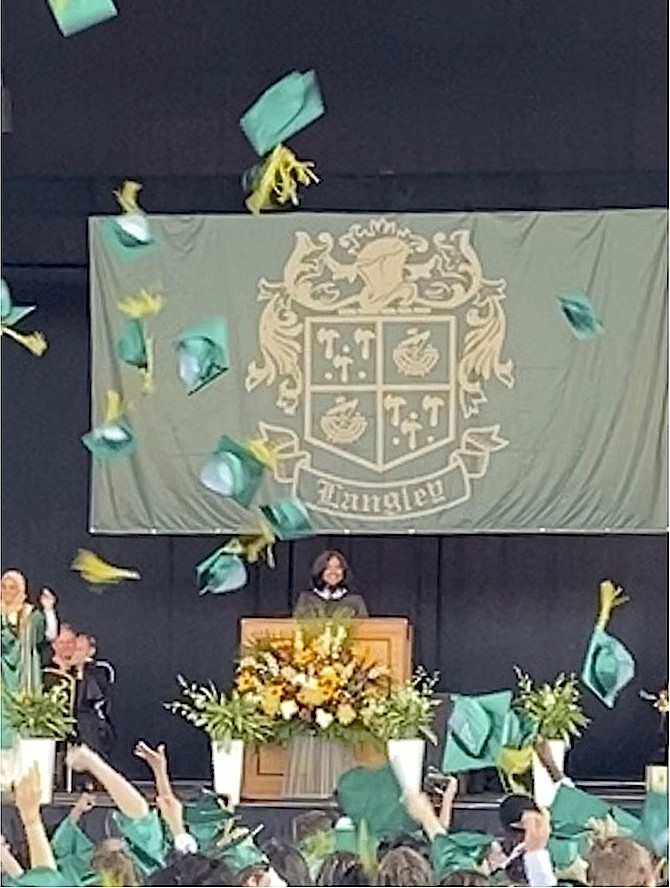 Langley High School held its Commencement Exercises on June 2 at Jiffy Lube Live in Bristow, Va. Class of 2021 officers moderated the program beginning with Fatima Mahdi, who presented the welcome. Mahdi said she felt overwhelmed with a sense of gratitude because the Class of 2021 was there to celebrate their accomplishments in a year where commencement and celebration had been foreign.
"But we are here, sitting in person, one last time together…Our memories will remain with us forever," said Mahdi.
Ritvik Chennupati led all in the Pledge of Allegiance and introduced the Langley High School Madrigals, Class of 2021, led by Dr. Mac L. Lamber, Choral Director.
In a moment of silence, Grant Kim remembered those who could not be there that day. He recognized two members of the Class of 2021 who had committed to defending our nation. "Vera Martinez…will be attending the U.S. Naval Academy, and Genevieve Middleton will be attending the U.S. Coast Guard Academy," Kim said.
Holden Smith introduced his fellow Class officers and Class sponsors Michelle Huang and Jay O'Rourke. Ellison Soobert introduced honored guests, including Scott Brabrand, Superintendent Fairfax County Public Schools, and Elaine Tholen, Dranesville District School Board Member.
In her Student Address, Devron Johnson said there were 531 Langley graduates in the Class of 2021. All experienced the Saxon life differently, but everyone found that life was not always easy, and things would never be handed to them. "But it is worth the time and effort spent...We have never been told to shy away from a challenge but rather to embrace things that scare us."
In the Principal's Message, Kimberly Greer said the Class of 2021 achieved beyond anyone's wildest dreams, excelling in all areas of academia, on the stage, and fields. "You have made Saxon country proud. We thank you for the rich legacy that you are leaving behind...and have left very big shoes for succeeding classes to fill."
Greer presented the Principal's Award to Brook Van Beuren, a student who remained ready to give every task for broadcast journalism her best effort. "She loved being part of the team...and a natural in front of the camera...This student never broke a sweat. She remained calm and confident and excited to bring the Langley community the top news of the day," Greer said.
James Sykes, Assistant Principal, Senior Class Administrator, presented the Faculty Award to Lily Fowler. Throughout her four years at Langley, Fowler modeled what it meant to be a team player both in and outside the classroom.
Finally, the moment everyone had been waiting for, the Presentation of Diplomas and Principal Greer's words, "I hereby confirm that the seniors of the Class of 2021, whose names have been presented to me, are now graduates. Congratulations."
The Langley High School Graduation on Livestream can be viewed online.