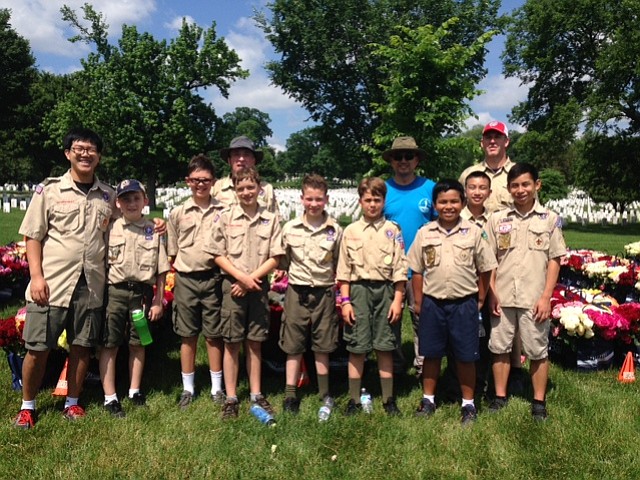 For the seventh year, Boy Scout Troop 976 of Our Lady of Good Counsel in Vienna has participated in the Memorial Day Flowers Foundation event at Arlington National Cemetery throughout Memorial Day weekend. The Memorial Day Flowers Foundation honors those who have served our country by placing flowers on the gravesites at National, Veteran and local cemeteries throughout the United States.
The scouts of Troop 976, their adult leaders and more than 1,200 volunteers devoted hundreds of hours unloading, organizing and distributing more than 210,000 flowers that are placed in front of individual gravesites throughout the cemetery. Scouts and volunteers also present visitors arriving at Arlington National Cemetery on Memorial Day with flowers so that they can honor their loved ones privately.
Vienna's Troop 976 has played a significant role in the inception and continual development of the program with Troop Scoutmaster Abe Bacarra carrying on the tradition as an Advisory Board Member of the Foundation and as Foundation Lead at Arlington National Cemetery. Mr. Bacarra is the liaison to the cemetery in organizing all aspects of the event each year as well as securing private, public and corporate sponsorship.
The scouts of Troop 976 invite the public to plan to join them next Memorial Day as all are welcome and encouraged to participate. If you would like to participate, volunteer registration information will be updated early next spring and can be found at: https://memorialdayflowers.org.