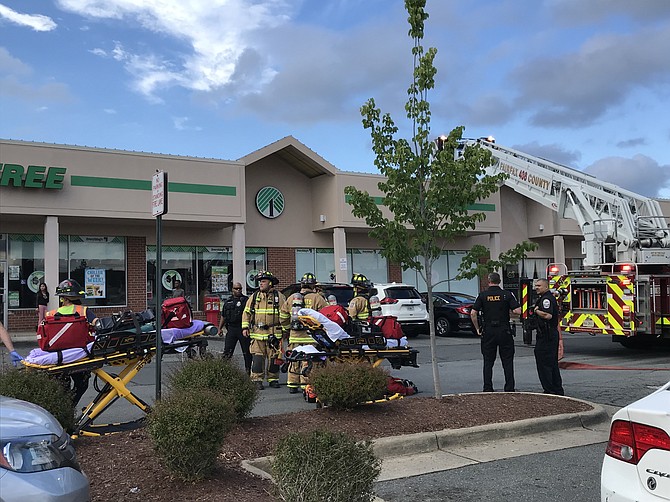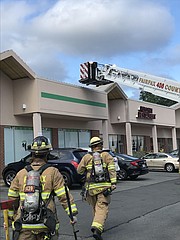 A late-Saturday-afternoon fire on June 23 chased diners and employees out of Pollo Inka, a Latin American Restaurant located at 656 Elden Street a block from the heart of Herndon's downtown. Nearly a dozen stations from across the region responded to a call for a possible fire at the restaurant situated in a one-story commercial shopping center.

Engines, trucks and rescues from Fairfax County Fire and Rescue Stations 401 McLean, 402 Vienna, 403 City of Fairfax, 404 Herndon, 423 West Annandale, 425 Reston, 436 Frying Pan, 439 North Point as well as Loudoun County Fire and Rescue Tower 611 and Metropolitan Washington Airports Authority Fire and Rescue 303 responded.
The first firefighters at the scene reported fire and smoke in the restaurant and smoke emitting from one of the exposures. Bystanders crowding the sidewalks reported seeing flames coming from the roof.
"Sprinklers helped to keep the fire in check until firefighters could aggressively put the fire out," reported Captain Randy Bittinger in a video filmed on site and later posted on the Fairfax County Fire and Rescue Department Facebook page. Bittinger added that fire investigators remained on the scene to investigate the origin of the fire.

No civilian or firefighter injuries were reported. Pollo Inka, which opened in the shopping center location in 1992, is closed due to the damage.
According to state records, the shopping center is owned by Maryland-based and privately held Richmond Corporation. There are numerous vacant storefronts in the aging shopping center, some of which have been empty for multiple years such as space formerly occupied by the Tortilla Factory, a popular dining spot that closed in 2012.
In July of 2015, the Pines Shopping Center obtained a new leasing manager, Vienna-based Renaud Consulting. On their website, a recent map of the shopping center shows Dominos Cafe marked to go into the free-standing building located in the shopping center.
The day after the fire, individuals were seen entering the rear door of Pollo Inka Restaurant. They carried equipment out of the building and loaded the items into a vehicle labeled Pollo Inka.
A man who identified himself as being part of Pollo Inka said they were taking some of the undamaged items to a Sterling restaurant owned by a relative. Asked when the restaurant might reopen, he responded it would remain closed until the damage can be repaired and hoped it would be completed soon.