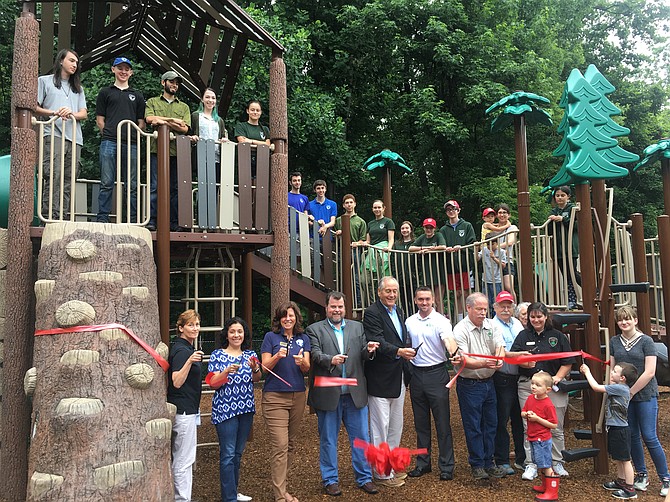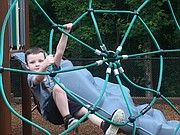 The Hidden Pond Nature Center in Springfield announced the completion of their new children's playground and picnic shelter Saturday, June 23, with a short ceremony and ribbon cutting event.
The $1.1 million playground was partially funded by the 2012 Park Bond, which originally provided for building the shelter and repaving the parking lot. With extra money saved on the parking lot, the new nature-themed playground could be constructed on a flat patch of land near the park entrance.
The new Hidden Pond playground, constructed for children ages 2 to 12, was meant to replace a wooden "tot lot" donated by the Saturn Corporation. Because the old playground was "no longer meeting safety standards," according to Park Manager Mike McCaffrey, the public and park authority determined to replace it with modern equipment that complied with the Americans with Disabilities Act (ADA) standards.
Hidden Pond has its origins set in 1940 when a farmer built the original pond for his horses. Since then it's grown into a beloved park in the Springfield community where children and families can enjoy the new playground, participate in nature and educational programs, and explore the pond.
Dawn Campbell, who has been bringing her children to Hidden Pond weekly for five years, says that she and her family "love coming here, and we're grateful to have such an awesome park so close to where we live."
Under the newly-constructed park shelter, Mike Thompson, representing the Park Authority Board, gave opening remarks before the ribbon cutting, calling Hidden Pond a "very special place."
"This nature center has introduced nature to so many different children here in the district and here in the county," said Thompson, insisting that "this investment is worth its weight in gold."
Deputy Director Aimee Vosper followed up Thompson's opening statements by praising the Fairfax County Park Authority staff and volunteers for their excellence during FCPA's re-accreditation process.
"Projects such as this exemplify the standard of excellence that we strive for every day," said Vosper.
State Sen. David Marsden (D-37) explained to staff, volunteers and visitors that Fairfax County used to be only small dairy county.
"The county has done just a fantastic job preserving these kinds of spaces for people to recreate, to learn [and] to develop community. …It's one of the reasons that Fairfax County is one of the best places in America to live," said Marsden.