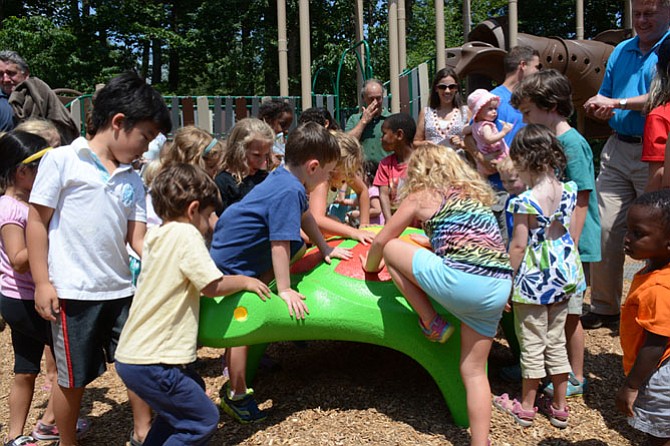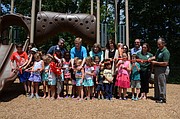 The original public playgrounds in Olde Forge-Surrey Square -- dating back to the 1960s -- were past repairs and upgrades. For the sake of safety and continued fun for children and their parents, they needed to be replaced. But the Fairfax-area park was well down on the list of other park projects, number 15, meaning it could be years before residents might see a new set of slides, swings and tunnels.
For Joanne Elder, that was too long to wait. Her son Sean was 18 months old when she heard about her community's place on the list, in the fall of 2014. "He inspired me to begin this project," Elder said.
Elder took the issue to the Olde Forge-Surrey Square Civic Association, which represents around 360 homes, then continued by getting the Fairfax County Board of Supervisors and Park Authority involved. Out of their communication, the Park Authority agreed to move up the project on the condition that the community raise a portion of the funds itself and agree to consolidate its two playground-parks into one: Surrey Square Park.
THE COMMUNITY was given until March, 2015 to raise $20,000. They applied for and received a matching $20,000 Mastenbrook grant from the Fairfax County Park Authority. The remaining portion of the project's $137,300 cost was funded by Park Authority.
Getting the deal was a big first step, but Elder was "anxious about raising that amount of money in a short amount of time."
At a community event, Elder brought up the challenge. "When she said how much we had to raise, people kind of gasped," said resident Kelly Dillon, with two young children of her own. After catching her breath, Dillon decided she wanted "to jump in." She approached Elder and asked "How can I help?"
Elder tasked Dillon with keeping track of a schedule for the fundraising effort, which included a neighborhood fair, homes tour, rummage sale, door-to-door visits and connecting with local businesses.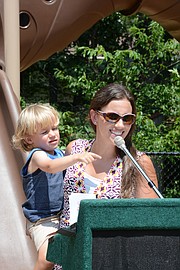 Though task-managing a massive fundraising effort was a little outside her skillset, Dillon said her children Gabriel and Hannah provided "a lot of incentive."
Olde Forge-Surrey Square Civic Association vice president George Klein helped secure investments from local businesses. He said most didn't take much convincing because they saw the park with playground as important to property values, business traffic and community well-being.
"They recognized this would be a good thing," Klein said.
With the various fundraising sources and grant, the community held up its end of the bargain. Renovation began on the new playground at Surrey Square Park on May 4, 2015. Dozens of members of the community gathered to celebrate the park's ribbon-cutting with county and elected officials on Saturday, July 25.
"Playgrounds are our first experience with a park system," said Tony Vellucci, Braddock District representative to the Fairfax County Park Authority Board. "Think of when you were a kid, the excitement of first going to a playground. You learned a lot, it's a fun place, that's how it ought to be."
Del. Eileen Filler-Corn (D-41) followed Vellucci at the podium, saying, "I'm so impressed to hear the trials and tribulations you overcame to put this together."
Supervisor John Cook (R-Braddock) praised the community that "stepped up." If residents hadn't, the playground may "never have happened," he said, "at least in this decade."
"The result is not just this playground," Cook continued, "it will be more. It showed what you can do together."
AFTER THE CHILDREN present helped cut the ribbon to formally open the park, the young guests also had the honor of revealing the turtle, a large statue that had been salvaged from the original park and repainted for the new park.
As the children scaled the turtle with abandon, swung in the swings and slid down the gleaming plastic slides, Elder, Dillon and the other parents looked on and smiled.