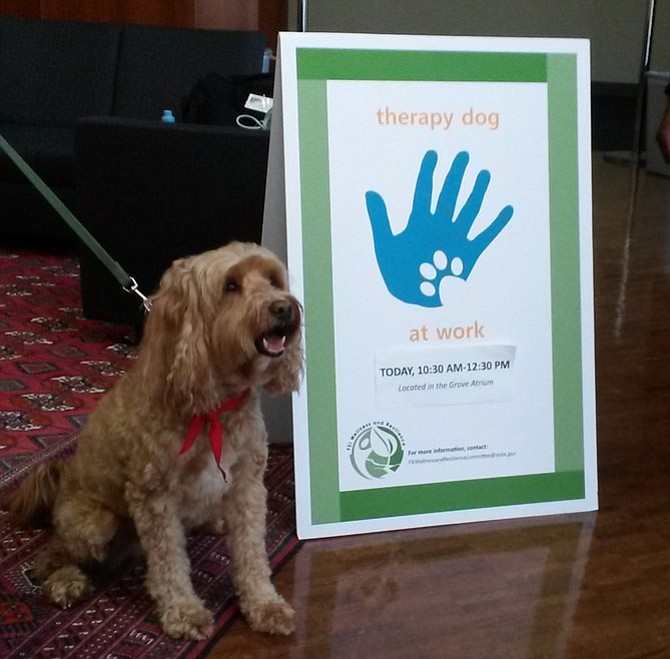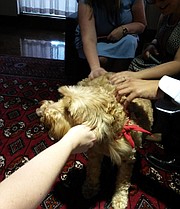 Chance is a therapy dog.

His owners lost their miniature poodle friend Cocoa on his 16th birthday — an experience the owners found so very hard to bear they determined never again to own a pet. A quarter century later, the pain of their loss had subsided but their love for dog companionship endured. After considerable deliberation, they decided to take a chance. Naming him was the easiest part. Including Chance in their various volunteering experiences has been the most enjoyable aspect.
Eight-year old Goldendoodle Chance enjoys a double life.

Most of his days and nights are consumed by his inside job: guarding and exercising Anne and Don Kelly, his human housemates in Old Town Alexandria. For his outside job, Chance carries the official colors and metal tags of Therapy Dogs International, Inc. as he serves clients all across the metro region.

Twice-certified under rigorous TDI standards, Chance's voluntary outreach might take him to an elementary school where he appears as an avid listener to a child's struggling reading efforts — occasionally thumping his tail in appreciation. On other occasions, Chance's assigned duties bring him to deliver joy and energy to a retirement facility or hospital waiting room, or slip silently into hospice duty where he and his patient cuddle quietly in bed.

What Chance doesn't yet know is his recent designation as a Reagan National Airport greeter for the celebrated Angel Flight Program bringing veterans to view Washington's celebrated war memorials. Chance has demonstrated how to approach a wheelchair and isn't intimidated by the roar of taxiing jets.
In his most recent "professional experience," the accompanying pictures depict Chance doing his best to channel stress from U.S. State Department employees currently undergoing particularly rigorous training.