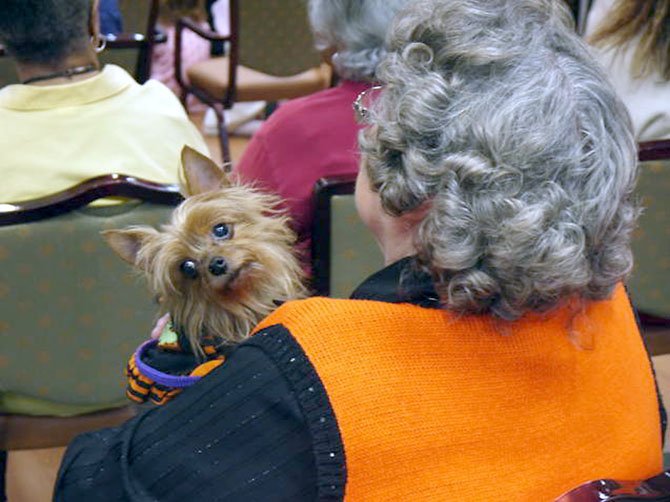 Prancing, dancing and wagging their tails, Midnight, Ladybug, Itsy & Bitsy paraded across the stage in their Halloween finery as Greenspring celebrated its 10th annual Halloween Pet Parade on Saturday, Oct. 20.
Photo Gallery
Tenth Annual Pet Parade at Greenspring
Click Photo for Flash
"This is one of our favorite events, a real treat for residents and their pets," said Kay McCurdy, the founder of the DOG club (Dog Owners of Greenspring), and the parade chairman. "In all the years we've been doing this, we've never had any problems with the dogs fighting."
As pooches paraded down the stage, accompanied by staff, residents and family members, Master of Ceremonies Brad Hibbs told the audience the stories, something about each of the 25 pets, to the standing-room-only audience.
Midnight, a 16-year-old toy poodle, was abandoned by his former owners, and just a day away from being put to sleep when owner Frank Adams rescued him.
"He's a great little thing," Adams said, comforting the dog before his stage debut in a purple tutu. "Lots of love in him."
Freda Bruner, mom of Itsy & Bitsy, twin Yorkshire Terriers, started the event with the "parade of children." "We have a lot of grandchildren and great-grandchildren of residents at this event, so we started a tradition of having them parade first." Each child received a goody bag, filled with candy and toys.
Bruner started Greenspring's dog therapy program at the retirement community's nursing home, where owners bring their pets to comfort other residents. "Itsy and Bitsy are both very good with people who are ill. They sense it, and they will nestle next to someone," Bruner said.
After the parade, a team from the Virginia Search and Rescue Dog Association (VSRDA) gave a presentation on the organization's volunteer canine search and rescue unit. The unit utilizes specially trained dogs to locate missing persons after disasters and other rescue and recovery mission.
Buddy, a Maltese, was one of the show's standouts. In a nod to the 2012 elections, owner Marilyn Marshall dressed him in red, white and blue and held a sign that read "A Vote for Buddy is a Vote for Every-Buddy."
Other local sponsors included Shampooch Mobile Spa, Inc., Felix & Oscar, PetValu and PetSmart.