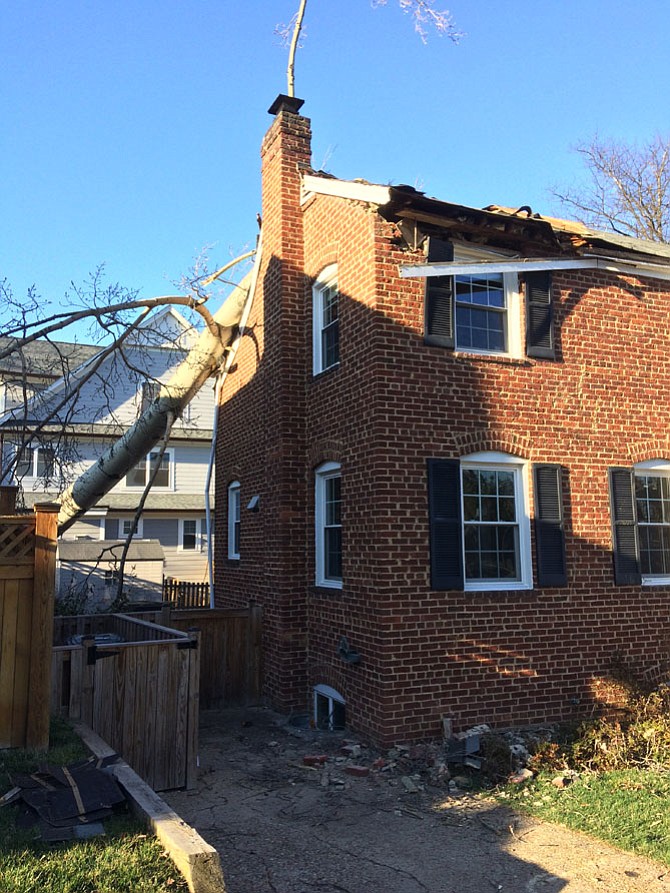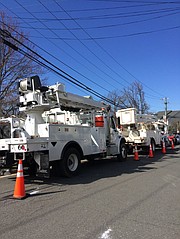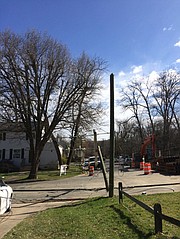 There was a big mess on North Van Buren Street on Saturday, March 3, and Bruce Arnette, an engineer with Dominion Power for the past 30 years, was waiting for clearance to start clearing it up. He had six crews standing on the street near their trucks and two more crews on the way. They were electrical contractors who had come from North Carolina and Georgia to help.
For neighbors, the novelty of losing power since the night before was beginning to wear off. Carol Burnett, who lives on Westmoreland Street, asked Arnette when he was going to start cutting down the tangle of trees at the end of the street. She noted that the border of East Falls Church and Arlington was at the end of the street, and no doubt creating jurisdiction issues. Burnett said she was walking her Schipperke "Katie" because "It's warmer to walk the dog than to stay at home with no heat." Arnette said he and his crews would have to replace eight telephone poles up and down the street, and the wires on the street were still live and very dangerous. "So I'm just waiting to make sure we get clearance and they know we are working in the area," he said.
Elsewhere in Arlington, the area near Yorktown High School had some major tree falls. At one house on the corner of North George Mason Drive, a massive Aspen had fallen onto the roof of a house, destroying one side of the roof and a window. The owners, who had just moved to the area last August, said it was the largest Aspen south of Pennsylvania, and a "notable tree" of Arlington County.
Many residents of Country Club Hills and Yorktown neighborhoods were without power from about 4 a.m. to about 9 p.m. on Saturday. There were also outages of Verizon service in the area.