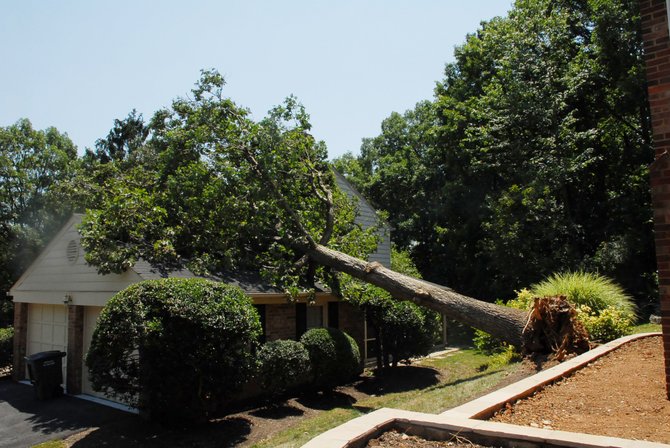 On Friday night a line of powerful storms moved through the D.C. area. The storms hit the Reston area around 10:30 p.m., taking many residents by surprise. The storms knocked out power and phone reception throughout Reston and caused significant tree damage.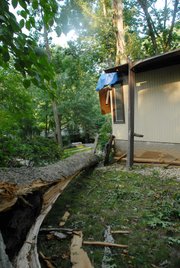 Randy Sands of South Shore Drive in Reston said he and his wife, Nina, had just returned home around 10 on Friday and was surprised to hear severe weather reports on TV. Shortly after hearing the report, the winds picked up and tree debris and dirt began flying through the air. While his wife and teenage daughters headed to the basement for safety, he checked the doors and windows. Then he saw something few homeowners want to see: a 50-foot oak next to his house began swaying violently. He then heard the tree crack and smash into his roof. He said the impact was so strong the house shook.
Further down South Shore Road the sound of chainsaws could be heard as neighbors removed fallen trees and limbs.
Similar scenes were repeated around Reston. The streets were littered with fallen leaves and small branches. In neighborhoods with mature trees, several had fallen.
On Ring Road, another oak was toppled. It fell across a property line and came to rest on a neighboring house. Homeowners, Grant and Aquinas Beuhrig, said they did not hear the tree fall and had been surprised by the severity of the storm. "We had not heard a warning that a storm so severe was headed for our area," said Grant.
In addition to tree damage, many in Reston have no electricity on what is expected to be the hottest weekend of the year. On Saturday, Dominion Power reported that 650,000 homes in Northern Virginia were without electricity, but that crews were out in force to restore. Nonetheless, according to a statement on Dominion's website, returning power to homes could take "a couple of days."


DUE TO THE POWER OUTAGE, businesses in Reston Town Center were closed Saturday. Staff at Clyde's tried to stay busy, waiting for the power to come back on. The restaurant and many others in Town Center opened for lunch starting at 11. Saturday is usually their busiest day. On this Saturday, restaurants and business were dark and the streets of Town Center were empty.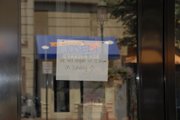 In front of the Bowtie Cinema, hopeful families waited in the shade for the theater to open. At 1 p.m., several families were hoping to catch a matinee viewing of "Brave." Families had traveled from nearby Vienna and Herndon, hoping not only to see the movie but also to escape the heat of their darkened homes.
The storm also knocked out some phone service to both Verizon and Sprint customers, and took down 911 call centers in Prince William, Fairfax, Stafford, Manassas and Manassas Park. Emergency call centers were back up late Saturday afternoon and most cell service had been restored.
The loss of phone service in Reston led to the closing of several Reston Association pools. According to the Fairfax County Health Code, pools must have a working land-line phone in order to operate. Eight of RA's 14 pools were closed on Saturday, further reducing options for staying cool in Saturday's heat.
According to the Virginia Department of Emergency Management, Friday's storm was a "derecho," which produces tornado-like damage in its wake.
A derecho is a "widespread, long-lived wind storm that is associated with a band of rapidly moving showers or thunderstorms," the National Weather Service said on its website. Like tornadoes, derechos produce straight-line wind damage, but over a much wider area. To be classified a derecho, storm winds must reach 58 mph. Friday's storms produced 70-80 mph winds.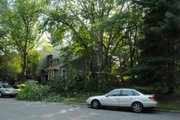 Derecho are uncommon in the Washington area, occurring here only every three or four years, according to the Associated Press. The storms form along the northern boundary of a hot-air mass, right along the jet stream, where upper-level winds zip along.


ACCORDING TO OFFICIAL REPORTS, six people across the state were killed – including two in Springfield – by falling trees and Gov. Bob McDonnell declared a state of emergency for Virginia, saying Friday's storms created the largest non-hurricane power outage in state history.