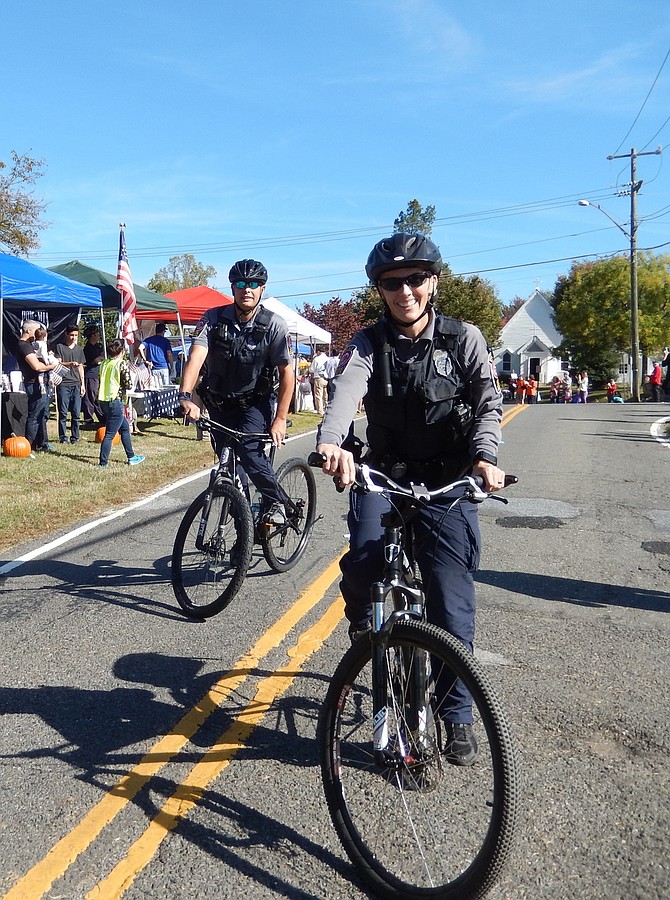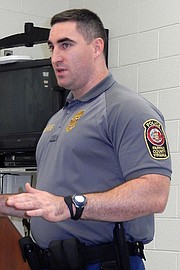 The Sully District Police Station's Bike Patrol Unit performs an invaluable service to the local community. And during a recent meeting of the station's Citizens Advisory Committee, Lt. Andrew Wright, the bike-team supervisor, explained the type of work done by his crew.
"There are four, full-time officers and myself, and our general shift is from 3 p.m.-1 a.m.," he said. "We have a neighborhood focus. Sometimes, we react to an [ongoing] issue in the community, such as vehicle-tampering. But most of the time, someone calls about a house with lots of cars pulling up at 3 or 4 in the morning, and we check it out. Or they tell us about people who are visiting someone for a very short time."
Residents' complaints are often the catalyst for the bike team's deployment. For example, said Wright, "We received a complaint from a neighbor about a townhouse near Braddock and Old Centreville roads." He said a patrol officer was able to visit the house and, while inside, he observed something amiss. So the police continued to investigate and, eventually, were able to seize nine weapons, 1,000 rounds of ammunition, plus marijuana.
"We knew the name of the person who lived there, and we watched the house in unmarked cruisers," said Wright. Then bike-team members followed that person's car to the Old Centreville Crossing shopping center.
"An officer saw someone jump into a car, grab something and jump back in his own car," said Wright. "We asked him what he was doing, and he said he was in the wrong car. We could tell something was wrong about this."
They were right. "We got a fourth of a pound of marijuana out of the second car and one pound from the first car," said the officer. "So sometimes, we get lucky. But it all starts with complaints from neighbors. If you see something that doesn't look right to you, it probably isn't."
Lt. Ryan Morgan, the station's assistant commander, was also on the bike team. He said its members tackle special projects needing their particular talents. "They're for people who are flexible and can adjust their schedules," he said. "They have a different skill set and can focus more attention on things for a long time."
And, he added, "They're absolutely needed in every district station. It's a well I go to often when we have a problem, and they never let me down. They can sometimes do things other officers can't. They're goodwill ambassadors for the [Police] Department, too. For example, they participate in the Centreville Day parade and do the Bike Rodeo for the Boy Scouts each summer."
"We enjoy that stuff, too," said Wright. "But we also like doing criminal patrol and keeping the neighborhoods safe."