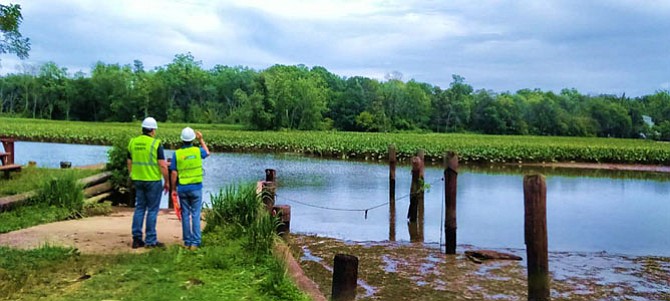 "The replacement is definitely due." — Mount Vernon District Supervisor Dan Storck
Built in 1961, the sanitary sewer pipe that runs beneath the Little Hunting Creek in Mount Vernon has developed a sag that is causing blockages and needs to be replaced. This 12-inch diameter, cast-iron pipe that runs 789 feet between Woodland Lane and Thomas J. Stockton Parkway conveys wastewater used from toilets, cooking, laundry and bathing from 480 homes to a pump station and on toward a treatment plant. So now, a $1.6 million project to replace the aging pipe is in the works; the new pipe is expected to last for 50 years.
"The current problem is the sanitary sewer pipe has developed a sag," said Matthew Kaiser, information officer from the Fairfax County Department of Public Works and Environmental Services. "It means all the wastewater from toilets, sinks, laundry — all that liquid is forming a blockage in the sag. It's requiring a pretty rigorous, extensive maintenance schedule to keep that from blocking up. If the pipe blocks, it's going to cause a sanitary sewer overflow, which has environmental implications."
Mount Vernon District Supervisor Dan Storck said, with the new pipe, he hopes to ensure that area has a long-term, viable, environmentally safe sewer and water system. "The replacement is definitely due. It's necessary because the 50-year-old sewer poses a significant risk to Little Hunting Creek, the Potomac River and the Chesapeake Bay. If it were to collapse and spring a leak, it would pour raw sewage into (the creek). This is a preventative measure."
The interior of the sewer pipe was inspected in 2015 using closed-circuit television cameras mounted on remote-controlled robots. The footage revealed three major sags, and a large amount of debris with a buildup of fats, oils, and grease throughout the pipe. The problem required the sewer line to be placed on a 90-day pressure cleaning schedule.
Kaiser said this isn't an emergency repair project, rather the condition of the pipe was assessed a few years ago and the county has had time to plan and design the best solution possible to fix it. He said replacing the pipe is the most cost-effective option.

He continued: "The project is to replace the pipe, which should give it another 50 years. It will reduce or eliminate the constant work that's being done to maintain it. This is a replacement project. It's an older sanitary sewer system."
While no sewage backups have been reported, people are still able to use their sinks and toilets, said Kaiser. "You want to fix this before that becomes an issue; this project has been on the radar for a number of years," he said.
A study was conducted to investigate options for replacing the pipe. The location of the pipe in a tidal creek surrounded by neighborhoods presented challenges to typical construction methods. After considering nine possible alternatives, the study concluded that using the open cut method with a "cofferdam" would provide the best long-term solution. A cofferdam is a temporary enclosure built across a body of water and constructed to allow the enclosed area to be pumped out, creating a dry work environment for the work to proceed. This method reduces the amount of onshore work in proximity to residents; nonetheless, a significant amount of on-shore work will be necessary, such as material delivery and hauling away excavated material.
The project is currently in the design phase, which includes wetlands delineation, field and vegetation surveys, and a geotechnical investigation. "They're working on the design phase to make sure the project is designed the most efficient, best way possible. There's a lot of permits that need to be met because it's in a wetland," said Kaiser.
Design began in December 2017 and will continue through April 2019. Construction will require significant permitting because the project is in a tidal, navigable water body with adjacent wetlands. Permitting could take up to 18 months so construction is estimated to start in May 2019 and may take eight months to complete. "They're still surveying. In a month, there will be a barge out in the water taking soil samples. There's no disturbance planned until May 2019," said Kaiser.
Construction activities will be mobilized on both sides of Little Hunting Creek. Staging areas and construction access points will be from an HOA's park on the west bank and a private, undeveloped parcel on the east side. The alignment of the pipe hasn't been finalized, so they don't know which yards will be impacted yet. "All efforts are being made to minimize disturbance to residents. The access points will be restored at the conclusion of the project. We will host community meetings as necessary and use provide updates on the website," said Kaiser.
Kaiser said during construction, residents will still be able to use their toilets and sinks. "With any of these replacement projects, there's a bypass system that gets put in place; there will be no service interruption," he said.
This project will be awarded to a contractor through a bidding process once the design is completed. Every effort will be made to minimize the impact to the park and boat ramp, and to schedule construction activities to minimize interference with recreational activities. And all work will be supervised by county staff. The project will be funded by sewer service fees paid by residents in their Fairfax Water bills.
For questions about the project or to receive project updates by email, contact project manager Thomas Grala at 703-324-5815.