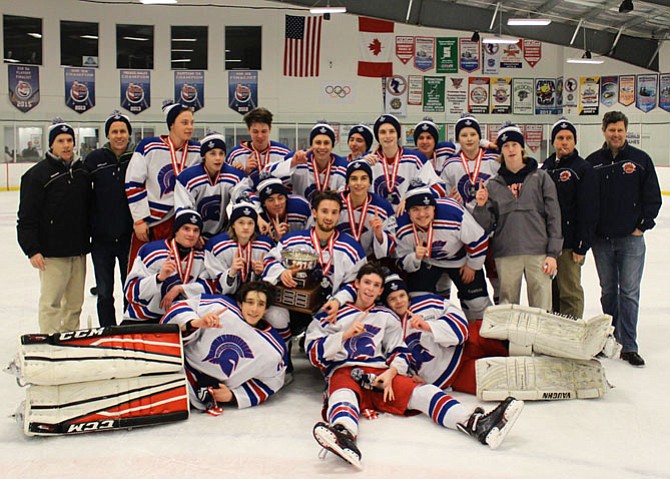 The T.C. Williams High School Varsity hockey team won the 2017-2018 Capital Scholastic Hockey League Championship (CSHL) on Friday, March 2 at the Prince William Ice Center with a come-from-behind 5-4 victory over the Lake Braddock Bruins.
T.C. raced out to a 3-1 lead with goals by Ethan Steinburg, Jackson Oppel and Jason Townsend. Lake Braddock, led by senior captain James Jones (3 goals), battled back in the second to take a 4-3 lead. In the third period T.C. retook the lead with goals by Steinburg (2 goals, 1 assist) and the game winner from Jason Townsend (2 goals, 1 assist). Net minder Lucas Hernandez held off the Bruins stopping 22 of 26 shots.
It was T.C.'s second year in the league. T.C. finished the regular season second in the CSHL Northern Division with a 7-2-1 record. T.C. beat Robinson 4-3 in the playoff quarterfinals, and WT Woodson 4-3 in the semi-final game.
Sophomore Jason Townsend led T.C. during the playoffs with 5 goals and 5 assists including game winners in all three playoff games. Jason and James Townsend received All-CSHL Honors for the season.
T.C. Williams will field both Varsity and Junior Varsity teams again for the 2018-2019 season.