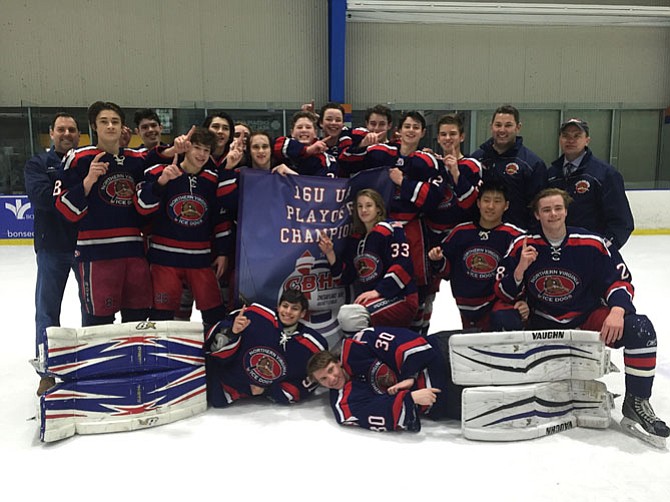 Alexandria's Northern Virginia Ice Dogs Hockey Team won the U-16 Upper Patrick CBHL League Championship on Feb. 26 beating the #1 ranked Piedmont Predators in a game that went to a shoot-out. After three periods the score was tied 2-2 with NOVA goals by Ben Mitzelfeld and Jamie Arnold and assists by Rhett Styles, Justin Kim, Patrick Graves and Graham Kalan. Neither team scored during the five-minute sudden death overtime.
With Warren Payne in net for the Ice Dogs, the game was decided in a five-man shootout. Jamie Arnold scored his second goal of the game as the third NOVA shooter. The Piedmont Predators also scored a shoot-out goal so the game came down to a contest between the fifth shooters. NOVA's fifth shooter, Alex Simuro, scored for the Ice Dogs and Payne topped off a stellar game, stopping Piedmont's last shooter giving NOVA the 3-2 championship win.
Led by head coach Jim Fullem and assistant coaches Todd "Digger" Graves and Mike Sterego, the Ice Dogs went into the playoffs in third place. In the playoff game, NOVA beat #2 ranked Hampton Roads 3-2 on the Whalers' home ice with goals by Rhett Styles and Graham Kalan with James Purpuro scoring the game winner to get them into Sunday's Championship game. Trevor McHugh was in goal for that win.
Members of the 2017 NOVA Ice Dogs U-16 Championship Team are Rhett Styles (#6), Jamie Arnold (#8), Justin Kim (#10), Alex Simuro (#12), Andrew Meighan (#13), Scott Samples (#26), Ben Mitzelfeld (#28), Patrick Graves (#30), Gavin Gustafson (#33), Graham Kalan (#55), Jake Cornelius (#67), James Purpuro (#71), Jack Stanley (#74), Mick Sterego (#94), Warren Payne (#30) and Trevor McHugh (#97).
The NOVA Ice Dogs' home rink is the Mount Vernon RECenter.