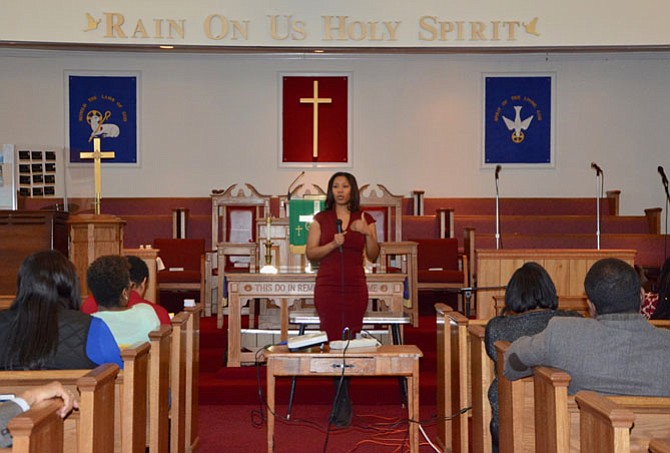 The HIV/AIDS narrative in Alexandria has serious undertones. There have been over 30 newly diagnosed cases of HIV infections in Alexandria annually since 2014, according to information collected by the Alexandria Department of Health HIV/AIDS team, which includes Debbie Dimon, Public Health Nurse Supervisor, and Nechelle Terrell, HIV/AIDS Prevention Coordinator.
In 2014, Alexandria saw its lowest number of new HIV infections of 29, with an increase to 38 in 2015 and 42 in 2016.
Consistent with national trends, Alexandria's new cases of HIV are primarily seen among young African American men who have sex with men.
This was a message of the National Black HIV/AIDS Awareness Day Symposium held Feb. 10 at Alleyne AME Zion Church, 1419 King St. The event aimed to raise awareness of the disproportionate ways HIV is impacting the African American community and identify ways the community can become involved in reducing the number of infections and help those that are living with HIV to live healthy, productive lives.
"We need to maintain the fight in HIV efforts," said Andrew Torre, chair of the Alexandria Commission on HIV/AIDS, who spoke at the HIV/AIDS symposium.
With the advent of medication, the impact of the epidemic is not seen as the same as the 1980s or 1990s when the west woke up, says Torre. "The big challenge is getting the word out. [There is] a lack of knowledge around HIV prevention," he said.
CDC estimates that 40 percent of new HIV infections originate from people who don't know they have HIV. This begets the problem.
According to the Alexandra Department of Health HIV/AIDS team, if a person does not know that he or she is infected, the virus can be transmitted to others. But once a person knows they are positive, they are able to link with medical care or other supportive services and with adherence to antiviral medications, the individual's health improves as the HIV is unable to replicate and become undetectable in the blood, vaginal fluids and semen reducing the spread of the infection, she says.
That is why it is important to get an HIV test.
Despite the avenues that Alexandria offers for HIV/AIDS treatment, including free HIV walk-in, confidential Rapid Testing services, people are reluctant to get tested.
"HIV carries a stigma," said Brian Outlaw, health educator at Nova Salud Inc., an organization located in Falls Church, Va., that provided the free HIV testing at February's HIV/AIDS symposium.
People are fearful of being disgraced, misjudged, misunderstood and mistreated. But this is ignorance speaking. "People need to understand that there is no shame in checking your status," says Outlaw.
The Alexandria Health Department is a safe place to get an HIV test and to communicate with partners the outcome of that test. The Health Department can also link people with the care and support needed if living with HIV/AIDS.
For more information on Alexandria's clinical services, call (703) 746-4976 or visit Alexandriava.gov.