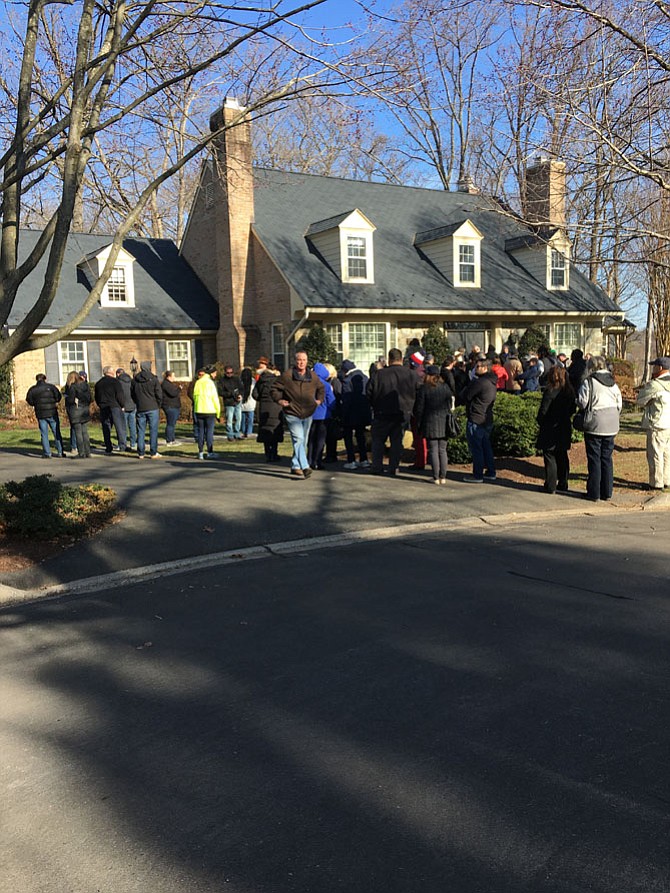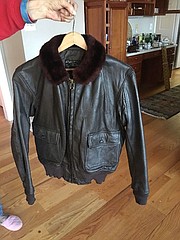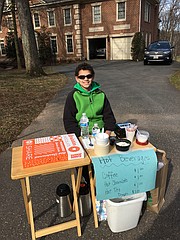 Cars lined the streets for blocks around and crowds stood for hours in front of the brick and stone house in the Palisades neighborhood in Potomac. They were there to attend the estate sale at the home of U.S. Sen. John H. Glenn, Jr. and his wife Annie.
Glenn lived a long full life and artifacts from his many years and occupations were on sale. He was a Marine Corps aviator, an engineer, astronaut and United States senator from Ohio. He died Dec. 8, 2016. In 1962, he was the first American to orbit the Earth.
The sale ran from Thursday to Sunday of last week and attracted more than 1,000 visitors, according to Karen Jones, owner of Washington Estate Services, which ran the sale.
"Many of the people were collectors," she said. "They were interested in memorabilia having to do with the senator, mostly his astronaut days. They wanted a piece of history."
With so many people wanting to get into the house and see what was on sale, visitors had to be let in about 25 people at a time, Jones said.
"It was terrible, the line," she said. "It was a problem handling security."
One woman, who asked not to be identified, said she was at the sale Thursday at 10 a.m. She said she had to wait then and when she got in she only had time to look quickly at the library and a few other rooms because she had to pick up her son.
She was glad she went and bought a few books that first day. She was back again Sunday with her father-in-law to see if they could get in.
"They let in about 30 people and they never came out," she said of her Thursday wait.
Then some Marines in uniform arrived and they went in, she said.
"The Marines were mostly interested in his war years," Jones said.
Glenn was commissioned in the Marine Corps in 1943. He flew 59 combat missions during World War II, according to his profile on the NASA website.
"After the war, he was a member of Marine Fighter Squadron 218 on the North China patrol and served on Guam. …In Korea, he flew 63 missions with Marine Fighter Squadron 311. As an exchange pilot with the Air Force, Glenn flew 27 missions in the F-86 Sabre. In the last nine days of fighting in Korea, Glenn shot down three MiGs in combat along the Yalu River," according to the website.
The estate sale offered many items associated with his careers with NASA, in the Marine Corps, and the U.S. Senate.

"There was a lot in the house," Jones said. "From practical things to precious things. There were people who stood in line for two hours and stayed all day."
That did not bode well for those outside waiting to go in, yet many waited.
Kathy Gillis of Kensington waited. She said she wanted a little memorabilia.
The crowds were a perfect opportunity for neighbor Jason Bretz, 14. He opened a "Hot Beverage Stand" at the end of his driveway to serve the waiting crowds on Saturday and Sunday mornings.
He said he met Glenn and he was very friendly.
"I took him Christmas cookies and fudge," Jason said. "He would share."
Among items offered in the sale announcement on estatesales.net were: "Wonderful library. Beautiful decorative items: Tiffany crystal and porcelain, Baccarat stems, Herend figurines and 'Chinese Bouquet' (orange) occasional pieces. Lalique, Moser, Steuben, Val St. Lambert, Beswick, Halcyon Days, etc. Early American furniture and primitives (tinware, pewter, pine lap desk, pie safe, early wooden baker's racks, bowls, candleholders). Eagle figurine collection. Swarovski animals and birds. Many, many items associated with flight and aviation. Congressional and presidential items. Lovely women's clothing and accessories. Jewelry. Overflowing kitchen. Menswear. Tools. Christmas. Office supplies and furniture. Memorabilia from foreign travel. Linens. Garage. Teak patio furniture, including Kingsley-Bate like-new folding chairs. Gardening items. Decoys and duck figures/artwork. Practical household items. Historical, interesting and unique throughout…a very special sale!"