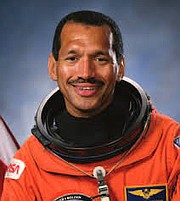 Astronaut Charles F. Bolden, Jr. has spent his life serving his country. Born in 1946 in Columbia, S.C., Bolden needed a recommendation from Representative Dawson from Chicago to attend the U.S. Naval Academy, because his South Carolina delegation turned him down. After studying at the Naval Academy, Bolden served in Vietnam and flew more than one hundred sorties piloting the A-6A Intruder. He continued to develop his flying proficiency, participating in several test projects at the Naval Air Test Center.
Like many other astronauts, it was Bolden's flying experience that led him to apply to NASA. During his time as an astronaut, he logged more than 600 hours in space across four missions, completing several experiments and technical objectives. He piloted the shuttles Columbia and Discovery in 1986 and 1990, respectively, then commanded flights onboard the Atlantis and Discovery. His final mission, STS-60 in 1994, was the first in history to include a Russian cosmonaut aboard a U.S. space shuttle. After his last spaceflight, Bolden returned to the Marines and was promoted to major general until his retirement in 2004.
In 2009, President Obama appointed Bolden to be the first African American administrator of NASA. Along with overseeing the organization's projects and missions, Obama tasked Bolden with "re-inspiring children to want to get into science and math." Bolden stepped down from the position in 2017 and currently lives near the Mount Vernon Estate.
Even after his service to the country, Bolden finds time to give back to the community. Recently, Bolden visited the Sacramento Neighborhood Center near Richmond Highway and the Campagna Center in the City of Alexandria. Both organizations are committed to educational development in their communities and host events that encourage children to learn about the sciences and technology. He has also spoken at several commencement ceremonies, including for Mount Vernon High School, Thomas Jefferson High School, and the School Without Walls in Washington, D.C. Even though Bolden is retired, he continues NASA's mission to educate children about STEAM (science, technology, engineering, arts, and math). To Bolden, informing the next generation of scientists, engineers, and even astronauts is the most important mission.
Alexander Morin graduated from South County High School in June 2018. He is currently pursuing a computer science degree at Virginia Tech and interning at the office of Mount Vernon District Supervisor Dan Storck.