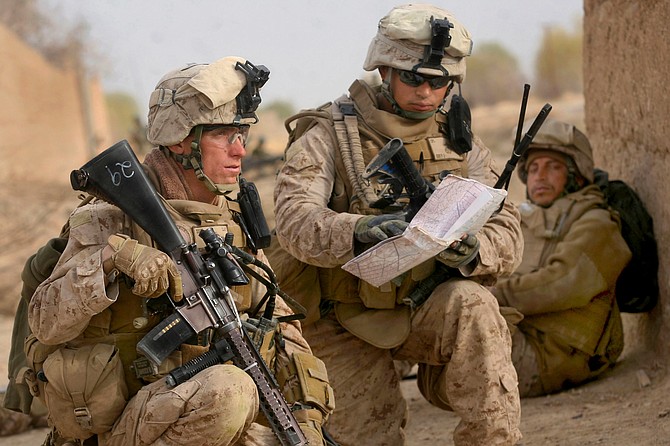 When Mount Vernon resident Dan Lamothe was embedded with the India Company, 3rd Battalion, 6th Marines division in Afghanistan, he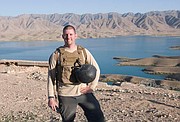 witnessed the blood and explosions that come with wartime. He wrote about a pair of Marines whose experiences stuck out in his mind, resulting in a news story that captured the essence of this time with the unit. The Marine Corps Heritage Foundation awarded Lemothe the Major Megan McClung Award for reporting on U.S. Marines abroad for his story, "'Maybe this is how Vietnam Vets felt': Americans who fought in Afghanistan wait to see how their war ends."
"My intent was to remind fellow Americans that there are individual human stories involved in that war, and that we've been in Afghanistan long enough that how they see things often evolves," said Lamothe in an email.
The Marine Corps Heritage Foundation's Annual Awards program recognizes exemplary work that furthers the understanding of Marine Corps history, traditions, culture and service. Judged by Marines and civilian experts, the Annual Awards are a mark of distinction and achievement for journalists, writers, photographers, artists and scholars.
The Major Megan McClung Award is named for the first female Marine Corps officer killed in combat in the Iraq War where she was serving as a public affairs officer. The award is given for a distinguished example of reporting by an individual covering United States Marines abroad, read the Foundation's description. Both Marines and civilians can win this award, and each winner receives a $2,000 cash prize, a medallion and a commemorative brick along the Semper Fidelis Memorial Park pathway adjacent to the National Museum of the Marine Corps in Quantico.
Lamothe's experience with the Marines in Afghanistan went further than his story that started with his initial foray into covering war for Marine Corps Times in 2011. He's been to the combat zone in Afghanistan eight times and witnessed things that are far from life in Fairfax County.
"I found myself wondering a lot about how those Marines were doing, and what they were thinking," he said.
Lamothe focused on Ryan Clay and Rocco DePrimo, two Marines who made it through the battles and then settled in North Carolina just a few miles apart.
"But it's also an effort to tell the story of their entire platoon, knowing that there were many, many other platoons just like theirs, each with many individual stories," he said. He described Clay as a combat instructor who earned a Purple Heart during tours in Afghanistan and Iraq, and DePrimo was "fresh out of high school and boot camp, a self-described former "pretty-boy dude" who followed in his father's footsteps to become a Marine."
Hot LZ
It was a particular landing in February 2010, the unit touched down in helicopters in the southern province of Helmand, which was described as a desert area, home to hundreds of Taliban fighters and fields where opium poppies were grown in the springtime. Experts were disarming bombs, and the platoon took over a yellow schoolhouse where they were attacked. Like similar experiences 50 years ago in Vietnam, "several were wounded in murky fights in which friend and foe were hard to discern, and Taliban fighters zoomed away on motorcycles," he wrote.
Following their combat experience, there were problems with alcohol, a stroke and readjusting to life, but the memories are still there for Clay and DePrimo, familiar to Vietnam veterans. Lamothe admitted that he too felt the psychological impact after his first assignment. After a time where he lived alongside the Marines, often sleeping on the ground and patrolling with them by day, he experienced several firefights on those patrols. At one point, he watched an American armored vehicle filled with Marines explode before his eyes. Fortunately everyone walked away from the explosion, an event he called miraculous.
"It was and remains one of the most formative times of my adult life," he said.
Now he lives with his wife, Katie Cox, and their dog in the Jefferson Manor neighborhood in the Mount Vernon area. "We love it here," he said.
The recipients will be honored at the Foundation's Annual Awards Dinner later this year. "Our award honorees are accomplished professionals who have used their extraordinary talents to tell a piece of the Marine Corps story," said Major General James Kessler, USMC (Ret), president and CEO of the Marine Corps Heritage Foundation. "Their outstanding work exposes our nation to the history, tradition and culture of the Marine Corps and we look forward to giving them the recognition they deserve."
Other 2020 award winners are from Paris, Tennessee, Michigan, California, and Washington – both the state and Washington, D.C.