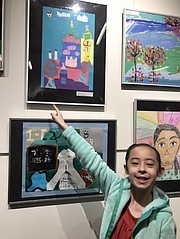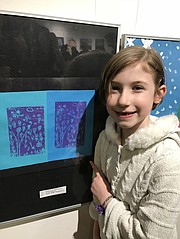 Eight Reston elementary schools and one middle school created special exhibits of selected student artwork in support of National Youth Art Month, a celebration of the visual arts during the month of March which emphasizes the value of art education, encourages support for quality school art programs and promotes art material safety.
The younger children's artwork is installed in the Jo Ann Rose Gallery and Three-Dimensional Gallery at Reston Community Center Lake Anne, 1609 Washington Plaza, Reston. The exhibits run through April 2 and showcase original paintings, sketches, printmaking and more created by Reston elementary-aged students from Buzz Aldrin, Neil Armstrong, Dogwood, Hunters Woods, Forest Edge, Lake Anne, Sunrise Valley and Terraset schools.
Selected artwork by students from Langston Hughes Middle School is on display at the Reston Community Center Hunter Woods, 2310 Colts Neck Road, Reston through March 31.
"This is my absolute favorite time in our exhibition schedule," said Cheri Danaher, Arts Education Director Reston Community Center. "We are able to celebrate the work of our students and the importance of art education in our schools and community at large."
On Sunday, March 11, an Opening Reception was held to honor the young artists whose works are featured at the Reston Community Center. Present at the opening was Abigail Gordon, 7, a second grader at Dogwood Elementary School. Gordon showed off her unique artwork, vibrant colored swirling cutouts of construction paper, patterns balanced and pleasing to the eye. Gordon said, "I made this because artist (Friedensreich) Hundertwasser made swirling art too."
Gabriel de Moraes, 8, is in second grade. He recently arrived in Reston from Brazil. Too short to reach his exhibited artwork selected for installation, his big brother Igor gladly hoisted him up for a photograph. He too had been inspired by Hundertwasser and created a distinct work of art.
Maeve E. Patterson, 6, a kindergarten at Forest Edge Elementary School explained how she created her original white on purple painting. "It is a print with trees, acorns, mushroom, and wind in the fall." She said, "We used a piece of Styrofoam, carved out the design with pencil, and printed it."
For more information about the exhibits, visit www.restoncommunitycenter.com