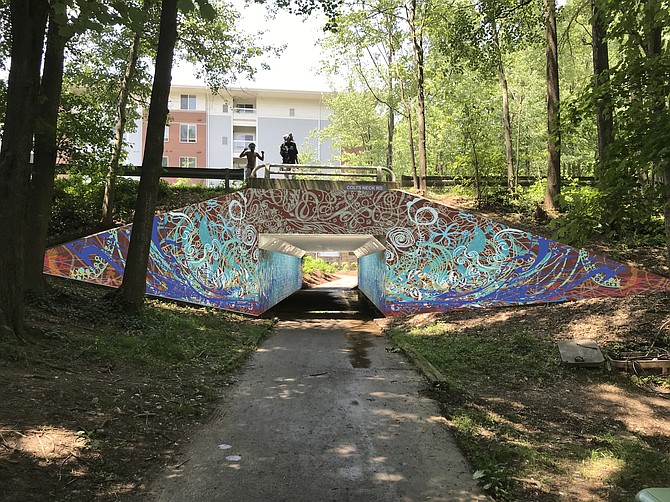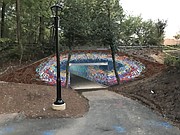 Public Art Reston has announced that artist Ben Volta's final design of the public artwork for the Colts Neck Road underpass has been approved. Covering the exterior and interior walls of the underpass, the design's vigorous, interconnected and vividly colorful swirling "pathways" are the creative outcome of months of work by Volta with the Reston community.
As part of his artistic process, Volta conducted eight workshops that involved students at Hunters Woods and Dogwood elementary schools, students at Southgate Community Center's afterschool program, residents of the senior living communities at Hunters Woods Fellowship House and Hunters Woods at Trails Edge, as well as the community at large at an intergenerational workshop. More than 600 individuals realized 710 drawings that Volta incorporated into the design. The artwork will be set on panels that will be fixed to the walls of the underpass. Installation is scheduled for mid-September with plans to hold a ribbon-cutting celebration in mid-October.
Volta was inspired by Reston's 55 miles of pathways and by a quote by the poet Henry David Thoreau: "Pursue some path, however narrow and crooked, in which you can walk with love and reverence." He asked workshops' participants to draw a path and then, in the spirit of Robert E. Simon Jr., Reston's founder, to list "everything that you have seen or read about that is essential to your life and then add everything else that you can think of that makes living in Reston stimulating and worthwhile."
The Colts Neck Road underpass project — a partnership between Public Art Reston, Reston Association, and Atlantic Realty Companies/Integra Care — is the second of Public Art Reston's permanent public artworks at an underpass. It is also an opportunity for infrastructure beautification and inspiration. It will promote active use of the underpass that links residential areas, Hunters Woods Village Center, two schools, two senior facilities, and two community centers.
Supporters of the Colts Neck Road underpass public art project to date include: Atlantic Realty Companies, Reston Association, ARTSFairfax, Reston Community Center, JBG SMITH, Virginia Commission for the Arts, National Endowment for the Arts, Pat & Steve Macintyre, Hunters Woods at Trails Edge, Lake Thoreau Entertainment Association, Storycatcher Production, and many other individuals. Public Art Reston is seeking additional contributions to support this impactful project. Sponsorship opportunities are available at a variety of levels. For information, contact info@publicartreston.org.