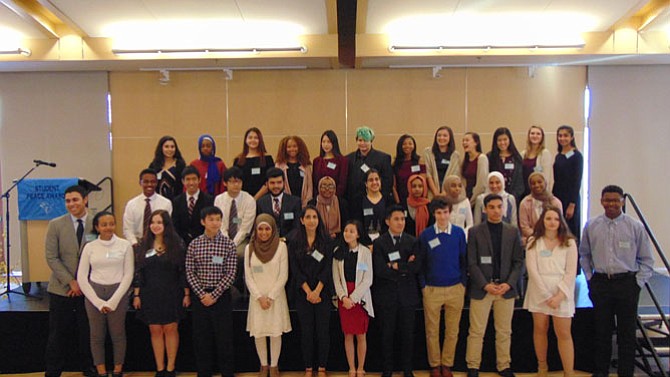 Students from 23 Fairfax County Public Schools were named recipients of the 2018 Student Peace Awards of Fairfax County, which were handed out in a reception held Sunday, March 11, at the Sherwood Community Center in Fairfax.
Since 2006, the awards have recognized youth who introduce programs in their schools on many different issues that promote peace and conflict resolution throughout the county. In the 2017-2018 school year, the recipients each received $200, plus another $100 to be given to any nonprofit organization of his or her choice.
"It's an honor to be here to help recognize you today for your outstanding work to promote peace throughout Fairfax County and beyond. Your areas of focus cover a wide range of topics and methods, but all unite in one common goal, and that is to encourage and to strengthen peace and unity among all of us," said Sharon Bulova, Board of Supervisors chairman. "In Fairfax County, we consider our diversity to be our greatest asset. It is what makes us special."
Special guests included Bulova; U.S. Rep Gerry Connolly (D-11); state Del. Ken Plum (D-36); School Board Member Ilryong Moon; School Board Chair Jane Strauss; School Board Member Ryan McElveen; and Guest Speaker Janessa Gans Wilder, founder and CEO of the Euphrates Institute, who flew in from California for the event. The host and organizer was Margaret Fisher.
Sarah Osman, 18, of Lorton, a senior at King Abdullah Academy, worked with "RefAmerica," which welcomed high school Syrian refugees who recently moved here. "As American high school students, we got to interact with each other and understand one another's cultures," she said. "We actually got to go to Congress and speak to congressional leaders on the matter of welcoming Syrian refugees into our country. I spoke about the plight of the history and how welcoming them into this country keeps the Pilgrim's legacy alive because the Pilgrims of 1620 came into this country in hopes of starting a brand new land where there would be freedom of speech and religion."
Alvin Kim, 17, of Annandale, who attends Annandale High School, worked with NAKASEC – The National Korean and American Service and Education Consortium. "I lobbied and worked towards immigrant rights and immigrant opportunities and also helping to improve the community around Annandale," he said. "I did stuff like protesting for DACA, which was an Executive Order by President Obama back in 2012, and I also went to our U.S. senators such as Mark Warner and Tim Kaine to ask for their help in our cause .… We went around our school and our neighborhoods asking for petition signatures so that our representatives, both senators and House members, that they know that we care and that it is important to us that these needs are met."
Nahom Dagnachew, 16, of Springfield, who attends Annandale High School, works with NAKASEC to promote immigrant rights. "When DACA was repealed, we did a lot of actions and sit-ins in Congress in order to promote DACA. In the last Virginia election, we also did a lot of voting promotion. We're trying to get the voter turnout high. We managed to increase Asian turnout by 195 percent for the 2017 Virginia election. Right now, we're working on getting a clean Dream Act approved," he said.
Annandale High School: Nahom Dagnachew, Dongun Kim, Victor Nguyen, and Kaa-lok Yap were honored for their work in defense of DACA, the Deferred Action for Childhood Arrivals program.
Fairfax High School: Stran Kurdi was honored for her work with Kurdish AID (KAID) and for founding a KAID Club at school.
Hayfield Secondary School: Carmen Mazyck was honored for arranging guest speakers for the school's Black Student Union group and organizing a minority student panel.
Lake Braddock Secondary School: Zahra Alisa was honored for her work with the Fairfax County Student Human Rights Commission's fair housing committee and mental health project.
Lee High School: Eyerusalem Desta was honored for her work with her school's chapter of Amnesty International and working to help at-risk families in the community.
Robinson Secondary School: Faraz Zia was honored for establishing Project NNZIA, a business venture in which 20 percent of all profits from clothing sales go towards the Edhi Foundation in Pakistan that helps the needy.
Woodson High School: Yousof Omeish was honored for founding his school's Muslim Student Association that has fostered increased tolerance and understanding while presenting facts on Islam and dispelling misinformation. He is the third member of his family to receive a Student Peace Award.
Hayfield Secondary School
Carmen Mazyck is a founding member and past communications chair of the Hayfield Black Student Union (HBSU). She also established and designed the organization's logo and motto: Educate, Serve, and Inspire.
As its current president, Carmen has arranged for guest speakers at monthly meetings, including civil rights activist and Freedom Rider, Joan Trumpauer Mulholland. Carmen also led the club's efforts to provide gifts for 40 "angels" on the Salvation Army Christmas Tree. Additionally, she coordinated other service projects including Project Giveback (a food drive) at Thanksgiving, a day of service at Hayfield Secondary School on MLK Day, and educational trips to the Smithsonian's National Museum of African American History and Culture.
Carmen organized her school's first student minority panel, comprised of members of different races, religions, and cultures. Muslim students on the panel spoke about the emphasis on education in their homes. Another student shared his experiences of living in an interracial family while others emphasized how colorism caused division in marriages and relationships. Most of the 50 students who attended found the conversation valuable and said they felt comfortable discussing these often-difficult topics not generally presented in the classroom.
Carmen summarizes her efforts by saying, "There cannot be peace until we learn how to embrace and celebrate our unique differences and blended cultures. Only then can we better serve our communities and inspire others to do the same."