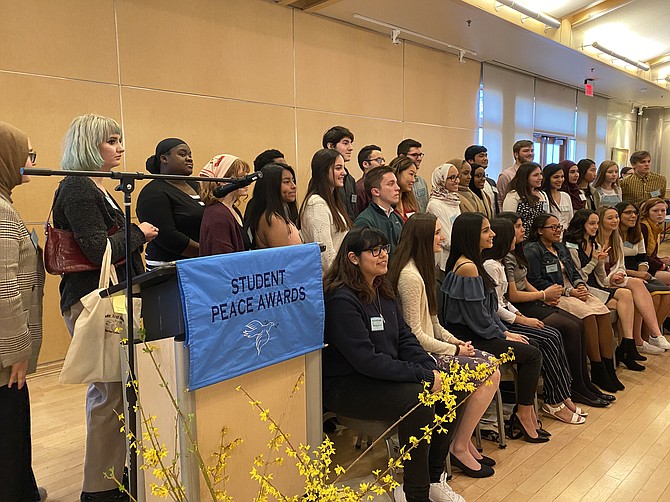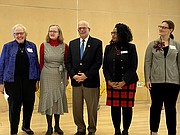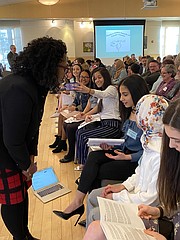 The 2020 Student Peace Awards of Fairfax County, held Sunday, March 1, recognized high school junior and senior students at 24 public and two private high schools in the county who made a positive contribution to their school or wider community by promoting mutual understanding and respect for all people. Held at the Stacy C. Sherwood Community Center in Fairfax, sponsors, family and friends celebrated the accomplishments of the recipients at a public reception.
Last fall, organizers asked the schools' principals to nominate one outstanding student or student group for the award, proactively seeking a likely nominee. This year's recipients worked as peacemakers in a variety of settings according to emcee, Margaret Fisher, who during her remarks at Sunday's reception gave a brief overview of each student's accomplishment.
According to Fisher, in Vienna at Cedar Lane High School, Senior Sage Quick and Junior Will LaWalt volunteered to serve as peers in a Personal Development class that taught social skills, decision-making, and coping strategies for difficult or confusing situations. "Peers model communication skills as they listen to students talk about their interests and concerns. They then help the students in the class remain calm and focused," Fisher said.
Sarah Gu is a Senior at McLean High School. When she visited her family in China there the last five summers, she offered the children free lessons in English and current affairs. According to Fisher, Gu eventually grew her program into an organization called "The Windows," which served over 600 children.
At Oakton High School, Fisher said that Roudah Chaker put in hundreds of volunteer hours packing meals, participating in back-to-school drives for orphanages, distributing needed items to the homeless, and raising $3000 for Syrian refugees. "She is also active politically, working to correct policies that directly harm those who want to come to the U.S. for its promise of peace," said Fisher.
South Lakes High School in Reston is where Lindsey Hirshfeld goes to school and is a senior. "Hirshfeld feels empathy for classmates who are struggling to overcome a variety of issues that make them feel isolated. She helped raise money for children with brain tumors, organized cultural festivals to showcase diversity, and helped stage a school-wide silent protest against gun violence," said Fisher.
At South County High School in Lorton, Siedeen Ahmed, Senior founded South County's Interfaith Club to provide a safe space for student-led discussions. "She is also the President of Stallions with Refugees. Her goal is to spread the message that all students, including immigrants and refugees, are welcome and valued," said Fisher.
One after another, Fisher read profiles of youth who made a difference, some locally like Catherine Soto, Senior at Lee High School in Springfield. "Soto helped create the Best Buddies chapter at Lee High School. Soto and her fellow Best Buddies leaders were responsible for recruiting general education students who wished to build a relationship with the special needs students who might not otherwise have had the opportunity to engage with the student community," said Fisher.
Others made differences to world neighbors, like Betsabe Pardo, Senior at Mountain View High School in Centreville. Pardo raised money to bring safe drinking water to communities around the world.
Dignitaries acknowledged the achievements of the recipients. U.S. Rep. Gerry Connelly (D-11) said, "I congratulate this year's recipients of the Student Peace Awards. Their leadership and commitment to being peacemakers and fostering mutual respect for our differences are bringing positive change and inclusivity to our community."

Supervisor Penny Gross (D-Mason District) shared a letter from Chair of the Fairfax County Board of Supervisors, Jeff McKay. She read: "I am always proud to see the level of commitment our students in Fairfax County put toward improving our community. It is this inspiring energy and action, combined with Fairfax County residents' diverse experiences that allow us to consistently strive toward creating a better community for all."
In her remarks, guest speaker Kendyl Crawford, Director of Virginia Interfaith Power & Light addressed the effect of climate change on peace. Crawford said she was amazed at the students' efforts to care not only for their neighbors but to repair relationships with Mother Earth.
The awardees received $250, plus another $100 to be given to any nonprofit organization of their choice that operated in the spirit of the Peace Awards. The students also received the book, Sweet Fruit from a Bitter Tree by Mark Andreas.
VIEWPOINTS: What Do Award Recipients Say?
Samantha (Sage) Quick, Senior, Cedar Lane High School: I have the privilege of assisting in a personal development classroom, and they are the true peacemakers. The students I work with teach me the empathy and love I had unlearned through the traumas life bares. They repair my heart.
William (Will) LaWalt, Jr., Cedar Lane High School: The peace award means a lot to me; it shows me that my work at Cedar Lane was helpful and appreciated.
Daphne May, Senior, Madison High School: One of the most wonderful parts of advocacy and peace work is being part of a community of such dedicated, compassionate people that inspire and support each other.
Zamir Ticknor, Junior, George C. Marshall High School: When I was nominated, the word "peace" really stuck with me, because it emphasizes the values I hold: encompassing inclusion, environmental protection, human rights, tolerance, and intercultural understanding. All of these concepts are what I value in this peace award…I sincerely believe that by helping others, encouraging tolerance, and mutual understanding shape society into a more welcoming environment that accepts everyone of all backgrounds. These are some of the elements that encourage peace.
Sarah Gu, Senior, McLean High School
Daniel Mousavi, Senior, Langley High School is joined by his brother Aiden, Cooper Middle School: Together (we) created a board game, Immigrant's Nightmare, to focus on the challenges faced by people seeking immigration in the United States. We live in a nation of immigrants. In a world torn by an increasing number of global migrants and not enough places willing to accept them. Our game helps teach the next generation of lawmakers our country's traditions of accepting others and not further dividing us. Ignorance of the root cause of the immigrant's crisis doesn't make it disappear!
Roudah Chaka, Senior, Oakton High School
Yebin (Sophia) Lee, Senior, Centreville High School: I'm beyond thankful to receive this award because it shows that regardless of how big or small, the things you do can always make an impact. Numerous non-profit organizations are fighting for world peace, and I'm just blessed to have had the opportunity to work with Compassion International these past few years in my journey of peacemaking.
Anand Colaco, Senior, Chantilly High School
Betsabe Pardo, Senior, Mountain View High School: I'm honored and thankful for this award to have the opportunity to spread news about the water crisis in Africa. There are so many people who take things like having clean water for granted, and I'm glad if I can make people take a step back and realize how small things to us can make a big difference to others around the world.
Bulldog Buddies, Westfield High School:
Charlotte Tiss: This award is an unexpected honor for our program. It is encouragement for us to continue to build the community between special education and general education kids at Westfield.
James Johnson: Peace is about community and accepting others like or not alike.
Madison Woodward
Carly Liesegang
Nabaa Abdel Okhowa, Senior, Herndon High School: I am honored to receive this award and am excited to help implement changes to the lives of those who are not as fortunate as many of us.
Roudah Chaka, Senior, Oakton High School
Jena Musmar, Junior, King Abdullah Academy, Herndon: Being a Palestinian American and knowing what social injustice and constantly being belittled looks like, drives me to fight for equality and justice around the world.
Lindsey Hirshfeld, Senior, South Lakes High School: I am honored to be receiving this award among other high school students who also believe that you're never too young to promote peace and do your part in making the world a better place.
Renee Ritchey, Senior, Fairfax High School: The reason I'm so involved in advocacy is that people tell me I shouldn't care. Well, I figure that if you don't care, you aren't paying attention enough. Be a part of the solution, even if people try and label you as "angry." That "anger" is the drive and passion for making the world a better place.
Patrick Cloud, Senior, Hayfield Secondary School: I'm glad to have earned this award because throughout high school, I've worked hard to contribute to my school community, and it's nice to see some of that work come to fruition in my senior year. I wanted to leave the school better than I found it, and by encouraging student involvement in making an inclusive community, I've done just that.
Kheira Bekkadja, Junior, Thomas Edison High School: Working to de-stigmatize mental health in schools by making them more welcome and accepting of mental illness, is my thing! Constantly throughout my work in peacemaking, I'm always reminding myself not to get distracted, by comparison. Rather I should captivate myself with a strong purpose to continue to empower my community.
Emily Smith, Senior, Lake Braddock Secondary School
Catherine Soto, Senior, Lee High School: I'm so glad to be a part of the club best buddies because it spreads inclusion, which is something society should value. I'm very honored to receive this award and represent this club that encourages peace.
Siedeen Ahmed, Senior, South County High School: Change can only come about if we start it first.
Salwa Zahid, Senior, West Springfield High School: Having been to a war-torn country myself and seen the devastating effects of war, I am glad to be having a positive impact on others' lives around the world. By organizing drives, fundraisers, and raising awareness about the conflicts around the world and their effects on the civilians, we are not only bringing peace to the lives of those affected by war but also calling for an end to those wars.
Manoucher (Manny) Precht, Senior, Annandale High School
Hannah Gyekye, Senior, Mount Vernon High School
Andrew Kieffer, Senior, Quander Road School, Alexandria: I focused on improving computer access for those who are less fortunate.
Amaani Mohamed, Junior, West Potomac High School: People who create greatness behind closed doors are the ones that we should acknowledge. I believe we have all changed the world in some way one by one, and my motive is what keeps me going.