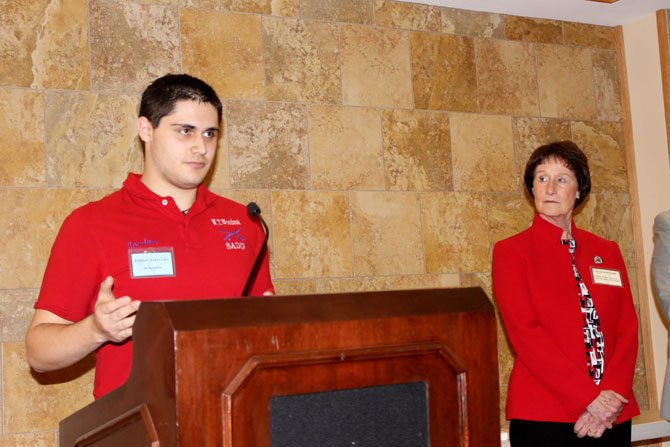 2014 Recipients of the Student Peace Awards
Malaz Namir, Junior, Chantilly High School
Emma Celeste Munis, Senior, Thomas A. Edison High School
Andrew Jhu, Junior, Fairfax High School
Hamima Nasrin, Hayfield Secondary School
John Strangfeld, Senior, Herndon High School
Adam Abutaa, Senior, The Islamic Saudi Academy
Huong 'Helen' Tran, Langley High School
Melissa Schwartz, Senior, Robert E. Lee High School
Kaylee McGuffin, Senior, James Madison High School
Kareem El-Ghazawi, Senior, George C. Marshall High School
Brooke Inglese, Senior, McLean High School
Nora Elshiekh, Senior, Mount Vernon High School
Mountain View Brave Girls Club, Mountain View High School
Hannah Piester, Junior, Oakton High School
Mary Krolicki, Senior, Paul VI Catholic High School
Daniel Bermudez, Senior, Quander Road School
Beau Sloane, Senior, South County High School
Seema Sethi, Senior, South Lakes High School
Anwar Omeish
Senior, Thomas Jefferson High School for Science and Technology
Pamela Molnar, Senior, West Potomac High School
Elizabeth Maria Hiatt, Senior, Westfield High School
Jordan Feltcorn, Senior, W.T. Woodson High School
The Student Peace Awards of Fairfax County, presented by the Herndon Friends Meeting, honored a group of 22 juniors and seniors who were nominated for their dedication to peace and conflict resolution on March 2.
The students, involved in activities such as Amnesty International, Best Buddies, Gay Straight Alliance, Girl Scouts, Student Government, Islamic Presence Club, mission trips, and much more, were recognized for promoting peace and working to remove the effects of war in the community.
Barbara Wien, a peace educator and human rights activist, was the guest speaker. Wien spoke about her experiences as an advocate for peace, including her role in protecting civilians in Colombia from a death squad, and reminded students that war is not an inevitable part of human nature and can be eradicated.
"Many children are also raised to believe that war is inevitable. They're raised to believe that the human race is inherently violent and will always live with war. Well, I'm here to challenge that notion," Wien said.
STUDENTS WERE AWARDED $150 and were also able to donate $100 to an organization of their choice. They also received a copy of the book "Sweet Fruit from a Bitter Tree," by Mark Andreas.
Margaret Fischer, the reception coordinator, read each student's accomplishments and contributions to the community as they received their award from Sharon Bulova, chairman of the Fairfax County Board of Supervisors, and Providence District School Board member Patty Reed.
"Our last presentation demonstrates the bittersweet nature of working for peace," said Fischer of the award to Woodson High School senior Jordan Feltcorn, who was recognized for his restoration of Woodson's Students Against Destructive Decisions Club.
Felcorn said he began his involvement with the club after observing bullying at his school, as well as volunteering with Fairfax County Medical Services and responding to calls including on drugs and drunk driving.
"The club works towards trying to prevent teens from making decisions such as drinking and driving, bullying, distracted driving, drug use and abuse, and suicide," Feltcorn said. "Unfortunately, this past week at my high school, W.T. Woodson, we experienced the tragic loss of life of two students."
Feltcorn asked the audience to observe a moment of silence in remembrance of two Woodson students who died the week before.
West Potomac High School senior Pamela Molnar was among the students honored for promoting peace in the community. Molnar helped to start and grow the West Potomac chapter of Best Buddies, an organization that advocates for people with disabilities.
"My mom is a special education teacher, which has inspired me," Molnar said. "I think the group has had a big impact on the school."
FOR THE FIRST TIME since the Student Peace Awards began, a school nominated a group of students for the award. The Mountain View Brave Girls Club of Mount View High School was recognized for its work of supporting others through making "truth cards," which provide messages of support and are sent to women throughout the community, including the Bethany House of Northern Virginia, the Cancer Center at Lake Manassas, sex trafficking victims, and Mountain View faculty and students during turbulent times.