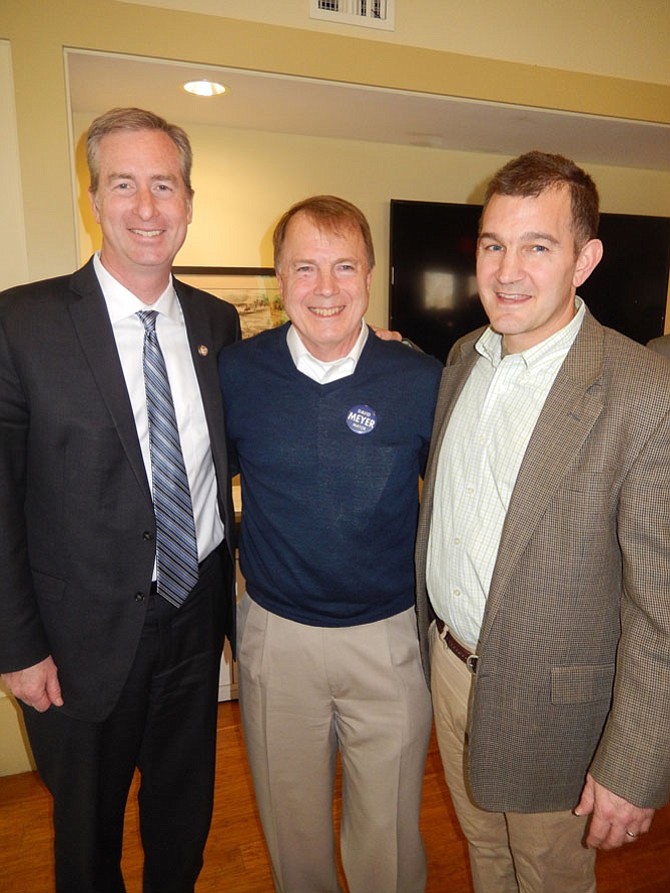 Fairfax City Candidates in the May 1 Election
Mayor
David L. Meyer
City Council
Janice B. Miller
Jon R. Stehle
Jennifer E. Passey
Michael J. DeMarco
Joseph D. Harmon
Sang H. Yi
D. T. "Tom" Ross
So P. Lim
School Board
Carolyn S. Pitches
Mitch Sutterfield
Robert M. Reinsel
Toby Sorensen
Jon A. Buttram
The only non-incumbents are in the City Council race. They are Harmon, Yi, Ross and Lim.
Before a crowd of nearly 100 enthusiastic supporters, Fairfax City Mayor David Meyer held his reelection campaign kickoff, Sunday afternoon, March 11, at Historic Blenheim. And although he's only been mayor for six months – taking office after a special election – he previously served on the City Council for nine years.
"While I do not have an opponent in this election, accountability has always been central to my leadership activities over many years in our community," he said. "And I commend all our citizen volunteers, my colleagues on City Council and our dedicated City employees for always keeping the future of our City clearly in focus and as our first priority."
Meyer then reviewed some of the successes Fairfax has accomplished in the past year. Noting that its AAA bond rating was renewed, he said the City's fiscal strength and conservative, financial management is seen as a model for cities across the region and nationwide.
He said Fairfax is rated as one of the safest cities in Virginia and, in nearly every category, incidents of crime have decreased this year. And he said groundbreaking for Fire Station 22 will be in early 2019. Regarding the environment, Meyer said new investment in streambed restoration and stormwater management is beginning to show real improvement in water quality.

Mentioning the first, multimodal transportation plan in the City's history, he said hard data will help guide City leaders in prioritizing new transportation initiatives such as connectivity, a bike-share program and targeted congestion relief.
AS FOR ECONOMIC DEVELOPMENT, Meyer said Earth Fare has opened, Scout on the Circle construction has begun, the Whole Foods at Northfax is under design and plan reviews and permits should be finished in 2019. In addition, the Mount Vineyard (Oak Street), Enclave (Pickett Road) and Mayfair (downtown) residential developments are nearing completion.
The City is also receiving $13 million to complete the George Snyder trail from Draper Drive and Route 50 to the north entrance to the City at Chain Bridge Road. It's also getting $12 million to widen the Jermantown Road Bridge and create separate pedestrian and bicycle paths on both the east and west sides of this new structure. And by the end of this year, there should be a new turf field in the Draper Drive Park.
Meyer also praised the achievements of several City of Fairfax Schools' students and grads, saying, "We indeed have much to celebrate about our schools."
However, he added, "We face significant headwinds as a City. Our historic downtown continues to struggle economically, and a sense of place and our downtown as a destination continue to elude us. While we have negotiated lower rent rates with Kimco, that is akin to an emergency room intervention. We need to discern how to strengthen our retail in the context of the new ways all of us purchase goods and services."
Furthermore, said Meyer, "The need for senior housing and a variety of housing options for our workforce" must also be solved for Fairfax residents. But, he said, "I renew my pledge to work tirelessly to address these challenges. None of us has a propriety claim on what the best future is for our City. But working together, we can craft a roadmap that is bold, creative and fiscally realistic."
"We can show our region, our commonwealth and our nation that self-governance and community building are alive and well in the City of Fairfax," he continued. "We are not always going to agree, but we should never be disagreeable. Every citizen contributes value to our community life."

STRESSING that he and his City Council colleagues are committed to open and collaborative governance, Meyer said, "Transparency and honesty are the currency of our City – it is non-negotiable." Asking attendees for their ideas and ongoing engagement with the Council and himself, he told them, "We need you to be part of this bold experiment we call democracy. I thank all of you for being part of the City of Fairfax; it's a marvelous place to live and it's a privilege to serve you."