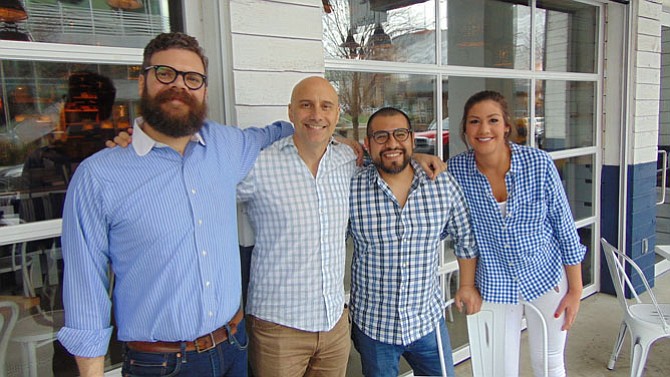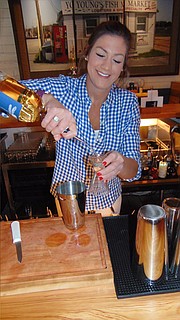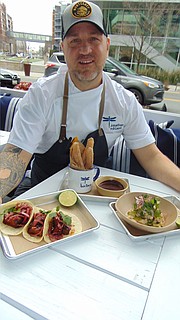 A new bartaco restaurant is now opened in the Mosaic District just off Gallows Road in the Merrifield area of Fairfax. Inspired by the beach culture of Southern California, bartaco has a coastal vibe in a very relaxed atmosphere. It offers upscale "street food" and tacos as well as freshly-squeezed juices, beer, and special cocktails.
"I think it's a restaurant that transports you. When you walk in you can leave the world behind. It's like a beach house with the type of food and drinks you would want to enjoy with your closest friends at the beach," said bartaco President Sabato Sagaria, who operates 15 other restaurants, with one at Reston Town Center. The company opened its first bartaco seven years ago in Port Chester, N.Y.
BARTACO'S FRONT WALL fully opens to the street with floor-to-ceiling garage doors. The décor offers live plants, hanging baskets and lights, and large murals for an open-and-airy feeling. "When the garage doors are open, that energy from outside mingles with the energy inside creating a festive environment," said Sagaria.
He said the aim was to create a vibe for people to connect with each other to have great food and drinks. "Regardless of where you're from, food and drinks are one of those amazing elements that bring people together. If we can play a role in creating those connections with people, then that's a success for us," he said.
If you're in the mood for tacos, the pork belly taco is a glazed pork belly that's been slow-roasted for 12 hours and topped with pickled red onion and cilantro. "That's something that exhibits something that you wouldn't think of as Mexican. It actually shows inspiration from street food around the world," said Sagaria.
He describes the mojo pork carnitas as a dish that exemplifies something more traditional. "And with the way we preset it with the mojo sauce, it's brighter and fresher like something you would like to eat on the coast," he said.
The roasted cauliflower taco with romesco sauce is one that takes vegetables and puts them on display in a way that you wouldn't necessarily think of on a taco, said Sagaria. "When I look at those three together -- they use tortillas as a canvas and take inspiration from different cuisines and cultures. And that defines who we are."
Other taco dishes include baja fish, chicken, and spicy chorizo for $2.50 each; or tuna tatako (lettuce taco), crispy rock shrimp, sesame ribeye, duck, or Yucatan redfish for $3.50 each. If you're not in a taco mood, the menu offers a selection of non-tacos like the ceviche for $8.50; guac + roja + verde for $11; pork tamale for $5; mushroom mole tamale for $5, or rotisserie half chicken for $9.5. There are rice bowls for $8.50 which include chicken, mojo pork carnitas, portobello, cauliflower, ahi tuna, crispy rock shrimp, sesame ribeye, and duck.
Sagaria said everything they produce is cooked in-house. "We roast the pork belly, we roast the duck and everything is made to order. We take that same approach at the bar with every cocktail being juiced to order. Our nonalcoholic drinks are made to order in front of our guests," he said.
For cocktails, try the signature bartaco margarita. "We've created our own tequila. We use agave syrup, lime juice and triple sec. There's no mixers or anything out of a can in there. It's made fresh off the juice press into the glass. That's quintessentially says 'my toes are in the sand and that's where I want to be,'" he said.
Other cocktails include red Sonja for $10; Paloma fresca for $9.5; seasonal caipirinha for $12; anchojito for $11.50; smoke on the water for $10; and smoked marasca for $13. For nonalcoholic, there's even Mexican coca cola, sprite, and fanta orange.
The postres (desserts) include churros with chocolate sauce for $7; spiced chocolate pudding with crunchy hazelnut topping for $5; key lime pie in a jar for $6, gelato for $3.50; and four cones for $10.
Sagaria said he chose the Mosaic District, with other shops like Williams Sonoma, ZGallerie, and Target, for several reasons. "We've had great success in Reston Town Center and as we look at the development that's going on around here, there's a community that's building around it. For us to be able to be part of that community was a great opportunity," he said.
SAGARIA joined the restaurant as president in late 2017. It was founded by partners Andy Pforzheimer and Sasa Mahr-Batuz, who was inspired by visiting a taco truck. The inspiration came by witnessing the simplicity and freshness of those ingredients and the energy and feeling of the coast and the beach, he said. "Usually there, you're focused on the people you're with, not with what's going on in the real world."
Prior to joining bartaco, Sagaria served as Chief Restaurant Officer of Union Square Hospitality Group, where he oversaw the company's New York based restaurants. A New York City resident, he is a 1997 graduate of Cornell University's School of Hotel Administration. He is also a member of the Court of Master Sommeliers, an honor held by fewer than 250 individuals worldwide. And he is the former wine director at the Inn at Little Washington in Washington, Virginia.
Bartaco restaurant is located at 2920 District Ave., Suite C120, Fairfax, VA 22031. Visit the website at www.bartaco.com or on Facebook at www.facebook.com/btmosaic.
This article was updated on March 27, 2018.