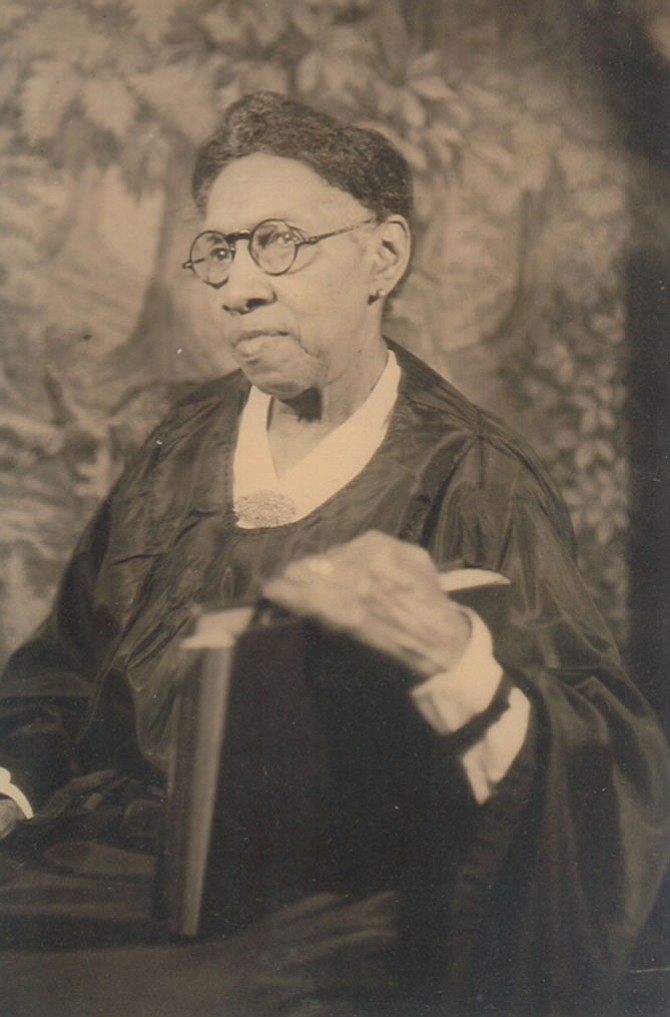 Rosa Harris-Jackson Armistead became the first African American woman preacher and deaconess of Ebenezer Baptist Church in Alexandria. She was first a member of Third Baptist Church under its founder, Reverend George Washington Parker. After the tenure of Reverend Parker, Fields Cook became the pastor of Third Baptist Church in 1870. Reverend Fields Cook was previously preaching at First African Baptist Church in Richmond. Unlike Reverend Parker, Reverend Cook believed that women could become a deacon and possibly a preacher. By Reverend Cook encouraging women to be deaconess and preachers, this inspired Rosa to pursue her religious aspiration; but, the members of Third Baptist was not on board with women being elevated as deaconess nor being a preacher in the 19th and early 20th centuries.
In 1881 a group of members from Third Baptist left the church, which included Rosa and her family, to start a new church. They had services in the Odd Fellows building at 411 South Columbus St. for a few years. Prior to purchasing their own building, Reverend Fields Cook left Third Baptist Church to become their minister. The new church at first was called, "Little Red Church" then later the name changed to Ebenezer Baptist Church. After the death of Reverend Cook in 1897, Rosa flourished as a deaconess at Ebenezer. Her responsibility as deaconess was to assist the Reverend in his ministry, to visit the sick and shut-in, to prepare female candidates for baptism, to study God's word and to prepare communion. Ebenezer Church's records showed that Rosa exceeded her role as a deaconess and became a preacher in the church. By 1930, she appeared in the Federal records as a Preacher of the Gospel, living in her own home at 1004 Oronoco St. She was the first female preacher and deaconess at Ebenezer Baptist Church at a time when women were not in leadership roles.
Rosa Harris was born in Prince William County in 1858. During the Civil War, Rosa, sister, Emma and their mother, Mary Harris migrated to Alexandria. Rosa and her first husband, William B. Jackson were married on Nov. 18, 1880 by Reverend Fields Cook at Third Baptist Church. Her second marriage was to William F. Armstead on Nov. 8, 1893 at the home of Reverend Fields Cook. Between these two marriages, Rosa had several children: Richard Jackson, Mamie Jackson, Joseph Jackson, Julia Jackson, Rosa L. Armstead, Annie Armstead and Bertha Armstead. Rosa's daughter, Rosa L. Armstead migrated to New Jersey where she met Jacob Lawrence Sr., and married him. Later, Rosa L. Armstead-Lawrence and her children settled first in Philadelphia and then in New York, where she divorce her husband.
While living in New York, Rosa Lawrence's son, Jacob Jr., excelled in the arts. Jacob was coming to maturity during the late part of the Harlem Renaissance's era. His paintings are well-known throughout the world. His grandmother, Rosa died in Alexandria on Sept. 14, 1951 at her home on Oronoco Street. Her body laid at her residence prior to her funeral at Ebenezer Baptist Church. All of her children and grandchildren, including Jacob were in attendance at her funeral. Jacob died in 2000 in Seattle, Wash. at the age of 82.
Rosa Harris-Jackson Armstead made an impact on Alexandria by being the first African American preacher and deaconess at a Baptist Church; and, her grandson, Jacob Lawrence made his impact worldwide as a painter. Rosa has many great-grandchildren and great-greats living throughout the United States. Her great-granddaughter, Dr. Judy Coles-Bailey, splits her residence between Virginia and New York.
For Rosa Harris-Jackson Armstead and her grandson, Jacob Lawrence, Alexandria's African American community is proud to claim both of them as trailblazers.
Char McCargo Bah is a freelance writer, independent historian, genealogist and a Living Legend of Alexandria. Visit her blog at http://www.theotheralexandria.com for more about "The Other Alexandria."