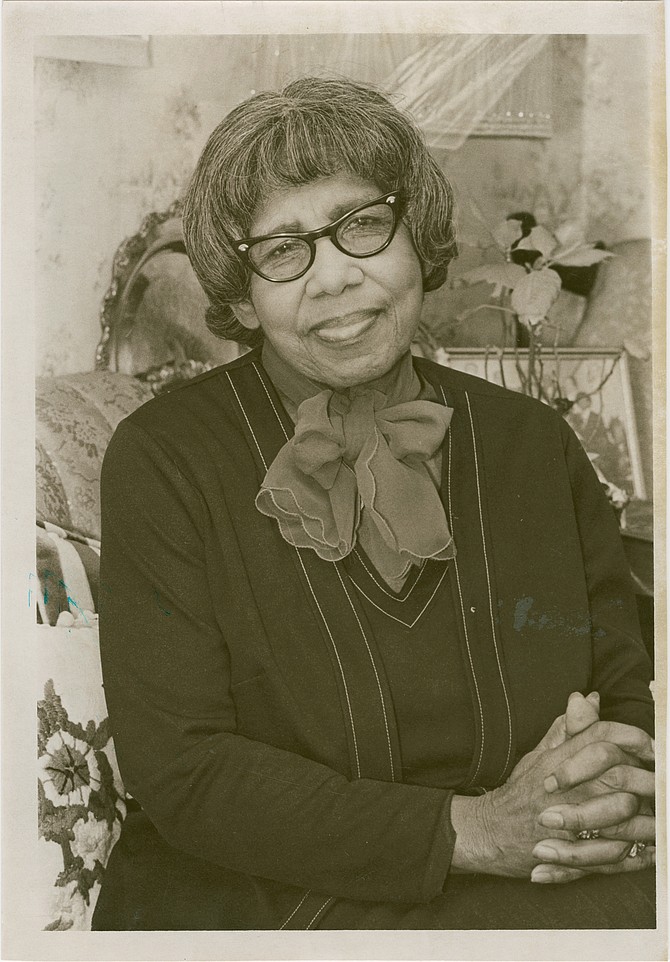 Not many people in the late 20th century had the opportunity to meet someone who was a child of a former slave but many people in Alexandria had that opportunity. Annie Beatrice Bailey-Rose was the daughter of the Rev. Lewis (Louis) Henry Bailey, a former slave who was sold from the Alexandria Slave Pen at 1315 Duke St. when he was a young boy.
Reverend Bailey was taken from his mother, Ann, sold and sent to a new slave owner in Texas. He spent his childhood and his teenage years in slavery and, in 1863, he was emancipated. The first thing he planned to do was to get back to Alexandria to be with his mother. From Texas, he walked all the way to Alexandria where he found his mother living not too far from the slave pen where he was sold.
In the 1870 census, there is an Anny (Ann) Bailey living in Alexandria. She was old enough to be Bailey's mother. For the rest of his life, he devoted his time to his church and his family. He became a member of Ebenezer Baptist Church in Alexandria during the time of the Rev. Fields Cook. After the death of Reverend Cook, Reverend Bailey became the interim pastor. After the new pastor was selected, Bailey traveled throughout Virginia and established other churches.
In all, he founded five churches and two schools. A couple of those churches were in Occoquan in Prince William, Va. where he met his future wife, Ella Dean, who was a school teacher. They married on Aug. 22, 1893 and raised four children; Annie was the oldest of them.
Annie dedicated her life to improving the lives of African Americans in Alexandria through housing opportunities, home nursing services for the elderly, and educating the youth about Alexandria's black history and slavery. She was one of the founders of the Alexandria Society of Preservation of Black Heritage and helped to open the Black History Resource Center in Alexandria.
In addition to those accomplishments, she became the first African American president of the Alexandria Women's Civic Association. At the height of the Civil Rights Movement, she helped organize the 1963 March on Washington. With others from Alexandria, she boarded one of several chartered buses with 200 other people on a hot steamy day on Aug. 28, 1963 to march for jobs and freedom, freedom that her Dad once did not have.
Annie Beatrice Bailey-Rose was born on Jan. 7, 1893 to the Rev. Lewis Henry Bailey and Ella Dean in Occoquan. She married William Henry Rose of Alexandria. After Annie married her husband, she moved to Alexandria, and they lived at 509 South Columbus St. Her husband, William, died in 1941, the same year Annie purchased her home at 812 Duke St. from Dr. Albert Johnson.
During Annie and her father's lifetime, they made a positive difference in the lives of their community. Her father was a living example that one can rise above one's difficult past, and use one's experience to help others. Reverend Bailey outlived his wife and died 7 years shy of his 100th birthday. Annie lived 4 years shy of her 100th birthday. She died on April 25, 1989, but her last act of kindness to her community was to have her property sold and have the proceeds go to several nonprofit organizations in the City of Alexandria. Her property was sold 28 years after her death in 2017. The Baileys lived by example. Their devotion to their community was unwavering. They were great humanitarians and philanthropists.
Char McCargo Bah is a freelance writer, independent historian, genealogist and a Living Legend of Alexandria. Visit her blog at http://www.theotheralexandria.com for more about "The Other Alexandria."