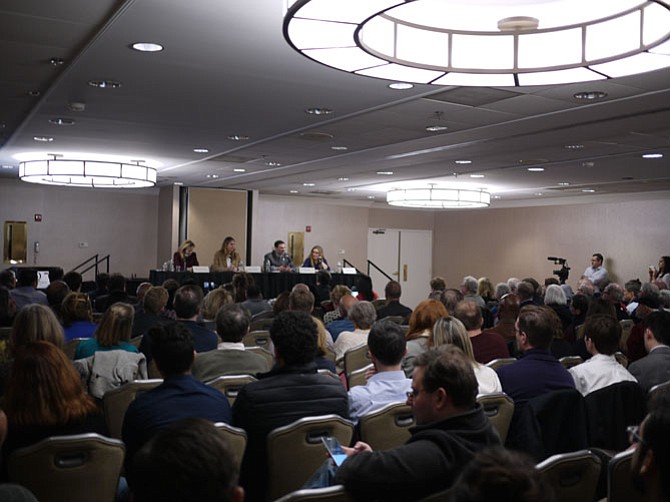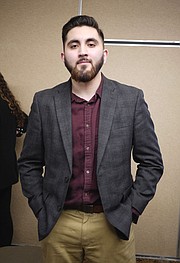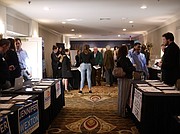 Suzie Egolf of Herndon was glad she had come to the Foreign Policy Candidate Forum on Sunday, March 4, at the Tysons Corner Hilton Doubletree Hotel.
"I came here because I really knew nothing about these candidates who are running for Rep. Barbara Comstock's seat in Congress," she said. The June 12 primary was coming up. She didn't think she really needed to know what their foreign policy positions were, but at least she would get a chance to see them in action so when she voted she could pick the right candidate. Then she realized, as she listened to positions on intervening in Syria, the Iran-Nuclear deal, and North Korea, that the role of every congressperson in deciding whether we go to war or not, seek peace or not, just got a lot more important.
State Sen. Jennifer Wexton (D-33), Lindsey Davis Stover, Daniel Helmer, and Alison Kiehl Friedman addressed a standing-room-only crowd of Congressional District 10 voters to address questions about foreign policy. Wexton acknowledged humorously that she hadn't been involved in a lot of foreign policy decisions during her tenure as a state senator, unless you count cross border issues with Kentucky and Tennessee.
Helmer, who was a Rhodes Scholar, noted his foreign policy is directly related to his time abroad as a soldier. Davis Stover and Friedman both held jobs in the Obama administration with direct policy engagement. Friedman led a team combating human trafficking at the Department of State, and Davis Stover served in the Department of Veterans Affairs, working on increasing access to care for veterans.
Egolf wasn't put off by Friedman's "California connections" and "outside money," buzzwords sometimes used to describe Friedman in the press. Friedman led the pack in fundraising thanks at least in part to an early endorsement from the feminist activist and writer Gloria Steinem.
"I hope people realize how Barbara Comstock gets a huge amount of money from special interests; " she said, "so I wouldn't discount Alison [Friedman] just because she is the best funded. She's got a lot of experience and is a 'big picture' person. The fact she is friends with Steinem isn't important to me, but the fact she has powerful connections that could be helpful for her campaign and for our district is." What worried Egolf was "how much money Barbara Comstock would pour into an effort to discredit candidates like Alison."
Egolf did not see a stand-out in the crowd of candidates — only four were present. "They mostly talked about what they did — their experience in the State Department or in the war. But I got tired of hearing the same lines: "When I was in Iraq, I did this, or when I was in charge of this, I did that. I want to know what they really know about our district. I'm going to go back home and research each candidate, and what they really know about District 10, and how much experience they have here, as opposed to somewhere else, actually living here and understanding the district."
The audience asked each candidate to offer a response to moderators' questions to see how they differ. They didn't differ much. On Syria, Wexton said the U.S. should take in more Syrian refugees. Helmer stressed we don't solve problems with the U.S. military in an undeclared war. Friedman suggested we need to be engaged so Russia doesn't move into a vacuum there. Stover said ISIS in Syria is a threat to the U.S. so a long-term strategy is needed: she added that when we use the military, we had better be prepared to fund the men and women who come home.
On Guantanamo, Helmer wanted to close it because it's contrary to our values, Wexton agreed, Friedman agreed, and Davis Stover added it is a recruitment tool for the terrorists — close it. Stover, citing her grandfather, a WWII vet, said she would be an advocate for veterans; she was chief of staff to the Veterans Affairs Subcommittee and a senior adviser in the Obama administration. She cited homeless vets and female vets as major preoccupations.
Barbara Van Voorst, of "J Street" and an Arlington resident, noted during her interaction with the candidates that "whichever of you comes out on top on June 12, I can assure you, on June 13 there will be hundreds of Arlingtonians knocking on doors to help get you elected." She asked a question about the current situation in Israel and the Palestinian state, and heard from all candidates that a two-state solution is the answer.
Helmer received loud applause when he spoke about gun control and talked about carrying an AR-15 on the streets of Baghdad and how a weapon like that doesn't belong on the streets of the U.S. He was passionate about immigration, holding onto the Iran Deal, and healthcare, and he made it clear that war should be a last resort, not a step lightly taken. All the candidates decried "foreign policy by Twitter" and Friedman evoked the concern that we might engage in a first strike use of nuclear weapons because of a bad twitter day. Davis Stover endorsed more diplomatic action and enacting a law that would prevent the U.S. from having a first strike capability, "something it would be possible to do right now."
All the candidates decried the "border wall" — Davis Stover called it a symbol of hate which had no place in this country; Friedman called it a stupid idea; Wexton pointed out Mexico's role as a major trading partner; and Helmer rejoined: build more schools instead.
On the Iran Nuclear Agreement, Helmer's statement that nuclear weapons are not the only component of the U.S. relationship with Iran, and that the U.S. needs to increase other areas of engagement with Iran, whether or not the agreement remains, followed a chorus of pro-agreement statements.
CANDIDATES appeared to agree the U.S. is ceding its leadership position and that it has a hollowed out State Department which as a result is missing opportunities.
The forum's highlight wasn't a candidate, he was a student at George Washington University: Fawad Barak, who was born to an Afghan refugee, Rahim Barak, who fled the Soviet invasion of his country in 1979, made his life in the U.S. and just recently returned to Kabul, to see his family. The 58-year-old was excited to head home to Afghanistan for the first time in 30 years. He checked into the Intercontinental hotel and, on Jan. 20, was eating with friends when Taliban insurgents shot him in the head, his son said. Fawad Barak sees the event as a catalyst for him to pursue the democratic process and "see justice done."
Barak talked about a father who worked four jobs a day, who never had a day off, and whose dream was to see his son graduate from university. Barak's remarks brought many to tears, and everyone to their feet, as he received a standing ovation.
Barak was at the meeting of District 10 candidates because he was invited to the meeting by eMgage, a family of civic and political institutions dedicated to strengthening the engagement of Muslim Americans in the civic and political process. They advocate voter engagement, issue advocacy, and political activity.
THE FORUM was sponsored by organizations who represent voters with an interest in foreign policy: J Street; NIAC Action (NIAC Action is a grassroots, civic action organization committed to advancing peace and championing the priorities of the Iranian-American community); the AAPI Victory Fund, (the first Super PAC of its kind, the fund is focused on mobilizing Asian American and Pacific Islanders (AAPI) eligible voters and moving them to the ballot box); Foreign Policy in America (FPIA), a grassroots non-partisan 501c4 organization, launched in 2017 to champion a strong, principled foreign policy; Emgage Foundation; and the Council for a Livable World, which for more than 50 years, has been advocating for a more principled approach to U.S. national security and foreign policy.
For more information about Emgage Foundation, see www.emgageusa.org or www.emgageaction.org; for more about J Street, see www.jstreet.org; for more about NIAC Action see www.NIACaction.org, for more about A Council for a Livable World, see www.livableworld.org, for more about a Foreign Policy for America, see www.fp4america.org; for more information about the candidates, see www.alisonforvirginia.com, www.lindseyforcongress.com, www.helmerforcongress.com, or www.jenniferwexton.com.