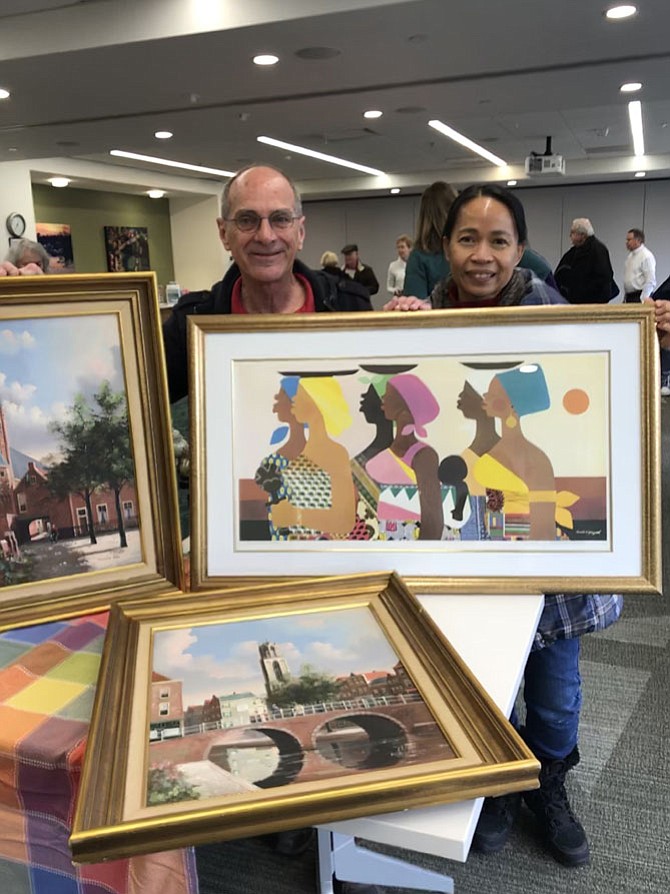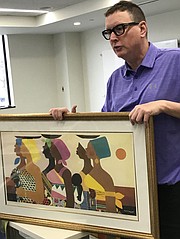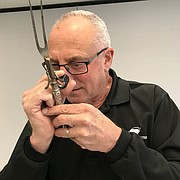 Do you know anyone who has been protectively storing what they thought was a valuable family heirloom? A gold bracelet, sterling silver set, a stuffed bear, something handed down from generation to generation, and now it's theirs to keep safe. Or did your neighbors or friends do a little curbside scavenging and snatch up a couple of oil paintings and colorful print out of a trash in Herndon?
If so, perhaps these people are a few of the nearly 50 individuals who brought their items to the Reston Association Appraisal Roadshow and learned they had either a sentimental item or a treasure.
Ashleigh Soloff, of Reston Association, said, "Collectors and value hunters come to this event to find out what a piece of jewelry or vase or painting, that has been passed down in the family for decades, may be worth, whether or not they have been keeping it because it is actually worth something or because it only has sentimental value."
On March 6, well before the 11 a.m. opening of the Appraisal Roadshow held at 12001 Sunrise Valley Drive, Reston, attendees arrived with their hoped-for treasures — jewelry, timepieces, furniture, glass, paintings, porcelain and more.
According to marketing materials, the Appraisal Roadshow was described as a 2-hour educational and fun show. Attendees would gain a new understanding of the jewelry and antique industries including advice on what their personal "valuables" were worth on the retail and secondary markets and what attendees could do with them.
The information provided was intended to help people make informed decisions about their personal property, whether they wanted to insure, sell, give away or re-purpose it.
THE PRESENTATION combined decades of professional industry expertise with the comedic personalities of Steve Gouterman, Paradigm Experts and Todd Peenstra of Peenstra Appraisals. Taking turns, the experts educated the audience with interesting facts and information, then provided verbal appraisals, both insured value and fair market value which is 40-50 percent of the retail.
Before they began appraising the individual pieces, Gouterman explained the difference between an insurance appraisal, more money, and a fair market value appraisal, less money, what someone would pay for the item on the secondary market.
Gouterman also described what makes an item valuable. Three variables are important. "For something to be valuable, worth a lot of money, it must first be beautiful. Second, it must be rare. And third, there must be demand," he said.
As an illustration, Gouterman pointed out two types of items, one in silver (dining wares) and one in gold, a piece of jewelry. Gouterman said that the value of many dining wares and jewelry is simply the weight of the metal, not the ornamentation. One of the reasons is, he said, "This is the first time in history two generations are downsizing at the same time. Those in their 60s and those in 80s are trying to give items to the younger generation, and they don't want them."
There is little demand, so the value decreases.
Gouterman quoted the price of 92.5 percent silver by weight, the silver that is currently used in jewelry and flatware and that of 18k gold. He illustrated the "value impact" with a sterling silverware set, circa 1940.
"The natural market for this set is family, even if it is Tiffany. The value for a 16-piece service setting is…$110."
TURNING BACK to the display table, Gouterman picked up a gold charm bracelet dangling heavily with one beautiful sentimental charm after another. Gouterman briefly admired them and placed the bracelet on his jeweler's scale. $4,000 in gold weight, he announced; $0.00 for the design. The owner smiled and quickly put it back on her wrist.
When it was Todd Peenstra's turn, he made his way around the display table giving verbal appraisals for a set of military swords, a doll from the 1920s, a pressed glass biscuit box, a Swiss music box and more. The quoted dollar appraisals were minimal, at most a couple hundred dollars. Peenstra termed the items as "value to the families" rather than "value on the market."
Then Peenstra came upon two framed oil on canvases, signed "George Jan Dispo." Dispo was a German painter (1922-1973). Peenstra valued the art at an $1,800 retail value. In the same lot rested a colorful 'print'. Peenstra identified it as signed lithograph by Varnette Honeywood (1950-2010), a nationally recognized American artist who used the vibrancy of black culture as a recurring theme in her works. Peenstra valued the lithograph at $1,000 retail.
Owners Ed and Gina Bolson of Reston smiled hugely. "I'm definitely pleased with his remarks," Ed said. "When we were living in Herndon, someone put these out on the curb, and I took them."
Reston Association (RA) holds two Appraisal Roadshows each year. For more information about the next event, visit reston.org.