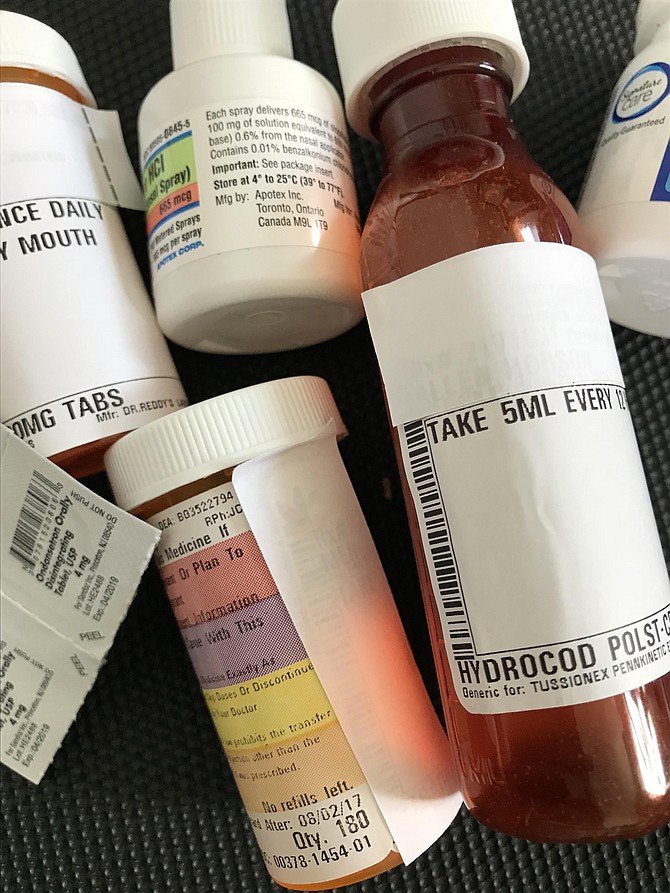 Unused medications in homes can create a safety concern due to accidental ingestion, theft, misuse and abuse. In response, Fairfax County Government announced that in conjunction with the United States Drug Enforcement Administration Prescription Drug Take-Back Day, it is holding Operation Medicine Cabinet Cleanout: Saturday, April 28, 2018.
Fairfax County reports drug take-back programs are important, "Because they are a safe method for disposing of prescription drugs and are organized and closely monitored by local, state, and federal government agencies. Safe disposal of unused or expired medications prevents drug abuse and misuse, accidental poisoning, and protects the environment."
Residents in Fairfax County can drop off medications at any of eight Fairfax County District Police Stations between 10 a.m. and 2 p.m. on Saturday, April 28, 2018. Pills and liquids will be accepted; no pressurized canisters or needles.
The Drop-off sites are Reston District Station, 12000 Bowman Towne Drive, Reston; Fair Oaks District Station,12300 Lee Jackson Memorial Highway, Fairfax; Franconia District Station, 6121 Franconia Road, Alexandria;
Mason District Station, 6507 Columbia Pike, Annandale; McLean District Station, 1437 Balls Hill Road, McLean; Mount Vernon District Station, 2511 Parkers Lane, Alexandria; Sully District Station, 4900 Stonecroft Boulevard, Chantilly; and West Springfield District Station, 6140 Rolling Road, Springfield.
On their website, Fairfax County recommends that to dispose of syringes, needles and other medical sharps: "Place in (a) plastic container with (a) screw-on top. Mark the container 'residential sharps' and place in the trash."
DEA Diversion Control Program reports the total weight collected on National Take Back Day 2017 was the most ever collected: 900,386 pounds; that's 450 tons from 5,498 sites, beating the previous high of 447 tons from 5,400 sites in 2016.
"Wastewater treatment plants and onsite sewage disposal systems are not designed to remove these chemicals. As a result, these medications can end up in the environment and eventually in our drinking water."
In addition, DEA states on their website that the majority of prescription drug abusers report in surveys that they got their drugs from friends and family. "Americans understand that cleaning out old prescription drugs from medicine cabinets, kitchen drawers, and bedside tables reduces accidents, thefts, and the misuse and abuse of these medicines, including the opioid painkillers … Eight out of 10 new heroin users began by abusing prescription painkillers and moved to heroin when they could no longer obtain or afford those painkillers."