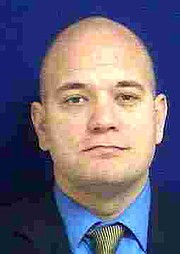 PFC Jason Deal has been named the Sully District Police Station's Officer of the Month for February. He was honored during the March 14 meeting of the station's Citizens Advisory Committee.
In his letter nominating Deal for this award, Sgt. Dave Kuhar explained why he was worthy of it. He said Deal transferred to the day shift in July 2017 and "quickly gained the respect of peers through his demonstrated professionalism and dedication to the community."
He also noted that a recent event "showcases the level of strength and character possessed by PFC Deal and the fine men and women of the Fairfax County Police Department. Several officers were dispatched to a community member threatening to commit suicide. The distressed person was in crisis and phoned 911, crying and indicating she had walked into the woods, was in a tree and had a strong desire to hang herself with a makeshift device made from a shirt and shoelaces. "
Kuhar wrote that she gave directions to the officers, saying she was behind a house and badly needed medication. "The person was known to police and had a history of suicide attempts," he wrote. "On this occasion, the individual insisted [that], if officers could not find her in five minutes she would jump from the tree and kill herself. "
"The demands placed a great deal of stress on responding officers," wrote Kuhar. "Once officers arrived, they quickly spread [out] to search a large and heavily wooded parcel of land. Officers were able to talk to the woman intermittently through her cell phone and convinced her to yell out to officers who were in the area."
According to Kuhar, Deal was the first to locate her, approximately 20 feet high in a tree. He immediately notified other officers and requested assistance. "Deal noticed the subject had a shirt and shoelaces tied around her neck [and] further secured to the tree branch," wrote Kuhar. "From the ground, and unable to take immediate action, Deal attempted to build a rapport with [her] through communication."
All was going well, explained Kuhar, until – without warning – the woman's legs gave out. She fell toward the ground, "was caught by her shirt and shoelaces and began to hang, strangling 20 feet above the officer," wrote Kuhar. "Deal, unable to easily reach the subject, observed the signs of oxygen deprivation and knew there was not much time to act."
Additional officers arrived and began helping. But because of weak branches, climbing the tree was not an option. "Instead, Deal hoisted another officer high enough to reach the subject's feet," wrote Kuhar. "That officer pushed [her] up, allowing her to gasp for air. The woman became more responsive and lifted herself to a branch."
Then, slowly, she was guided down the tree, branch by branch, until safely on the ground. Deal and other officers walked her out of the woods and to medics who were staged on the roadway. She was then treated medically and transported to a hospital for a psychological evaluation.
"PFC Jason Deal acted in a commendable manner that is indicative of the values of the Fairfax County Police Department," wrote Kuhar. "His professional efforts under extreme stress prevented the death of a community member and are worthy of recognition as Officer of the Month."