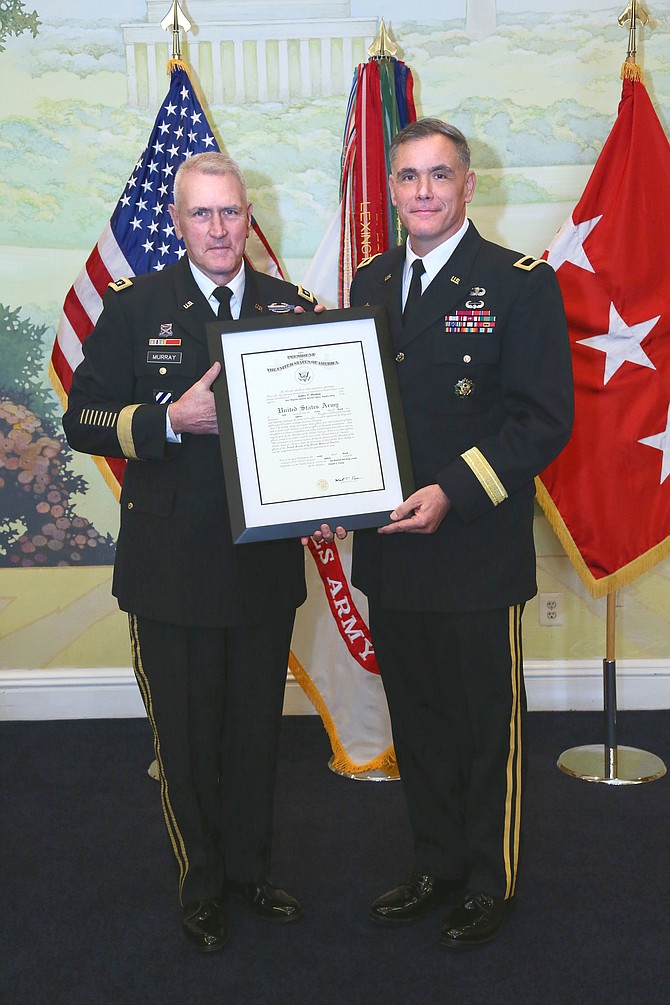 The product of five generations in the U.S. military, Col. James P. Bienlien, 49, of Newington Forest in Springfield, was promoted to Brigadier General on Friday, March 23, 2018 in a ceremony held at Patton Hall in Ft. Meyer, Va.

"It's probably the most humbling experience of my life," said Bienlien. "It was completely unexpected and certainly appreciated."
His current job is the Director, Joint and Integration (DJI) HQDA G-8, with responsibility across the U.S. Army for material requirements, approval, and integration across the Joint and ODS Enterprise delivering modernized equipment to U.S. soldiers in support of Army and national objectives.
According to his boss, Maj. Gen. John George: "Col. Jay Bienlien's past performance, in a range of challenging and difficult assignments, has been nothing short of spectacular. But what makes him uniquely qualified for promotion to Brigadier General is his capacity and potential to serve in more strategic, complex, and challenging situations. He epitomizes what the Army needs during a time when we are focusing on new modernization priorities and building a more lethal Army."
His Deputy, Brian Joyce, who has worked with him for three years, added: "During this period, I have been impressed with Col. Bienlien's ability to think strategically. He quickly understands complex issues and how they affect organizations, resources, and personnel; is able to review competing courses of action to develop sound recommendations; and executes all missions flawlessly," he said. "Most importantly, he focuses on the people he works with to ensure they receive the guidance necessary, resources, and opportunity to excel; that they understand their tasks and why they must be accomplished; and enables a working environment which allows its people to learn, grow, and make mistakes."
Regarding his leadership style, Bienlien says he lives a values-based life that is focused more on giving than receiving while never losing sight of what's important – family and friends. He strives to wake up every day expecting nothing and appreciating everything, striving to be humble, kind and always say, "thank you."
Having moved 13 times, he said career highlights include his service in the Iraq War mission as the Armor Program Manager in support of the rebuilding capacity, as well as the Chief of Force Management in the U.S. Army Pacific. He cites working with Army Gen. Vincent Brooks in advancing U.S. objectives in the Asia Pacific. Brooks, who is from Northern Virginia, is now the commander of United States Forces Korea.
What he enjoys most about his job is "being able to serve, for one; it's a service-oriented profession, and to work with amazing soldiers, civilians, and contractors." His favorite post was Fort Hood, Texas, where his daughter Erika was born.
Bienlien comes from five generations in the U.S. military. His great-great grandfather Michael Bienlien was in the Union Army from Missouri during the Civil War. His grandfather Walter Bienlien was an Army Corporal during World War I in France. His Uncle, William and father Daniel Bienlien served in Vietnam; his dad did three tours. He and his brother Tim served in Iraq – Tim as a Naval aviator. His son Patrick is a graduate of JMU and a First Lieutenant in the Texas National Guard as a Field Artillery officer; daughter Erika is a graduate of VCU and an active duty MP Second Lieutenant stationed in Washington state; nephew Daniel is a Lieutenant JG in the U.S. Coast Guard; and nephew Stephen is a cadet in the U.S. Air Force Academy. His parents Dan and Pat have lived in Springfield since 1977.
His wife, Cdr. Andrea Ragusa, is a U.S. Naval helicopter pilot based in Norfolk. She is an executive officer of HM15, an aviation helicopter squadron; they met eight years ago while serving in a NATO assignment in Norfolk.
He graduated from Hayfield Secondary in 1986 and Radford University in 1990, where he studied criminal justice and played baseball and football. He joined the Virginia National Guard and was designated a Combat Infantryman, serving for four years. In 1990, he received his active duty commission from Radford University.
With 27 years of experience, he held command and staff assignments in the 5th Infantry Division, Fort Polk; 2nd Armored Division, Fort Hood; 25th Infantry Division, Schofield Barracks; 18th Airborne Corps, Fort Bragg; Human Resources Command; NATO Supreme Allied Command Transformation; United States Army Pacific; Operation Iraqi Freedom; and Headquarters Department of the Army, The Pentagon. He completed a tour with industry as a research fellow at the Logistics Management Institute, Washington, D.C. He also holds a Master's in Public Policy from Troy State University in 2008, and a Master's in National Security Strategy from the National War College in 2011 in Washington, D.C.