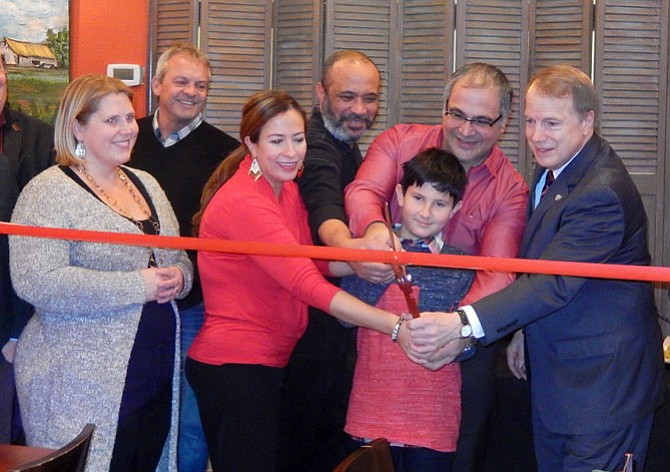 At Pampasazone's ribbon-cutting in January, Fairfax City Mayor David Meyer told attendees, "Bring your friends and family here for the wonderful food. This is exactly the kind of restaurant we want in our downtown."
Since then, people are discovering the many delights of this new place with the red awnings at 3950 University Drive. And that's a good thing, because owner Dante Ribulotta says, "We're hardworking and we're here to stay."
This Latino fusion restaurant actually opened in October, and Ribulotta said it's been getting great reviews from the customers. "So far, so good," he said. "And our arepas and empanadas are especially popular."
He and his wife also own El Patio in Rockville, Md., serving his native Argentinian food, and many of the customers there wanted something similar in Virginia. "So when this space in Fairfax opened up, we liked it," said Ribulotta. "We also liked the area because it resembles Rockville in income, schools and diversity, so we thought it would be the right place for us."
It's fitting that Pampasazone's name is a combination of three words because it serves food that's a creative mix of the signature elements of South American cuisine. "Pampa" and "zone" refer to the fertile lowlands, or pampas, of Argentina, Uruguay and Brazil, and "sazon" is a nod to the special flavor each culture brings to their dishes.
THE MENU features a wide variety of offerings, including arepas; empanadas; quiche; skewered steak, chicken or shrimp; soups; salads; sandwiches; beverages and homemade desserts. Arepas are small, corn-cake sandwiches with fillings such as prosciutto, cheese and caramelized onions; sautéed vegetables and cheese; and pulled pork, cheese, caramelized onions and cabbage. Empanadas have savory fillings in flaky, pastry dough. The options are beef, chicken, ham and cheese, spinach, corn, and cheese and onion.
Ribulotta said all the steak main dishes are also hits with the customers, but the grilled skirt steak, Entraña a la Parrilla, is their favorite. Soup choices include Locro, a beef, pork, corn and vegetable stew, as well as lentils and vegetables. The most popular hot sandwich is the Chivito – grilled steak with bacon, ham, mozzarella, sautéed bell peppers and onion, and a hard boiled egg on a soft bun.
The favorite salad is the Puerto Madero with spinach, quinoa, strawberries, cucumber, avocado, radishes, red onions and cheese in a lemon vinaigrette. And the top-selling desserts are the flan with dulce de leche, plus the Milhojas – a puff-pastry cake, also with dulce de leche.
Ribulotta said the customers enjoy his restaurant's "nice atmosphere, quality of food and good prices. It's also a new dining choice. Usually, when you say 'Latin cuisine,' people think 'Mexican,' but that's only a small part. We focus on South American cuisine, and people have been very open to trying new things, so it's working well."
For example, Pampasazone's ceviche is from Peru; arepas, Colombia; empanadas, Argentina and Colombia; tequeños (bread-dough sticks filled with cheese), Venezuela; chaja (a cream layer cake with fruit and meringue), Uruguay; and the rice, beans, yucca and plantains are from Venezuela, Colombia, Peru and Bolivia.
"We try to put our own twist on the ingredients so people will be able to taste something new," said Ribulotta. "We use a lot of things that people aren't using here, such as plantains, yucca and arepas also used in soup as croutons. And our Colombiana empanada has a different dough that's fried and crispy."
"This is a good place for family dining. We have a warm and inviting environment, with brightly colored walls and original artwork for sale," he said. "And we think our patio will be a big hit once the weather gets better. We also do a lot of catering, such as lunches for the World Bank. ...Depending on the size of the event, we need 24 hours to a week's notice." Call 571-459-2233 or email pampa.sazone@gmail.com.
The restaurant's walls are adorned with original artwork by Argentina-born Eleuterio Ruiz Diaz, who works at Woodson High. And live tango music is performed Tuesday evenings by Argentinian musician Emmanuel Trifilio.
Pleased to be in the City of Fairfax, Ribulotta said, "It's charming, walkable, has a lot of parking and events, Old Town Square, and that Old Town feeling. There's much potential here."
ON A RECENT AFTERNOON, friends and City residents Lindsay Barry and Leslie Cullen ate lunch there together. Barry had Colombiana-style chicken and beef empanadas, plus yucca fries with cilantro aioli. "It was a nice lunch, not heavy, and everything tasted really good," she said. "I was here before and got a sandwich that was awesome, so I came back. And I like to support local businesses."
Barry would recommend Pampasazone to others because "It's got really great food and it's affordable and convenient, especially with the parking garage nearby. I also like the restaurant's colors and wood paneling, the staff is friendly, it's very clean and there's lots of seating."
Cullen was there for her first time and ate corn and chicken empanadas with a spicy sauce. "It was a good spice, but didn't burn your mouth," she said. "And I loved the empanadas. I liked the flaky pastry, and it had a lot of flavor without being overwhelming."
In addition, said Cullen, "I like the cozy atmosphere and the artwork, especially the paintings of the tango dancers. I know they're Argentinian, but they remind me of a trip we took to Spain. I'd absolutely recommend it, and I'm definitely coming back here. The prices are really reasonable and the food is delicious."
Also enjoying lunch there was City resident Alan Rinker, who had the ham and cheese quiche. "It's interesting because it's not a custard quiche," he said. "It's ham, cheese, tomato and hard boiled egg in a pastry crust. And the crust is really good, too; it's the same one used on their baked empanadas."
Rinker also likes Pampasazone's chicken soup with vegetables in a tasty broth and comes in, once a week, to eat. "I like the variety of different foods that you can't get anyplace else," he said. "I've already recommended it to others, including an Argentinian friend who really enjoyed it."