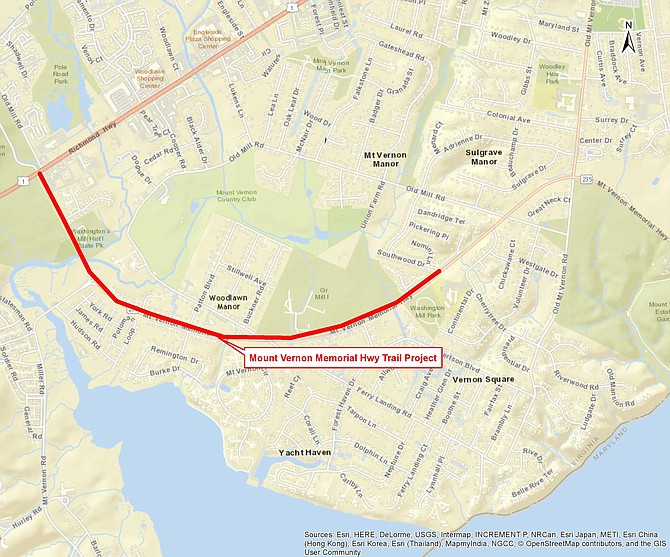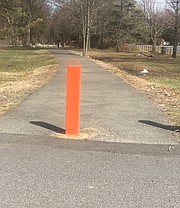 At Mount Vernon High School, on March 14, area cyclists looked at Fairfax County plans to complete a link in the Fairfax County bike rail network, patching together trail bits along Mount Vernon Memorial Highway to complete this bike trail in the southern part of the county.
Chris Wells, the Fairfax County bicycle and pedestrian coordinator, chaired the meeting, where they laid out plans that included a 10-foot shared use path connecting links of an existing trail with a pedestrian bridge crossing Dogue Creek and improved pedestrian crossings with Americans with Disabilities Act (ADA)-compliant marked crosswalks and curb ramps.
This $6.5 million, two-mile stretch is part of the Potomac Heritage National Scenic Trail between Richmond Highway (Route 1) and Southwood Drive and in accordance to the Countywide Trails Plan.
They are patching together pieces of an neglected roadside trail that has been there for years, and is falling apart in places, according to area cyclist John Pickett, who attended the meeting.
"On paper, we want to connect the dots," said Pickett. He noted that even with the project completed, this stretch of trail would not be an ideal trail portion because the old parts that weave along Mount Vernon Memorial Highway are too narrow and riddled with tree-root lumps making it rough for bicycle commuters or serious riders. "It sets the stage to say 'let's fix the old stuff," Pickett said.
With a team of consultants standing by the maps in the school cafeteria, concerns were raised about the steel and concrete design of the Dogue Creek bridge, sight lines for crosswalks, the condition of the decrepit existing trail segments, and drainage. The crossing at Old Mill Road was targeted as well.
Mount Vernon District Supervisor Dan Storck was also there. He hopes the trail project will be done in 2018, but realistically thinks it will be 2019.
Part of the plan requires third-party approval. "Coordination with the FHWA, the U.S. Army and VDOT is required for potential intersection improvement at Fort Belvoir's Walker Gate entrance," the slideshow read.
This meeting was a first step in the county process, and will now move further along, but no hard dates were mentioned. Comments will be accepted through April 8 at https://www.slideshare.net/fairfaxcounty/mount-vernon-memorial-highway-trail-public-information-meeting-march-14-2018.