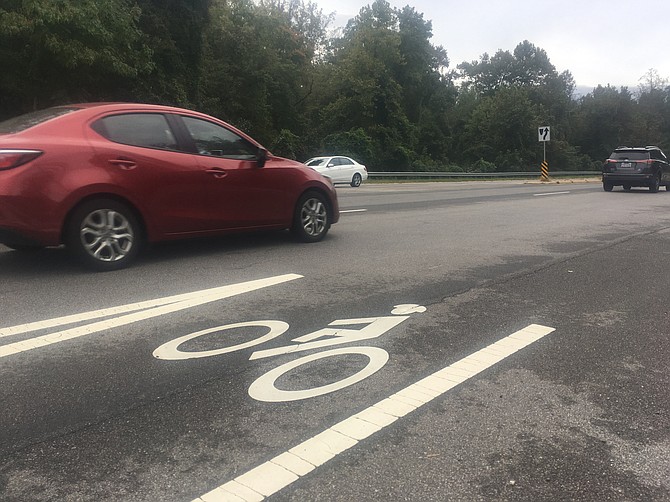 Mount Vernon — The bike path network in the eastern part of Fairfax County was on the agenda at the monthly Fairfax Advocates for Better Bicycling (FABB) meeting, on
Thursday, Oct. 18 at the Sherwood Regional Library in Mount Vernon.
FABB has these meetings throughout the county to learn about biking issues in that particular part of the county, said Sonya Breehey, FABB vice president. The agenda included the trails in Mount Vernon that are connected to the upcoming EMBARK plan, but also the eastern part of Springfield and Kingstowne. District Supervisors Jeff McKay (D-Lee) and Dan Storck (D-Mt. Vernon) were there to highlight issues from their districts. "There are a lot of needs," said Breehey.
Meetings with FABB are valuable around the county to extend the connections with bicyclists, said Storck. "I think it's a smart move on their level to connect with people," he said. According to Storck, there is $6.5 million appropriated to further refine the bike trail connection between Jeff Todd Way and the Mount Vernon Bike Trail, which includes a separate bike and pedestrian bridge over Dogue Creek, and trail paving in spots where its lacking. "We're hoping there's enough money to pave some new parts of that trail," Storck said.
McKay has always been a supporter of a bike network in Lee District, as well as an integral bike network throughout the county. "I am pleased to have partnered with FABB and VDOT to ensure bicycling is an integral part of our transportation network," said McKay. On-road trails are part of McKay's efforts on Jeff Todd Way and in Kingstowne, on Lake Village Drive. According to the Fairfax County Department of Transportation, they are looking to put bike lanes on sections of Brandon Avenue, and Bland Street in Springfield. Behind Edison High School, Castlewallen Drive has been repaved with new striped parking lanes
Tour De Mount Vernon
Mount Vernon District Supervisor Dan Storck invites all to join him for a community bike ride on Saturday, Oct. 27, at 8:30 a.m., starting and ending at the Fort Hunt Park in Mount Vernon. There are two routes – a 17-mile route and a 32-mile route.
to calm traffic as well.
"Moving forward, it's vital that we continue to increase connectivity and access so that everyone who wants to has the option to bike. I am committed to continuing to find appropriate locations and opportunities to make this possible," McKay said.
One of the needs is a link from Cinder Bed Road to the Franconia-Springfield Metro station, a highlight of the "Cinder Bed Bikeway," a project that has been looked at by Fairfax County for a few years. This was on the meeting agenda with help from Chris Wells, the Fairfax County bike and pedestrian coordinator. Cinder Bed Road is a road in the western part of the Mount Vernon District that is home to warehouses, offices and the Newington bus lot. On the northern end of Cinder Bed, where the road ends, a bike trail continues into the woods along a creek, and has a connection to Island Creek that is on Beulah Road. The trail abruplty ends in a wooded area, but has potential to be a connector to the Metro station.
The first phase of the project would have the bike trail going through the wooded area to the station on the other side of the rails, and cyclists would park their bikes and cross a pedestrian bridge to the station. Currently, pedestrians use that walkway when coming in from the Beulah Road-Island Creek area on foot. "We are working on the segments along Cinder Bed and north to the Metro," said Wells, but phase III on the map is not part of the plan now.