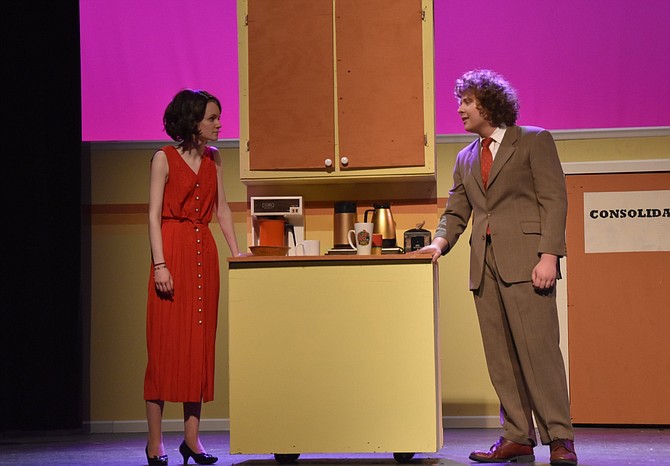 The sound of an alarm clock going off and the tapping of typewriters signifies a new day in the office, but what happens when an incident occurs involving rat poison and coffee? Mclean High School's production of "9 to 5: The Musical" brings fun in the 1970s workplace as mischief unfolds and revenge is taken.
"9 to 5: The Musical," with lyrics and music by Dolly Parton and book by Patricia Resnick, is based on the 1980 movie of the same name. The story revolves around three women, Violet, Judy, and Doralee, who work as secretaries for a rude and bigoted boss. Together the three team up to make the office a better place and along the way find inner strength that redefines their limits and pushes them to be the best they can be.
Overall the cast performed with exuberance and featured many strong voices. The choreography (Kristen Waagner and Ashley Winegarden) ranged from tap dancing to jazz and the actors took it in stride. Every number was energized and in every scene the actors remained consistent in character.
The chemistry between Haley Rose (Violet), Erica Bass (Doralee), and Abby Covington (Judy) solidified the performance. Their connection with each other made the friendship feel natural and believable. Their voices blended beautifully together and each stood out in the powerful three part harmony featured in multiple songs. Rose, Bass, and Covington all had a good grasp on their characters, and accurately portrayed the struggle of a woman trying to make her mark in a "man's world."
Benji Harris, who played Hart, the sleazy boss, took the character and ran with it. In a role some may feel uncomfortable to play, Harris offered impressive comedic timing that did not waver during his musical numbers. His performance was creepy and hilarious, and had the audience both cringing at the character and falling into fits of laughter.
The set design (Piper Phillips) featured a multi-piece set on wheels that was versatile and allowed for quick scene changes. The props (Graydon Al-Khafaji) accentuated the set and showed an obvious attention to detail. Each piece (for example the poster hanging above Hart's desk) provided a touch of authenticity for both the setting and the characters.
Mclean High School's production of "9 to 5: The Musical" celebrates confidence and friendship. With strong performances both musically and physically, the show was entertaining from beginning to end. It reminds anyone who has ever felt like the little guy that they are capable of overcoming any obstacle, and that they too can "shine like the sun."