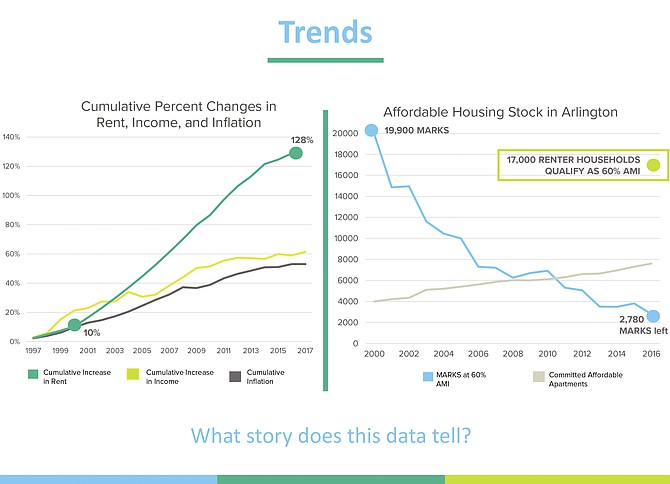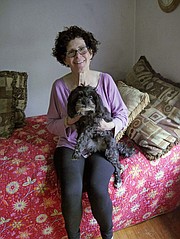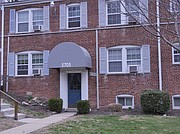 This is the first in a series focusing on affordable housing in Arlington.
One of the Lucky Ones
Annette Talbot looks around her one-bedroom apartment with a couch on one wall, a chair and a computer. Talbot is one of the lucky ones. She is about to be relocated to another building in the Westover area, since her current apartment was purchased by Arlington Partnership for Affordable Housing (APAH) and is scheduled to be renovated.
Talbot has lived in this apartment since 1995 when she paid $535 a month. At that time these were considered market housing units but now under APAH ownership, they will become affordable housing with income limitations. APAH bought 60 apartments from several private owners and is remodeling them with a combination of Historic Tax Credits, AHIF and Low Low Income Housing Tax Credits. Now Talbot's rent is $1,165 and she has a small grant "of a hundred and something dollars" from Arlington. "I don't need more than this. Look at it," she says pointing around her space. "A safe place, water, heat, not a lot of noise."
She has watched the neighborhood change. "It has been heartbreaking." The luxury condos have gone up. "The owners had every right to make their money, unload their buildings and move to a sunny place or the mountains or the lake." She says, "here in Westover, God bless the people. They were up in arms when people started to buy these World War II vintage buildings and turn them into luxury condos." Talbot continues, "They put signs up, 'Save Westover.' They had committee meetings." And she said APAH was able to save some of these buildings.
Kim Painter, APAH chief of staff and manager of their relocation program says APAH bought eight buildings with 68 apartments between October 2016 and January 2017, which will be renovated to upgrade the electricity and windows and kitchens plus roof repair. Talbot will move to one of these apartments.
Painter says they follow the Arlington County guidelines on relocation, which requires a 120-day notification to vacate. "At Westover they give 180 days. Painter says they start as early as they can with residents to let residents know the situation, one-by-one, in groups "and I am available by phone and email."
Talbot has been given notification to vacate and that they are holding a place for her. She has picked out her new apartment just down the street. Painter says when people are required to vacate for APAH renovations that APAH helps them search for a new place to live. She says generally people identify their own housing and some won't qualify for the subsidized units.
But they give placement priority to the current residents in another of their housing units if the residents qualify.
When Talbot's apartment was purchased, it was just market affordable and wasn't eligible for the low-income housing tax program. Talbot will move down the street in mid-June and should qualify for subsidized housing in her new location. She says her current one bedroom, one bath apartment was built in the 1930s. "I mean I love it. I have no complaints. I certainly love the price."
Talbot was one of the lucky ones.
Affordable housing in Arlington can be like searching for a needle in a haystack. In 2015, Arlington unanimously adopted the Affordable Housing Master Plan after a three-year community-driven process. Its stated goals were to have adequate supply of housing to meet community needs, ensure all segments of community have access to housing and ensure that housing efforts contribute to a sustainable community.
One key goal was to produce the number of affordable rental units to meet the needs of Arlington residents--a number set at 600 affordable housing units each year. This was to meet the goal that 17.7 percent of all housing units in Arlington will be rental units affordable to households at or below 60 % of average median income by 2040. Yet three years later the county is short each year an average of 291 committed affordable housing units (CAFs) of meeting its housing goal.
The County Board just approved a 2019 budget of $14.3 million, which is an increase of $600,000 from the County manager's recommendation but a cut of $700,000 below FY 2018.The verbal commitment is still there but the dollars aren't. But Katie Cristol, chair of the Arlington County Board, says, "It is pretty exceptional that in this tight budget year at the end of the budget process we added $600,000 in unallocated monies for AHIF. Last year and this year the county had the absolute high mark in affordable housing, showing it is a high priority."
Michell Winters, director of the Alliance for Housing Solutions, says it is interesting this number has been misrepresented as a slight increase when it is actually a reduction from last year's level. She continued, "AHIF is the most effective way to create affordable housing in this county so it never makes sense to cut it."
On Dec. 1, 2017 a number of community leaders sent a letter to then County Board chair Jay Fisette indicating that although Arlington has taken significant steps to implement the plan that "we are not on track to achieve the Plan's production target of adding nearly 600 affordable units each year."
The group submitted a report "Fulfilling the Promise: Meeting the Production Goal of Arlington's Affordable Housing Master Plan" in which they included strategies and possible alternatives for reaching the goal involving both cost containment and increased dedicated funding. The report included case studies from across the county and other cities across the country. It addressed the impact of such issues as reduction of site plan conditions for new affordable housing, waiving permit fees, modification of bonus density policy, offering property tax abatements and exemptions.
For instance, waiving or reducing the billing permit, sewer and water and other fees could lead to creation of 16 new CAFs. Likewise modification of the density policy is estimated to create 76 CAFs and save $6.5 million. Fisette directed the board to look further into several of these alternatives. Nina Janopaul, director of Arlington Partnership for Affordable Housing (APAH) says, "I feel like there has been no effort to respond to these alternatives. I have asked several board members and they say 'thanks for the report' and there is no further response."
Cristol says the staff has a been asked to do an analysis on a spectrum of possibilities and now that the County Board is in post-budget they will address the results. She pointed out they have already instituted one of the recommendations by lowering the parking minimum on the Old Red Cross site. "This is a success story."
Arlington has significantly increased the annual production of CAFs but it is a net sum battle. Janopaul says a one-bedroom apartment that would have cost $900 five years ago now costs $1,500. Since 2000 Arlington has created 3,400 new CAFs but since that same period the county has lost 86 percent of its stock of affordable housing (MARKs) available to families at 60 percent of average median income. Janopaul says developers come in and buy up apartments, put in granite counter tops, put a gym on the first floor, and an apartment that would have cost $900 five years ago now costs $1,500.
Affordable housing in Arlington is primarily produced with some level of funding by the county through The Affordable Housing Investment Fund (AHIF). This local housing trust fund leverages an additional $3.50 of outside funding to every $1 of county resources. Currently the county funding is an estimated $25 million with the projected need to fill the goal at $49.7 million for an annual deficit of $24.7 million.
While Arlington is one of the wealthiest counties in the country, approximately 12-16 percent qualify as very low income defined as a family of four living on $48,000 or an individual living on $24,000 and one in three children qualify for free or reduced price lunches. A minimum wage job in Arlington cannot support the housing costs of living in Arlington. The average median income in Arlington is $109,200 for a family of four.
Statistics from a report by Community Progress Network indicate that a minimum wage worker would need to work 109 hours a week to afford a one-bedroom apartment in Arlington. In the last 10 years the median rent in Arlington has grown significantly higher than income. A presentation by the group on April 26 indicates that from 1997-2017 cumulative increase in rent has been 128 percent while in that same time period cumulative increase in wages has been 60 percent.
Iliana Burges was one of several who spoke before the County Board on April 3 urging full funding of AHIF. She works at Arlington Hospital Center as a certified nursing assistant, attends nursing school in Arlington full time and volunteers for local organizations like AFAC. She shops, dines and takes dance lessons there. But she had to move to Woodbridge from where she commutes every day because she couldn't afford to live in Arlington.
In 2000 there were nearly 20,000 MARKs which are units affordable at 60 percent of AMI but by 2016, the number had declined by 86 percent falling to less than 3,000. According to the FY2016 Arlington County Affordable Housing indicators report the county added an average of 224 net new CAFs between 2011-2016. The goal would require a net 585 per year leaving an annual production gap of 291 CAFs per year.
Janopaul says it is in Arlington's DNA to support diversity and battle for low-income housing but it takes moral courage. She remembers the days when Ellen Bozman, who was then a former member of the board and still a strong advocate for affordable housing, would sit in the back of the room with her knitting needles clicking away just to remind people not to forget affordable housing. "There has been a sea change in support; we have lost our supporters one at a time."
Winter says it is short-sighted to move backward. "The numbers are sliding backward so rapidly. It will continue to be challenging but we need to stress the importance of affordable housing as one of the county's top priorities."
Janopaul says market economics has driven up prices and a lot of low-income people are being forced out of the community. "At what point do we say there is a moral imperative? There are people who come and do work; what a gift we can give."
More like this story