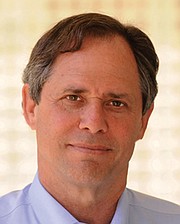 Why are you running for Montgomery County Executive?
Our county is a very special place. It is one of the few places where we can truly say "if not here, where?" At home, my better three quarters, Karen Berliner, had the inspiration to have the word "imagine" etched on our living room wall. It is a daily reminder to think big. And I do think big. What a privilege it would be to lead this extraordinary county, to help us achieve our full potential, always striving to become a "More Perfect Montgomery County."
I would not be doing this if I did not believe in my heart of hearts that I am the right person to lead us forward. I want to build a county where we grow economic prosperity and where that growth touches everyone – regardless of zip code or background. To reduce school overcrowding and see modern school buildings where all of our children's needs are met; to provide the finest transit options and state of the art traffic signals that reduce travel times by 15 percent; to ensure that we continue to lead the nation on sustainability and environmental protections; to make a difference in the lives of those who have not shared in the prosperity that many of us have experienced; and to create an economic ecosystem where entrepreneurship and businesses thrive. The County Executive has the unparalleled ability to make this happen. That's why I am running for this office.
Past experience: political and/or professional
Before joining the Montgomery County Council in 2006, I served as: Legislative Director for Howard Metzenbaum; Senior Policy Advisor for Congressman Henry Waxman; Legislative staff to the California State Assembly; Director of Congressional Liaison for a federal agency during the Carter Administration; Legal Counsel to the largest county in the country, Los Angeles County.
I started a small business, building a law firm that gained national recognition in the field of energy and consumer protection. I then went on to become a partner at Manatt, Phelps & Phillips LLP before being elected to the Montgomery County Council where I have been a leading advocate for protecting the environment, investing in public schools, and creating greater shared economic prosperity. I have been elected by my colleagues either President or Vice President of the Council, 5 out of my 11 years and had the privilege of being elected by the region's leaders to Chair the Metropolitan Washington Council of Governments (COG).
What do you consider the biggest problem facing Montgomery County today?
I believe that the biggest challenge facing our county is increasing our revenues – without increasing taxes – in order to have the funds we need to address school overcrowding, congestion, and the growing poverty in our midst. That means we must grow our tax base, which translates into creating more jobs in our county. Our county has for far too long been overly dependent on the Federal government. We must focus on diversifying our economy if we are going to succeed. I believe the future of the economy is the "innovation economy," which includes the bio-health community, IT, and the Googles, Apples, and yes, the Amazon's of the world. We must position ourselves to attract them and at the same time, make it easier for small businesses to thrive. I have worked diligently at these sets of issues for the past 12 years on the Council, but my ability to make significant strides will be exponentially increased as County Executive.
I think we can support employer growth and success by 1) creating a culture that is welcoming, appreciative and supportive of small business owners, 2) investing in work force development to ensure talented/highly trained workforce strategically targeted at identified industries, 3) investing in our relatively new business run organization in charge of economic development, the Montgomery County Economic Development Corporation, and holding them accountable based on sound strategic plan and reliable metrics, 4) growing a climate of innovation by expanding the Chief Innovation Officer into a thriving Office of Innovation to help put our county at the forefront of new technologies, creative solutions, and cutting-edge service delivery, 5) investing in and expand transit service/infrastructure by building the purple line, a BRT network, and the CCT in order to enhance mobility throughout the county, 6) supporting small businesses by increasing the role of the Small Business Navigator and Business Solutions Group, and 7) streamlining regulations in a meaningful way that provides a predictable and timely regulatory process.
What is your dream accomplishment for the County?
Implementing a universal Pre-k-14 integrated education system that provides all of our children with the skills they need to succeed. Our children are the future of our county. If we aren't investing in them we aren't investing in our future.
Is there anything else you think voters should know about you when deciding who to vote for?
Bringing people together in order to achieve real tangible results is part of my DNA. I am a Common Ground guy. The Washington Post described me as "progressive but pragmatic." I take issue with the "but." You must be both to do this work and make big things happen. I take the time to learn all the details, dive deep into the issues – fully recognizing that they are generally not as black and white as they are often made out to be – and bring all the stakeholders together in order to find answers to tough questions. It is this kind of leadership that earned me the Scull Award for outstanding regional service and the endorsement of the Sierra Club for my commitment to sustainability and the environment.