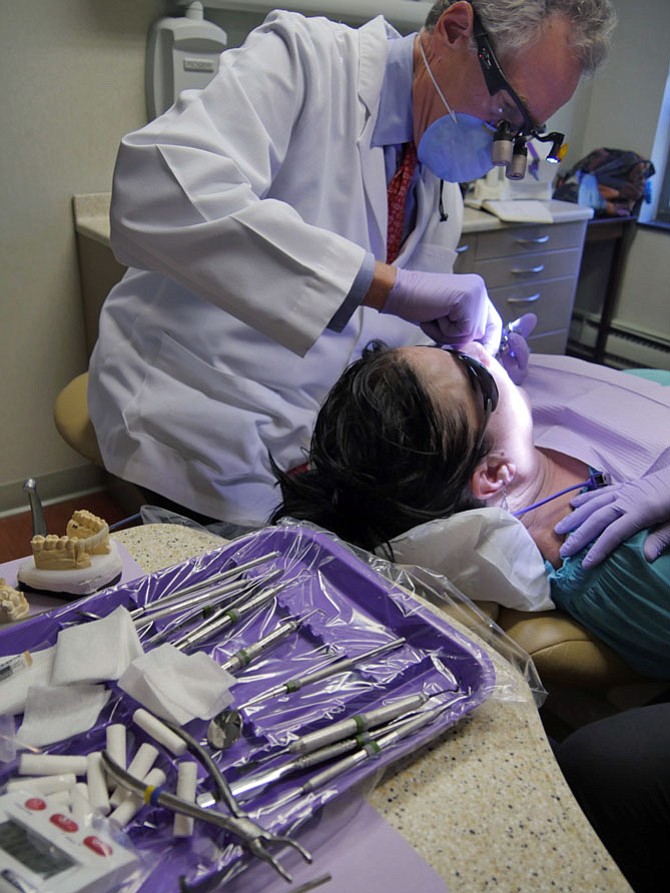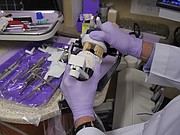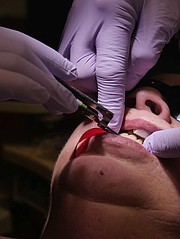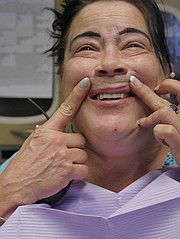 Lisa Marie Green sits in the office of Dr. John Kling II waiting for the final appointment to repair the damage to her teeth caused by domestic abuse 5 and a half years ago. She says after it happened she was in a deep depression for a long time. "I had no front teeth at all. I didn't go out of the house. I had no life."
She says she found out about the Give Back A Smile program from her counselor about a year ago. When she found out Kling had accepted her, "I loved this man already and I didn't even know him. He never treated me like I was someone who didn't have nothin'. And he was doing it for free. Ain't that somethin'?"
Kling, who has been practicing cosmetic dentistry for 35 years, says he first learned about the Give Back a Smile program about five years ago when he became one of the four cosmetic dentists in Virginia accredited by the American Academy of Cosmetic Dentistry. "I realized we can do things to change people's lives. It shouldn't have been astonishing to me, but it was, that having teeth is important, but for certain people it's not an option for them."
Green is lying back in the dental chair with her patient bib snapped around her neck and sunglasses. "How do these come out; it isn't going to hurt, is it?" Green is having the temporary bridge removed today and replaced with her permanent bridge.
Kling pulls on purple plastic gloves and uses a topical cream to numb the gum tissue. "Just try to relax your lip." Kling peers at the temporary bridge with his headlamp and a 3.5 magnifier. "I'm going to wiggle this a little." With a needle he injects some local anesthetic. "Now we'll get the other side. It's going to be pretty easy for you. I'm going to wiggle the temporary bridge back and forth to loosen the cement."
Green says, "I've been wondering how it would come out." Kling makes a small groove in it so he can get in. "It's not quite all out yet." The next step is to use "essentially dental sandpaper to get off any little dental cement off the eye teeth which will hold the new bridge in place."
The time has come to try on the new permanent bridge. Kling explains that he has a really great technician who designed the bite a little differently to accommodate for the bone loss so that Green has some biting force in front. "Yah, I've got to be able to eat that BLT," she says.
The next step is to take X-rays. "Digital is the way to go now," Kling says, "so much less radiation."
"Everything looks great on the X-rays. Now we'll check the bite." He inserts a thin articulating ribbon between her top and bottom teeth. "Grind your teeth all around. Bite down, chomp chomp chomp." Someone notices the office music has changed to Hall and Oates singing, "you make my dream come true…do do do." Kling says, "I didn't do it honest."
Kling checks the inside of the new bridge and makes minor adjustments with a diamond bur which looks like a tiny drill. "OK. Bite down again."
Next Kling turns to the eyeteeth that will serve to attach the bridge. "I will chemically disinfect them with like a hydrogen peroxide to be sure there are no impurities, then a mild green etchant that creates a surface for bonding the teeth. A primer seals the nerve of the tooth so no bacteria go internally; Then Kling uses a bonding resin. "It takes a long time, but I think it's worth it."
Kling disappears into his lab with the new bridge and inserts the bridge into his machine with 27-micron pellets that work like a sandblaster. "Now I know for sure there is nothing in there that could cause problems."
Meanwhile his assistant, Tasha Butler, is mixing 3-M cement with a fluoride layer. Kling dabs it in the two capsules on each side of the bridge that will fit over the eyeteeth. We'll let it harden on its own for a few minutes. "Then in 45 minutes you can eat anything you want."
Green looks into a mirror at her lopsided smile still numb from the Novocain. "I just love this man. He gave me my life back."