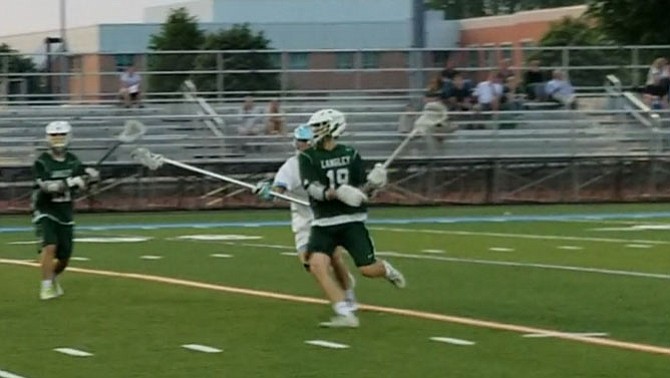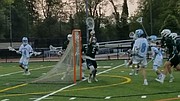 It wasn't pretty, but a strong defensive effort and three goals from Justin Gomez helped put the Langley boys' lacrosse team back in a familiar setting.
The Saxons earned a return trip to the Liberty District tournament championship game with a 6-3 win over Yorktown in the semifinals on May 11 in Arlington. Langley on Tuesday — after The Connection's deadline — took on South Lakes in the tournament final. Last year, the Seahawks beat the Saxons to capture the Liberty crown.
Langley never trailed against Yorktown on Friday. The Saxons led 3-0 at the end of the first quarter and 4-2 at halftime. The Patriots cut the Langley lead to one midway through the third quarter, but the Saxons pulled away with goals by Gomez and Ben Johnson.
"I think our strength right now is our defense," second-year Langley head coach Jamie Parrot said. "Our leadership is our defense. [We are] using that as kind of our base that we build off of … and then controlled offense. We don't have quite the athletes that we've had at times in the past, so we've got to play six guys instead of a one-on-one game. It's kind of a grinding kind of thing. … You have to understand our strengths and weakness and play to them."
Junior goalie Kevin Halm, a first-year varsity starter, led the way defensively for Langley.
"He played incredibly well," Parrot said. "… He's stepped in and really done a great job for us. He has the confidence to be a leader and that's the biggest thing. I knew he could stop the ball but being the leader of the defense — can he do it?"
Yorktown head coach Greg Beer praised Halm, as well.
"Their goalie … he made a couple great saves," Beer said. "We had a couple really nice looks in the first half and he played great. Everything that we basically threw, it seemed like it was right in his stick."
While Halm helped limit Yorktown to three goals, Gomez took care of the Langley offense. The junior captain and first-team all-district selection scored three goals.
"He's our most important offensive player," Parrot said.
Fellow captain and first-team selection Johnson scored twice for the Saxons and sophomore Robert Hage added a goal.