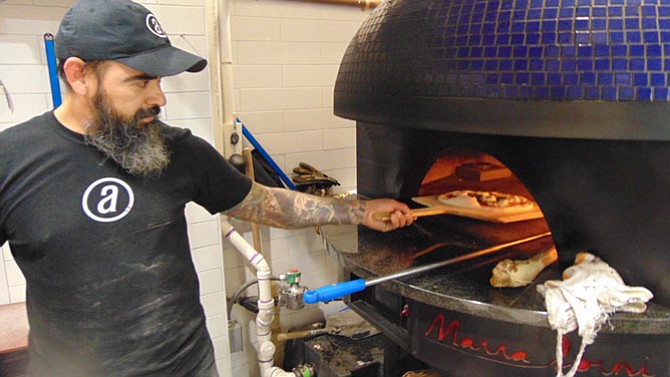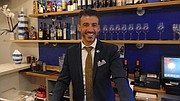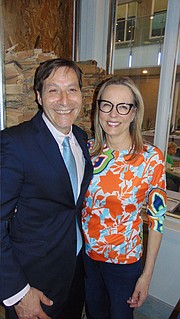 Looking for authentic Neapolitan pizza in McLean? The newly re-opened Assaggi Osteria Pizzeria is the place to go. It serves D.O.P. authentic Neapolitan pizza at 6641 Old Dominion Drive in McLean. In order for it to be D.O.P.-certified, which comes from the Italian phrase, Denominazione d' Origine Protetta (roughly, "protected designation of origin") it has to have three authentic ingredients: San Marzano tomatoes, which are grown south of Naples where the soil is volcanic, buffalo mozzarella, and wheat flour, according to owner and COO Madge Gazzola.
The restaurant, which the Greater McLean Chamber of Commerce recognized as the Restaurant of the Year last October, offers three signature D.O.P. pizzas: Marinara with Tomato, Garlic, and Oregano; Margherita with Tomato, Mozzarella di Bufala, and Basil; and Margherita Bufalina with Mozzarella di Bufala, Basil, and Cherry Tomatoes.
"The restaurant is a place to come for authentic Neapolitan pizza, but more than that, it's a place to come with your family and friends and taste some bites from the Osteria. It's a place to relax," said Gazzola. "We wanted to bring something authentic here. To bring out people to celebrate McLean."
In addition to D.O.P. pizzas cooked on a $20,000 Marra Forni terra cotta and tile oven imported from Italy, they also serve Regina: tomato, mozzarella; Funghi Misti: forest mushroom, fontina, grana, basil pesto; Bianca: fontina, mozzarella, Gorgonzola and sage; Cime di Rape: broccoli rabe, mozzarella, mild Italian sausage and parmigiano reggiano, among others.
THEY ALSO SERVE small plates with beef and veal meatballs; Suppli, which are rice, mozzarella and tomato sauce; crispy brussels sprouts; caprese salads with heirloom tomatoes and mozzarella; and bruschetta with bread and olive oil with a touch of garlic. Insalates include: Mozzarella di bufala; tomato, basil and caprese; Rucola: argula, fennel, and radish; and Mista: garden greens, balsamic vinaigrette.
The bar is stocked with 25 red, white and sparkling wines, from Central and South Italy and two islands: Sicily and Sardinia, as well as Italian beers.
Husband and wife Ken and Madge Gazzola operate both the fine-dining Assaggi Osteria, which opened in 2009 and seats 70, and the casual Assaggi Pizzeria next door, which seats 50. Madge said they leverage one kitchen facility to deliver two concepts: One is fine dining and one is Neapolitan pizza. Six investors (three married couples) signed on in May 2017; they renovated the space with the intent of building a dual-concept pizzeria and Assaggi Osteria side by side. After being closed for eight months, they re-opened the pizzeria with an industrial-chic design, on April 18, 2018. The two restaurants have many shared resources including a bar manager and bartender.
The couple had been coming to the pizzeria for many years and loved it. "Having loved this restaurant when we saw it closed, we were really disappointed. Our goal was to re-open the restaurant in McLean. …We're very proud of what has resulted and the response from the community. Many people have thanked us for reopening it," she said.
Ken, who worked 30 years in aeronautical publishing, added: "The formula is working because both restaurants are very crowded and the response has been excellent. …My greatest satisfaction was to have done so much work to renovate and reopen as a pizzeria and then to see the numbers of people flowing in, thanking us for reopening and creating the Neapolitan pizzeria."
According to General Manager Massimo Papetti, who is originally from Rome by way of the Hamptons: "When I came here, people asked me where can we go for a pizzeria for a family with kids. So, I did a little research in McLean. We wanted to do something for the family and we use ingredients from Italy – tomatoes from San Marzano, buffalo mozzarella from Campania, and the art of art of the Pizzaiolo, the pizza chef."
BEFORE COMING ON BOARD, the Pizzaiolo Neco Lopez worked for 17 years at Two Amys Pizza in the District. "One of the things I learned in the beginning and I really like about this pizza is how light it is and you can taste all the fresh ingredients all the way from Italy…The freshness of the pizza and how delicious it is. It's very simple, light, and fresh."
Assaggi Osteria Pizzeria is located at 6641 Old Dominion Drive, McLean. Call 703-918-0080 or visit the website at www.assaggiosteria.com.